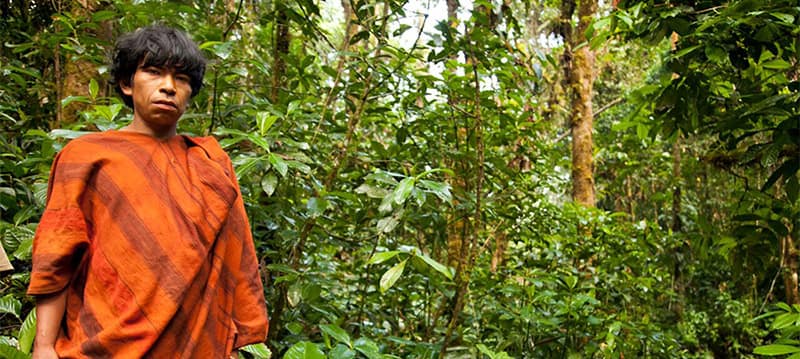 Tuesday night was our monthly tasting evening at the Winemakers Club in Farringdon. This month we were lucky enough to be joined by Pablo Spaull of Forever Cacao. Pablo and Cocoa Runners co-founder Spencer went head to head, each presenting some of their favourite bars (including Pablo's own). Pablo also told us a little about how he first go into chocolate and how he sources his Peruvian beans. Continuing with our series on Fairtrade Fortnight, we wanted to share this incredible story with you!
Pablo's journey began thanks to his friend and fellow Welshman Dilwyn Jenkins. Dilwyn was a lifelong champion of Peru's indigenous peoples. While studying anthropology at Cambridge he and fellow students BBC/Royal Geographical Society and made a documentary about the peoples he had met during his travels in Peru. It was the first time the Ashaninka community had been filmed. In 1985 Dilwyn also wrote the first Rough Guide to Peru, the first comprehensive English travel guide to the country.
The Ashaninka people are an indigenous people who live in the rainforests of Peru (with a few groups over the border in Brazil). The last century has seen them face a number of threats with their lands being systematically reduced and their environment destroyed. Owing to internal conflicts in Peru and interest in natural resources from big business (including loggers, rubber tappers and oil companies) the Ashanika people have found themselves displaced, enslaved and even killed. In the early 2000s they were given legal rights to some of their ancestral lands which is now a protected National Park. But these people who the Spanish conquistadors remarked upon for their 'bravery and independence' still face a huge number of threats. These threats include (both directly or indirectly) those posed by oil companies, drug traffickers, illegal lumberers, illegal roads, misinformed conservation groups, missionary groups, and diseases brought by outsiders.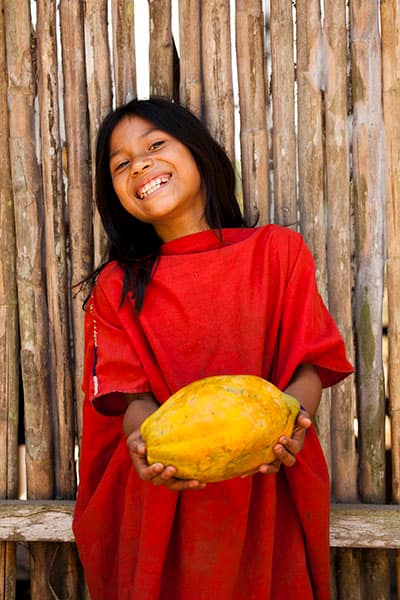 Dilwyn dedicated decades to supporting the Ashaninka people and helping them to combat the numerous threats they faced. He founded Ecotribal, to help the local people generate a sustainable income through coffee and other goods. One of these product was cacao. When Dilwyn first visited, the Ashaninka had just started to produce cacao as a cash crop. Some of these trees had been introduced from neighbouring regions but cacao also grow wild in the forest. This wild cacao is called the abuelos (grandfathers). No pesticides or chemical fertilisers are used by the growers and they all follow organic farming practices.
Working with Tinkareni and Coveja villages, Ecotribal has helped the Ashaninka people with the fermentation and post-harvest processing of the beans. They have provided training and equipment to local people to improve the how the beans are treated and therefore their overall quality. The Ashaninka have now formed their own Cacao Growers Association, taking charge of the growing, drying and fermenting themselves.
The Ashaninka producer's association then sells the organic heirloom beans at a good price to Ecotribal and a cooperative downriver who test and sort the beans and continue the post-harvest process. The association separates a percentage of its income to pay for community health and emergency needs. Generating income from these sustainable sources sustains the people from the local villages such as the Cutivireni and protects their forest. Without this they would be forced to sell their trees to logging companies in order to survive.
It's from this cooperative and Ecotribal itself that Pablo directly sources the beans for his Forever Cacao chocolate bars. Pablo not only pays a higher price for the beans but he knows that this money is going directly to the harvest and their families. He has a direct relationship with the people harvesting and processing them, visiting them and sending them chocolate made from their beans!
For Pablo, making chocolate was never just about creating delicious-tasting bars (although this was still fundamental). It's also about supporting the Ashaninka people, the biodiversity of the Ene River region and safeguarding Ashaninka heirloom cacao. Thanks Dilwyn's lifetime of work with the Peruvian people (which is now continued by Ecotribal and their partners Size of Wales & Cool Earth a huge amount habitat has been protected. They have seen forty-four indigenous communities galvanised into shielding 2.5 million acres of pristine rainforest safeguarding ancient Cacao and other crops they rely on.
Pablo is currently speaking to other Ashaninka groups and hoping to help more villages to generate income through the sustainable production of cacao.
Photographs by Alicia Fox, courtesy of Forever Cacao.
Save
Save