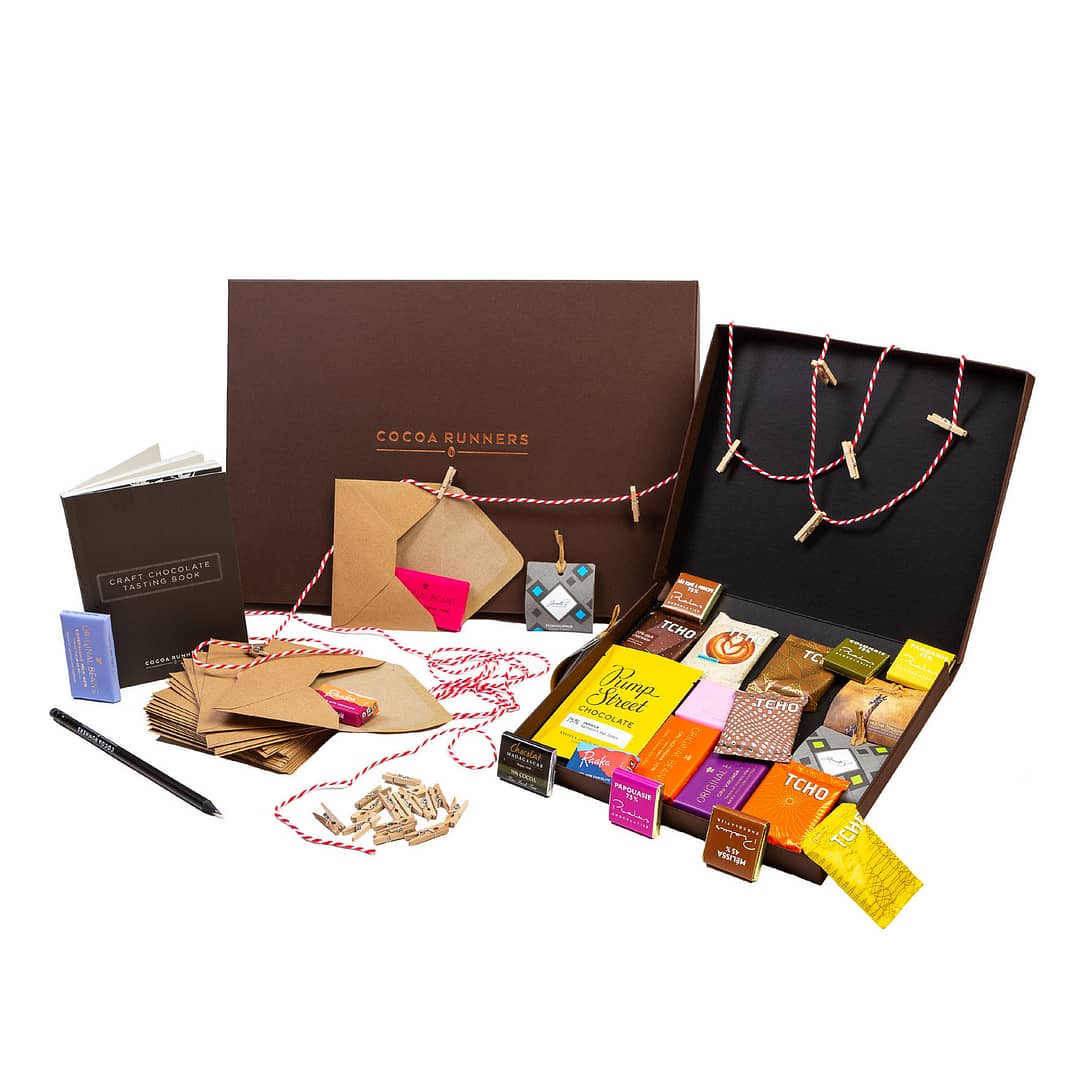 Next week, as I'm sure you are aware is the US Presidential Election. And we are also putting on sale our Craft Chocolate Advent Calendar. These two events are linked. Read on below for the history of Advent Calendars to explore the link (it's not that tenuous) and an overview of our Craft Chocolate Advent* Calendar.
Plus we are excited to confirm a whole host of new Craft Chocolate Conversations – with Barry Smith (Nov 6th) James Hoffmann, Philipp Kauffmann and Vanessa Kimble. In each of these Conversations we'll be exploring their careers and philosophies whilst tasting bars that showcase different aspects of their lives. You don't need the chocolates to participate. But it's really fun to taste alongside them (and everyone else), and a great way to learn about philosophy, the science of taste and flavour, Specialty Coffee, Organic Trade, the WWF, Sourdough bread and more. Please do join us by registering here
Our Craft Chocolate Advent Calendar
One of our mantras at Cocoa Runners is to always taste a Craft Chocolates in pairs as this really helps you appreciate their distinct flavours and tastes. For most people flavour and taste are notoriously hard to articulate. But tasting chocolate bars alongside one another throws their textures, flavours, melts, tastes and way they develop into sharp relief. And it really helps to refine your palate and enjoyment of craft chocolate.
So if you can steel yourself to only eat half of each Advent Chocolate for the first day, you can savour you way through 25 different chocolates eaten in pairs. And because each bar is at least 5g (and most are over 10g, with some up to 37g) you can do this alongside 1-2 others.
This year we've bars from Raaka, Pump Street, Menakao, Pralus, Chocolate Makers, Taza, Jordi's and CacaoSuyo that run the gamut from milk to dark. And they come in a (re-useable) hamper, along with tasting notes, books, pencil and all the kit you need to create a your own calendar (i.e., the envelopes, festive string and clothes pegs)
A History of Advent Calendars
Historians believe that Advent has been celebrated since the fourth century, albeit originally signifying the time when religious converts prepared for baptism. Today Advent is obviously associated with Christmas and, for the last century or so, it's also been accompanied with a tradition of Advent Calendars.
Originally these "calendars" took a very different format – German Protestants during the 19th century began to mark off the days to Christmas by burning a candle or marking walls and doors with a chalk line. In 1908 Gerhard Lang came up with the idea of counting down to Christmas by attaching 24 little sweets to cardboard coloured squares. Soon after he added little doors and sales sky rocketed.
And the rest would have been history were it not for World War 2, where the Germans forbade the printing and making of such "frivolities". However post war, Richard Sellmar miraculously (considering the paper shortages) obtained a permit from the US officials to begin printing and selling them again, and built a hugely successful international business (the company Sellmar-Verlag has now been selling Advent Calendars for 70+ years.
During he 1950s various companies experimented with filling calendars with chocolates. And they hit "influencer gold" when President Eisenhower was photographed with his grand children opening a Chocolate Advent Calendar. A tradition was born and we remain indebted to the US presidency for launching Chocolate Advent Calendars.
Did You Know…
The world's largest advent calendar was built in 2007 at St. Pancras station in London. It was over 200 feet high and 75 feet wide
Harrods in 2007 created a Christmas-tree-shaped carved wooden Advent calendar which cost over £30,000.
Since then prices have inflated even further — Porsche have a $1m calendar made from brushed aluminium that includes a Porsche Design P'6910 Indicator watch in rose gold, an individually customisable Porsche Design kitchen and a custom-made motor yacht, also designed by Porsche's studio in Austria. The added extras also include a pair of 18-carat gold sunglasses, a pair of Porsche designed cufflinks, and a pair of the most expensive trainers money can buy.
According to the Guiness Book of records, Kevin Strahle holds the record for the fastest time to consume a chocolate advent calendar, taking 1 minute 27.84 seconds.
In 2012, Lego built the world's largest LEGO Advent Calendar in Covent Garden, London using over 600,000 LEGO bricks in 30 different colours. It took them (and a master lego builder) over 7 weeks to build.