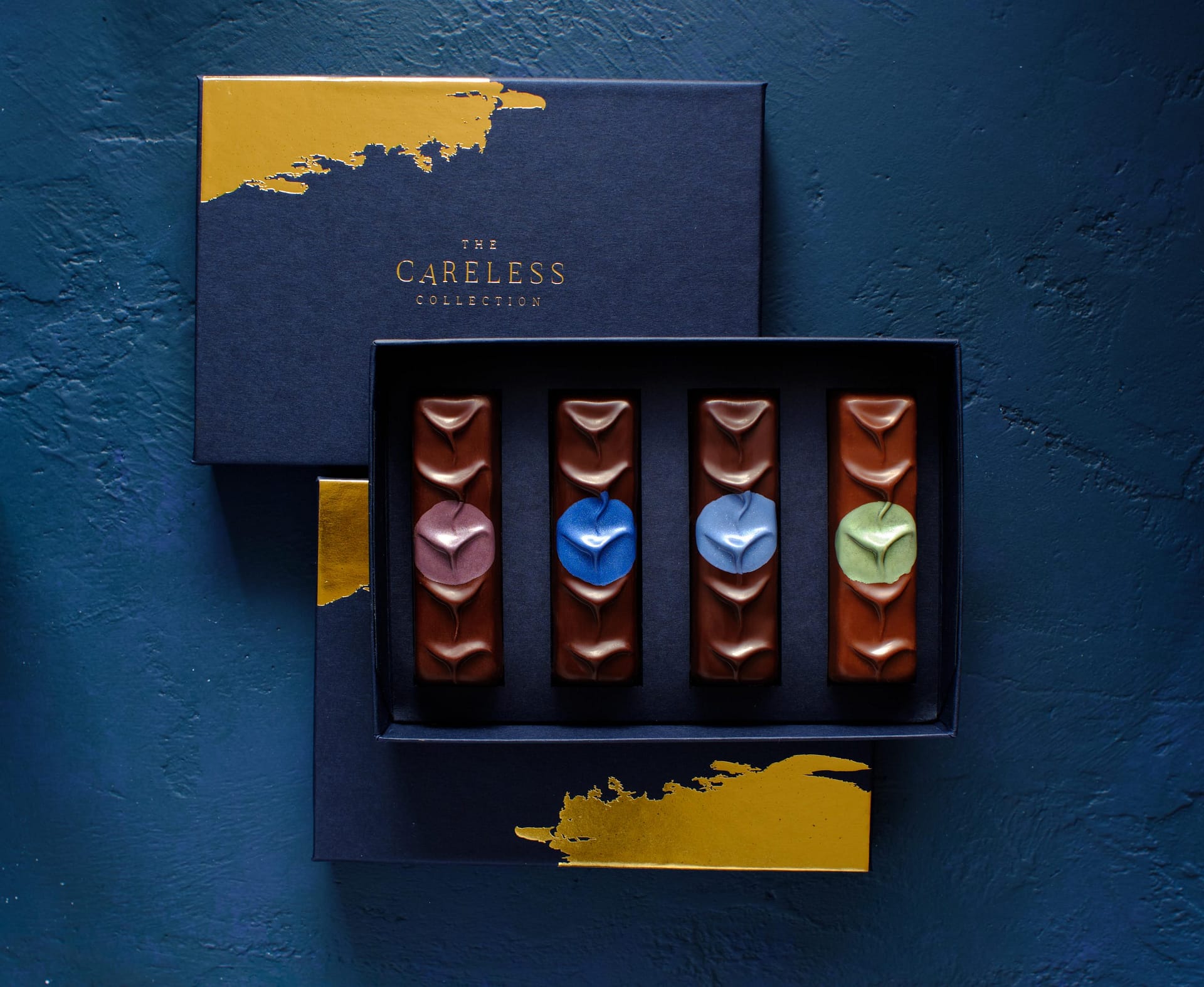 Chocolate is incredibly and wonderfully versatile. It adds magic to everything from biscuits to brownies, cakes to cookies, mouses to moles, ice cream to curries, bars to 'bon-bons'.
In many of these chocolate creations, chocolate is (ab)used as an ingredient; it's used as a vector for flavour and sensations, and chocolate is UNBEATABLE at this. Cocoa butter has the amazing property of melting in your mouth just through body heat. Chocolate picks up other flavours incredibly well. Sadly, it is also all too often combined with lots of sugar (and other additives) to create confectionery which "once you pop you can't stop".
At Cocoa Runners we delight in the amazing variety that cocoa itself offers. We believe that chocolate is all about savouring, and not scoffing. That is one of the main reasons why, until now, we've largely focused on craft chocolate bars. We want to showcase the extraordinary tastes, textures and flavours that craft chocolate makers can create from different bean varietals and fermentations. And this is why we don't sell a bar unless we know both where the beans are from and where the bar has been created. We think that this focus on provenance helps you find bars that taste better and are better for the farmers, makers and the planet.
We also know that many customers enjoy filled chocolates; 'bon-bons' and the like. They enjoy the wonderful flavours inside the pralines or ganache, and many a dinner party's highlight has been the salted caramel at the end.
Beyond the Bar
Today we are delighted to be moving 'beyond the bar'. We are launching a couple of bars that will delight anyone who enjoys the likes of salted caramel and delights in wonderfully creative innards. These bars are based off bean-to-bar chocolate' with clear provenance, sound ethics and amazing taste.
Zotter's Butter Caramel
First up is a bar that went down a storm on Sunday Brunch last week – Zotter's Butter Caramel (for more on Sunday Brunch, and Tim, Simon and guests' delight at Dormouse's Egg on Toast and Bare Bones' Sea Salt, please see here, and see below for these bars and the box too). You can see the full episode here; we are on about 2 hours in.
The Careless Collection
Then we have a set of bars from The Careless Collection. These four bars are the result of a challenge by The Observer's Chocolate Correspondent Annalisa Barbieri to David Crichton, an airline pilot who was one of MasterChef's first finalists (you can read more about his extraordinary career here). To quote Annalisa, "In gloriously self-indulgent fashion, I asked David Crichton to collaborate on bars based on my childhood memories … He said yes and I sent him a list of things that evoked strong reactions in me and left him to do all the hard work. Not surprisingly, nearly all of them were based around my Italian childhood, since I spent a great part of my childhood there, both my parents are Italian and all my cooking references were from there. After much mixing and tasting, we have settled on four bars which encompass these memories. All the bars are coated in Pump Street chocolate so you know it's ethical and, for me, local". Please see here and below for more details on the four bars David has created.
Spencer
P.S. We are also excited to announce that we're appearing in a new TV programme on UK Food with the AMAZING RACHEL KHOO. And Rachel is joining us for a Craft Chocolate in Conversation: We hope you can join us on the 6th May.