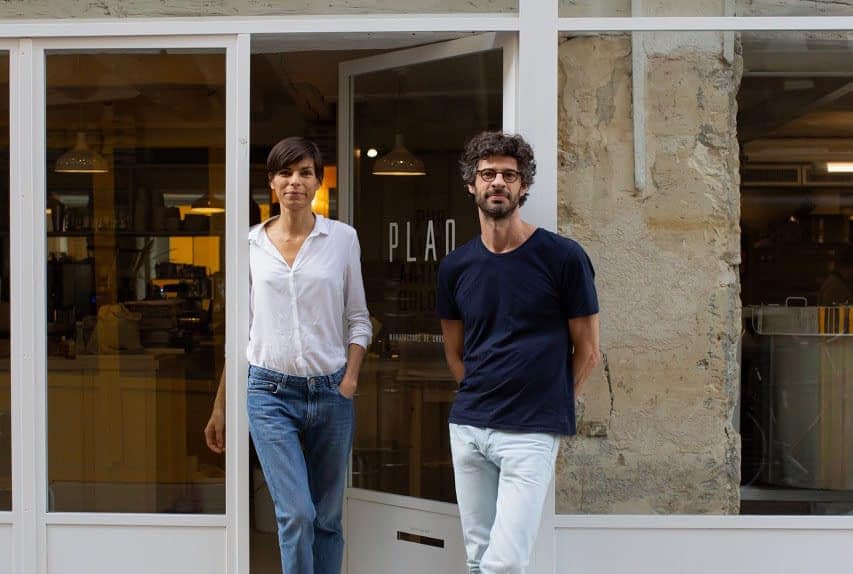 Paris 1 – London 0
No, this is not a forecast for the Euros. Nor is it a reminder of the UK's Eurovision song contest result.
It's a (belated) celebration of a wonderful new Paris based craft chocolate maker: PLAQ, created by Sandra and Nicolas.
Not only are Sandra and Nicolas great craft chocolate makers. They also have a facility in the Rue De Nil in Paris' 2e arrrondisement where you can purchase their chocolate bars and hear, smell and see them sorting, roasting, winnowing, grinding and tempering cocoa beans into bars (they also do some great brownies, cakes, hot chocolate and coffees).
In the world of specialty coffee we take seeing a barista make your coffee, and telling you the story of the beans, for granted. And there are (were?) over 600 specialty coffee stores in Paris for their 2.2m Parisiens. In comparison, London has over 5,500 specialty coffee shops for the 8.7m Londoners.
The 'barista experience' is a huge part of how specialty coffee has explained, and differentiated itself, from mass produced coffee. Not only can you try the coffee 'out of the house', but you can see, smell and hear what makes it different. The barista is an ambassador, and sales person, for all of specialty coffee.
Craft chocolate (sadly) lacks ambassadors and barista-like sales enthusiasts. It's far harder for craft chocolate to differentiate, and explain, what makes it taste better and be better for the farmers. All too often all we have is a bar's packaging on a shelf; and it's not obvious what differentiates craft chocolate from mass produced chocolate bars (almost all of which are made from couverture, nib roasted and rely on additives for their flavour profile). Very few people look at the ingredients, even fewer check where the beans come from, or the bar is made.
(For more lessons on what craft chocolate can learn from speciality coffee you can see our interviews with James Hofmann (Square Mile) and Maxwell Colonna-Dashwood (Colonna Coffee)).
So it's great news that Paris now has one craft chocolate store where you can both purchase, and experience, craft chocolate being made. And PLAQ really showcases what craft chocolate is all about. Situated in a little cobbled street, opposite a wine bar, just down from a cheese store, and full of amazing chocolate and chocolate stories, Paris now has another reason for us all to visit.
In comparison London has none. Fortunately, Manchester has one: from Dormouse Chocolates. Orford has one, from Pump Street, and both Glasgow and Edinburgh now have them too: from Bare Bones and Chocolate Tree respectively.
Read on for the wonderful "histoire" that is PLAQ. Do try their bars now we've finally managed to restock them (we are the only international place you can purchase these bars; and we sell out fast!). And do then go visit them!
The Romance Behind PLAQ
PLAQ is a love story not just to craft chocolate, but also for Sandra and Nicolas.
Prior to PLAQ (and prior to Nicolas), Sandra was working in the fragrance industry (Dior and Kenzo Parfums), and Nicolas was managing the graphic design agency H5 (best known for winning an Oscar in 2009 for the best animated short film Logorama). As Nicolas describes it:
"she was the client, he was the supplier. Once, during a long meeting, he shared with her his favorite chocolate bar. And a few months later they decided to share more than chocolate…"
They were inspired by the discovery of 'two ingredient' craft chocolate makers in Canada and the US (and they generously credit their Cocoa Runners subscription for part of this discovery process). They realised that there were other ways to make great craft chocolate to the traditional French style; and that's why they decided to set up PLAQ.
They were fortunate to find, and work with, Chloé Doutre-Roussel. To quote Nicolas:
"Chloé taught us how to make chocolate in her lab in Caracas and brought us to our first plantation : Chuao!".
And then, as they opened their operations in September 2019, they secured the support of Celine Lecoeur, the former pastry chef of Rose Bakery and Ottolenghi in London.
Packaging and More
As you'd expect, PLAQ's packaging is amazing. Not just wonderful, simple, resealable and elegant, but also informative. They list not just the estates, farms and co-operatives they source their beans from (an ever expanding collection, including Kokoa Kamili (Tanzania), Idukki (India), Gran Yapatera/Norandino (Peru) to name just a few). They also explain how they craft each bar, the recipe and process steps.
In addition, they offer customers in their Rue Du Nil store an environmentally friendly option of buying "the bare chocolate" with just a glassine (an envelope made of paper, that is plastic and aluminium-free). And then they'll also supply a classic, environmentally friendly, white cloth bag explaining their PLAQ logo and philosophy (coveted in our household).
But to get the whole experience, their Rue De Nil operation is a must visit.
And when they aren't crafting chocolate, Sandra and Nicolas are reading, winning, entertaining, being with their three daughters, and also swimming (Nicolas is a French champion swimmer, but sadly won't try the Hampstead Ponds as he likes water that is over 25 degrees, and ideally blue and clear).
What's in a Name?
In French, a "plaque" is the old word used for a chocolate bar (now, the French use the term "tablette"). Sandra and Nicolas hit upon using this old school world to show that they wanted to go "back to basics", back to 'bean to bar', or as you'd say in French "de la fève à la plaque".
They knocked off the last two letters, and capitalised their name into PLAQ to also express their philosophy and programme – Pure Libre Artisan Qulotté.
And PLAQ also note that in French:
A « plaque » or the verb « plaquer » has various other meanings — including;
A hob or a cooktop (in cooking),
To veneer (wood) or to plate (to cover the surface material of an object with a thin coat of another material),
To leave everything behind, to give up everything (« tout plaquer »).
Lessons we can Learn from PLAQ
PLAQ are another great example of the importance of SEEING, HEARING, SMELLING AND WITNESSING the art of craft chocolate making, and of packaging that also tells their story and that of the farmer, beans and crafting.
Specialty coffee has long known the importance of theatre and story telling. Napa Valley wineries have learnt from this too (Napa is California's second biggest source of tourist dollars after Disney World). Artisan Bakers are the same. In all of these, customers can learn so much more than just buying in a store, it's more like buying after, or as part of, a virtual tasting.
We've a few other pioneers blazing a similar path in craft chocolate, so to tempt you to go to, Manchester, Orford, Cleethorpes, Glasgow, Edinburgh, and perhaps some time in the future to visit Taiwan, Dubai and Austria, we've included not just bars from PLAQ below, but also bars from Dormouse, Pump Street, Bare Bones, Chocolate Tree, Fu Wan, Mirzam and Zotter.
Craft Chocolate is all about TASTING (and savouring!) the bars. But as PLAQ, and other makers, and as specialty coffee baristas, Napa Wine growers, etc. show; hearing the stories, experiencing the crafting and seeing the passion are also super-important. So visit your local craft chocolate maker (or farm) and come to a virtual tasting, as well as purchasing the bars.
Enjoy!
Spencer
P.S. We are still digesting the news from the US Supreme Court on child slave labour. We've covered this before on the blog (see here, and be warned; it's deeply unpleasant), and we'll revisit again soon. But the bottom line is that the best way to ensure the farmers are being properly paid (and to stop child slave labour) is to purchase craft chocolate bars where the farm, co-operative or estate where the bars are from is listed (note: we sell over 1000 bars, and insist on knowing the source of beans for all of these, by comparison less than 5% of bars sold in any supermarket will tell you the detailed source of their beans).