Here at Cocoa Runners we have traveled through 60 countries, tasted over 1000 bars and only selected the best of the best to feature on our website. However, until now we hadn't found a Spanish maker producing high enough quality to pass our discerning taste.That was until we bumped in to Marco from Blanxart at the "Speciality and Fine Food Fair" just down the road from us in Olympia. We took away a few of their bars for thorough assessment and were wonderfully impressed with them, they both look beautiful and tasted delicious.
Spanish Chocolate
Spain is a country with a fantastic chocolate heritage, it was introduced to Spain by Cortez in 1529 as a drink, sweetened to European tastes, and by the 19th century 1/3rd of Cacao consumption was by the Spanish. Even the famed history of Belgian chocolates began when it was the Spanish Netherlands.

Blanxart's history
In to this esteemed tradition stepped master chocolatier Francesc Agras in 1954, alongside 3 close colleagues he launched Bombons Blanxart from a rented ground floor workshop in the Les Corts neighbourhood of Barcelona. Despite limited resources Blanxart's focus on high quality products and design allowed them to make inroads in to the chocolate market from the beginning. Their brand logo, still in use today, was inspired by Barcelona's arts and professions museum, a visual demonstration of their dedication to quality. Whilst the packaging's rustic appearance reflects the carefully handcrafted nature of their chocolate.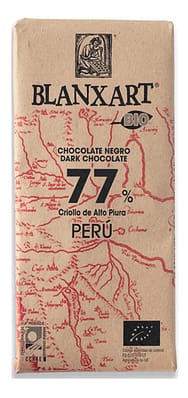 Cocoa Runners and Blanxart
It is this focus on high quality which is what ensured their chocolate appealed to our palate. From the fabulously creamy Filipino Milk, through a beautifully bitter and sweet Peruvian dark to a devilishly intense and extremely fruity Brazilian dark we've stocked a selection of their most flavoursome chocolate bars. Not only does Blanxart's chocolate provide a excellent epicurean experience and their design style please the eye but their bars are a generous 125g ensuring their is plenty to share round so all can enjoy this special Spanish chocolate treat.
So why not try a few of these beautiful bars today….