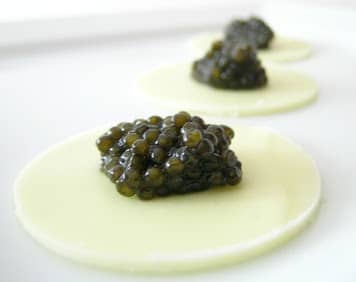 Most of us have few problems figuring out the missing pair to the below:
Salt and P*****
Bread and B*****
Knife and F***
Needle and T*****
Hugs and K*****
White chocolate and C***** (OK; the last one isn't as obvious, but see the image above for a hit, and text below for an explanation)
Pairings are awesome. Including (especially) ones with craft chocolate (including white chocolate and caviar).
Craft chocolate is all about savouring the distinct flavours, textures and tastes that chocolate makers and cocoa growers can coax from their beans.
We believe that this savouring is best done in pairs. Trying pairs of different craft chocolates together. Sharing a couple of bars with friends, families, colleagues and partners and then comparing/sharing impressions.
And pairings of craft chocolate with other products are also amazing at revealing unexpected delights. And they are fun. And unique.
So for this holiday season we've arranged a bunch of pairings, tastings and even subscriptions covering whisky, wine, gin, cooking and coffee paired with craft chocolate.
Principles of Pairing
Principle #1: Make it delightful.
As well as being greater than the sum of its parts, a great pairing should above all be full of delight and fun. Hosted tastings, including (indeed we'd argue especially) if they are virtual, make great events because we've real experts who are passionate about their products and know how to make stuff great FUN.
The tastings are interactive and involved. If you really want you can lean back and watch. But our virtual tastings are much more like being a celebrity guest on something like Channel 4's 'Sunday Brunch'. You get to taste the wine, whisky, gin and chocolate, AND you can share your impressions with no worries about saying the wrong thing (or your neighbour showing off and intimidating you). And even if you and a partner, relative or friend can't be in the same room, you can still all join in remotely, chatting together too over Zoom.
Principle #2: Synergy of mouthfeel.
It's VERY clear when foods and drinks clash. It's also very clear when foods and drinks work together in harmony. They create a synergy. And thanks to Simon, Steve, Rachel, Maxwell, Ida and Rebecca, we think we've built some great experiences which showcase what really works, and why.
If you've been to one of our craft chocolate tastings, you'll know that savouring chocolate is about going on a journey of different textures, tastes and flavours.
And the same is true of pairing craft chocolate with whisky, wine, coffee and anything else.
The first synergy you need is around mouthfeel and texture. For example; red wine, coffee and chocolate all contain tannins (tannins are chemicals that create astringency; the puckering and drying sensation in one's mouth). The great thing about pairing products with tannins is it helps your brain acknowledge, and then ignore, this puckering, enabling you to appreciate the flavours and not be distracted by the dryness in your mouth. Trust us it works. Or even better, let us show you at our 'taste and flavour' deep dive sessions.
Principle #3: Synergy of flavours and aromas.
And then once you've matched mouthfeel and textures, you can move on to pairing flavours and tastes.
Back in the early 2000s, Heston Blumenthal (founder and chef of The Fat Duck) was experimenting with salty ingredients and chocolate and discovered that caviar and white chocolate made a perfect match. Intrigued by this, he partnered with Firmenrich, a US-based flavour company, to test the hypothesis that "different foods will combine well together when they share major flavor components". And armed with the successful results of this study, they founded The Flanders Taste Foundation and a symposium, 'The Flemish Primitives', dedicated to promoting the new approach they called 'Foodpairing'. Foodpairing works by "analysing the aromas and flavour volatiles in foods using the likes of gas chromatography and mass spectrometers and then identifying similarities".
Sounds pretty obvious. But because this approach deliberately ignored historical and cultural biases, it's turned up some intriguing new pairings. For example: white chocolate and caviar (see above), endives in a desert, dark chocolate with cauliflower or strawberries and peas.
We've been similarly bold in our approach. But sadly we don't have access to gas chromatography and mass spectrometers. Instead, we've done A LOT of testing. And A LOT of trial and error!
And this is really where we at Cocoa Runners appreciate the expertise, and harder heads, of Rachel, Ida, Rebecca, Steve and Maxwell. As Rachel likes to remind people, after 15+ samples of whisky; I'm really not sure which way is up. Similarly I have trouble deciphering my notes after a couple of dozen wine samples, but Ida and Bex are just warming up. And I'm so wired by multiple coffee cuppings that it's a good thing Maxwell is there to steady my nerves!
Some pairings we know work well out the box. For example, the winey and vegetal characteristics of many Ecuadorian dark chocolates work great with red wines like carmenere and cabernet franc (and we've written more about other pairings too). And most lightly roasted coffees with a fruity profile will go well with a Madagascan craft chocolate bar.
Then there are other pairings which are at another level. They really, really work. Thanks to Rachel, Ida, Rebecca, Steve, Simon and Maxwell we think we've hit some magic.
I'm still blown away by the whisky pairings Rachel has chosen to showcase different styles of whisky and highlighting these with very, very different milk, white and dark craft chocolates.
Maxwell has dug deep to pair various beans and roasts in his coffees with different interpretations of various cocoa beans from Fresco, Naive and more. And Maxwell uses these roasts, beans and fermentations to explain how these two beans have so much in common.
Simon's cooking is always magnificent… and even more amazing when he has ingredients like Tappers Gin and Original Beans' cooking chocolate to show us how to create a truly decadent figgy pudding.
And Rebecca and Ida have outdone themselves this time in their pairings; for example, they've created the answer to marmalade on toast for any evening with their pairing of an orange wine with Hogarth's buttered toast chocolate bar (trust us, it's an extraordinary pairing).
We've learnt a tonne, and had great fun, in preparing these pairings and tastings. We think you will be delighted, have fun and hopefully be blown away.
And even if you can't make the dates, you can still purchase the kits and we'll send video links (and for at least the Corney & Barrow wine tasting, we've already planned a second tasting in January).
Looking forward to seeing you at these!
Spencer
P.S. We are expecting more advent calendars next week. So please do register if you missed out on the first wave. And do check out our Christmas bars and boxes (Bonnat's Christmas bar has finally arrived, as have Chocolate Makers' Sinterklaas and Pump Street's Panettone bars).