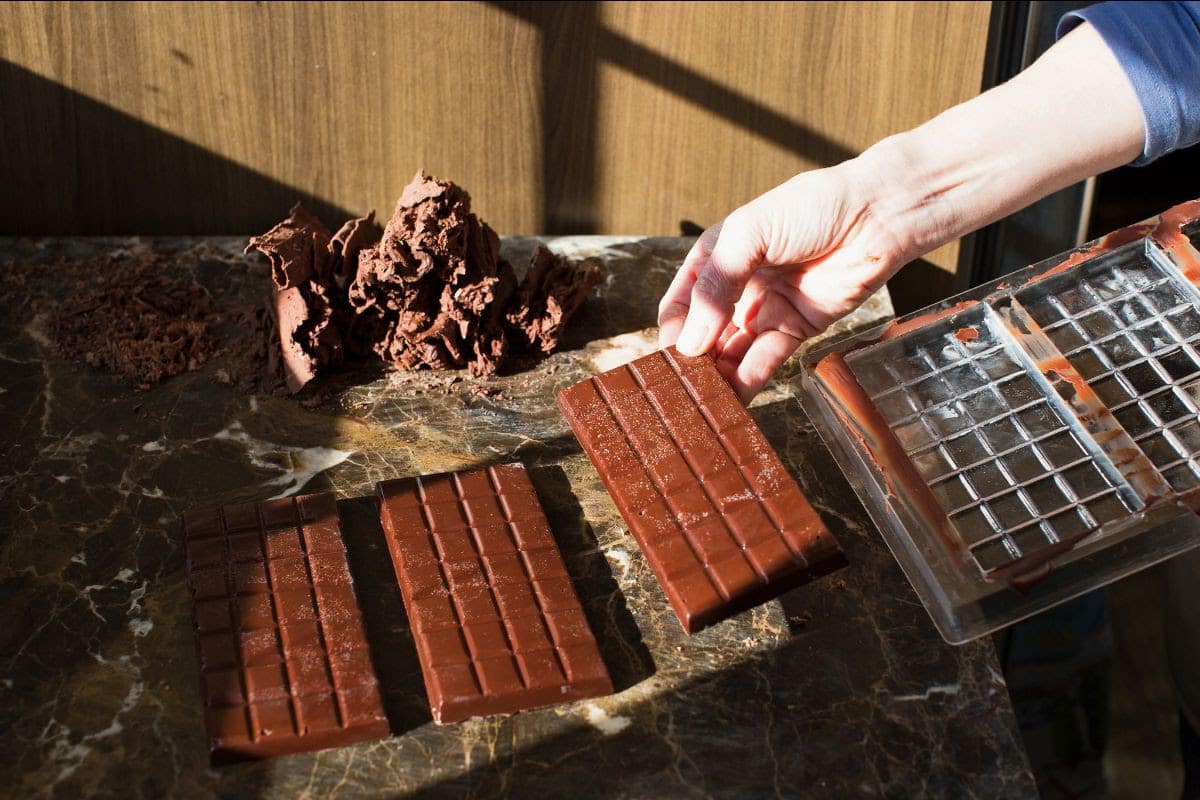 Can we interest you in some "ChocolaTourism"? Why not combine your next trip with a visit to a craft chocolate maker or even go on a cacao trek in the Amazonian jungle?
Unlike the banter of a barista or the chat of a craft beer maker, it's rare to meet a craft chocolate maker in person and experience all the work they put into crafting their bars. When we purchase a bar, we can read a bit about the maker and farmer from the packaging. But it's really not the same as hearing the barista's enthusiasm, and literally smelling the freshly brewed coffee, in a specialty coffee store. Similarly, we miss those great descriptions in the pub of new craft beers and clinking of glasses.
In the world of craft chocolate, this is starting to change; you can now experience the sights and smells as chocolate is crafted and grown. More and more makers are opening up for visits, and some are even offering museum-like experiences and activities. And farmers and growers are also offering treks and tours.
We've started to assemble an atlas of our craft chocolate makers offering visits and tours; see HERE. Please note that it's a work in progress; if there are other makers or growers or experiences you'd like us to add please let us know! And similarly, if there is other information you'd like, again let us know. Please do note that we are NOT arranging these tours and activities, nor are we selling tickets. Rather we are rather trying to provide a simple facility for craft chocolate lovers to take their appreciation one step further.
Visit the Makers
At Cocoa Runners we work with over 150 chocolate makers from every continent (with the exception, so far, of Antarctica). And more and more makers are opening their doors and welcoming visitors. So whether you are planning to visit Cleethorpes or Copenhagen, Saigon or San Francisco, Mexico City or Manchester, please do leave some time to visit a craft chocolate maker. See here for more details.
Weekends Away
If you fancy a weekend away, why not combine this with a trip to the Suffolk seaside and visit Pump Street in Orford (and for a personal suggestion, I heartily recommend staying at The Ship at Dunwich). Or head off to Glasgow to visit Lara and Cam's newly opened Bare Bones drinking chocolate bar; and stop off and say hi to Rachel McCormack too for a whisky and chocolate pairing.
And if you want to take 'chocolatourism' one stage further, why not take a trip to Catalonia and stay in the Roca's chocolate hotel, dine in their award-winning restaurant, and visit Jordi and Damien's chocolate factory.
Learning from Napa Wineries
The wine industry in America long ago discovered the wonders of wine tours with wine tourism in Napa and Sonoma in California second only to Disney World as tourist money makers in California). Realising this, Adam Bridge of Taylor's Port has created not only 'port tourism' in Porto, Portugal, but also now you can visit their chocolate museum and factory (we're launching Vinte Vinte's bars next month, and hosting a tasting with Pedro on the 26th in London; stay tuned for updates!).
And if you are in Austria, we strongly recommend a trip to Julia and Josef Zotter's chocolate experience near Vienna. And if in Taiwan, do visit Fu Wan where you can stay in their hotel, trek in the nearby forests where they harvest some of their cacao and visit their award winning factory.
ChocolaTourism and Cacao Treks
And if you are up for even more of an adventure, why not consider a cocoa field trek to Uganda, Ecuador or the Dominican Republic? Jenny from Conexión still has a few tickets left on her next trip. Zorzal in the Dominican Republic offers the chance to visit their cocoa farms and bird sanctuary. And Jeff (from Moka), along with Jeff Steinberg (founder of Latitude) coordinates some great trips to Uganda and Latitude's operations.
Home-Based Experiences
For those of you who've already made other summer plans and can't wedge in some chocolatourism just now, fear not. We've also some great board and bar gifts based on these makers and growers; see HERE and below.
In addition, we are hoping to run a series of monthly in-person events and tastings at our London Offices in Charterhouse Square; see HERE for more details.