A simple yet decedent chocolate cake recipe finished with a milk chocolate and cocoa nib whipped ganache.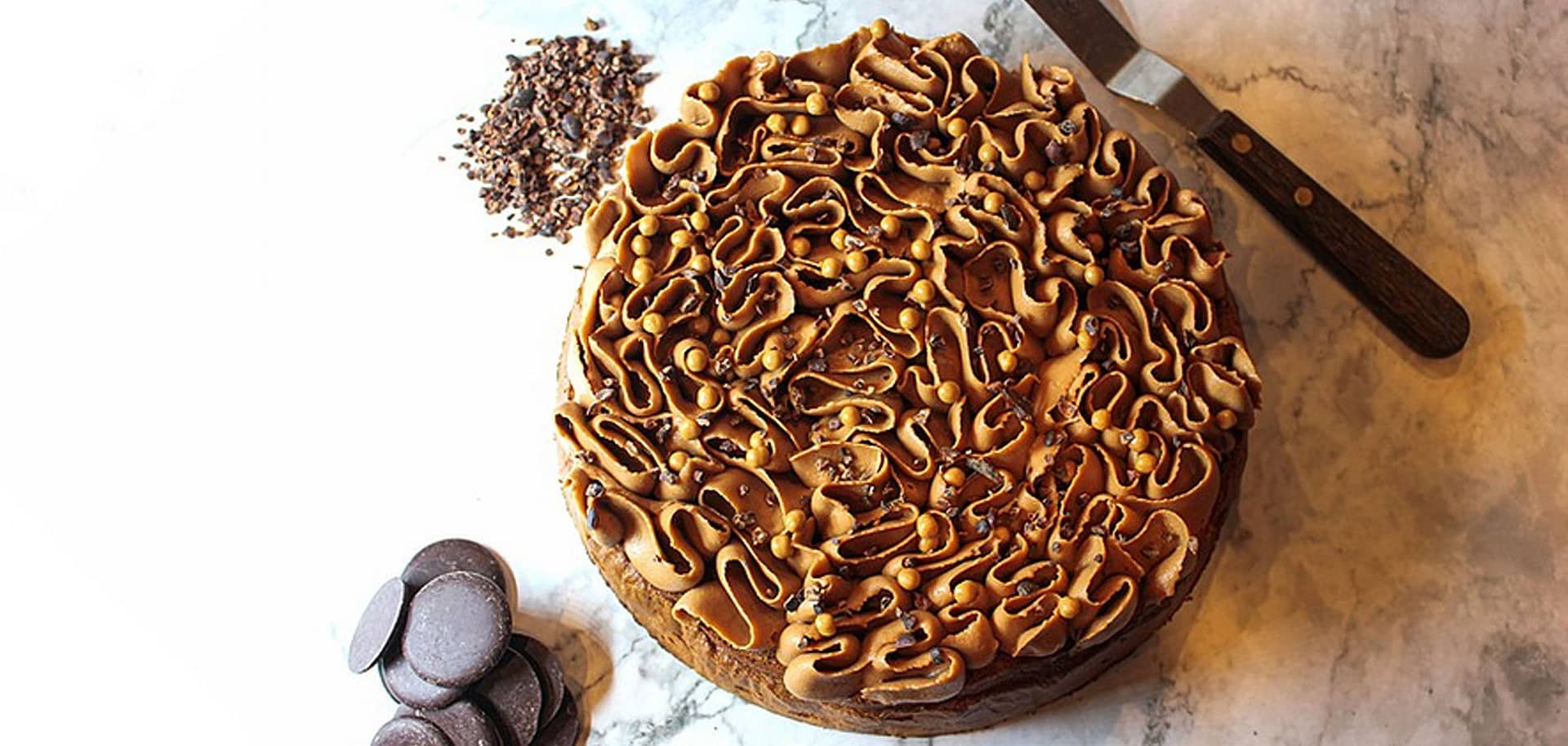 Cake
126g 63% Dark chocolate
30g 100% Dark chocolate
78g Unsalted butter
75g Egg yolk
140g Egg white
45g Caster sugar
25g Plain flour
For the Ganache
76g Whipping cream (1)
14g Liquid glucose
85g 44% Milk chocolate
200g Whipping cream (2)
20g Cocoa nibs
METHOD
FOR THE CAKE
Preheat the oven to 200 degrees Fan and line an 18″ cake ring with greaseproof paper.
Heat the chocolates and butter together to 50-55 degrees. This will ensure that everything is melted and when mixing to the egg yolk, it won't cause it to split.
Place the egg white in a mixing bowl and whisk until soft peaks.
Turn it down to a medium speed and slowly add in the caster sugar a bit at a time.
Whisk until it forms a stiff meringue.
Combine the chocolate mix with the egg yolks then take a small amount of the meringue and mix it in to loosen the mixture.
Carefully fold in the rest of the meringue to the chocolate mix. Once it's nearly all combined, sift in the flour and fold the mix until there is no sign of flour or meringue.
Pour the mix into the lined cake ring and place into the oven for 20-25 mins.
To tell if the cake is cooked, take a wooden skewer or knife and carefully stick it through the middle and it should come out clean.
Once cooked, remove from the oven and leave it to cool completely.
FOR THE GANACHE
Place the cocoa nibs on a tray and roast at 150 degrees for 10-12 minutes.
In a pan, place the whipping cream (1) and glucose in and bring to the boil.
Add in the roasted cocoa nibs to the boiled cream and infuse for 15 minutes.
Heat the chocolate in the microwave in 30 second blasts until fully melted and keep to the side.
Once infused, bring the cream mix back to the boil and then pass it through a sieve over the chocolate.
Combine in the cream mix to the chocolate and then slowly add the second amount of cream until it is fully emulsified.
Place into the fridge with clingfilm to surface for minimum 6 hours.
FINISHING
Take the whipped ganache and place in a mixer and whisk on a slow speed until it becomes stiff and pipe-able.
Place into a piping bag with a nozzle and decorate the top of the cake.
Finish off with a sprinkling of roasted cocoa nibs and chocolate pearls.
This recipe was created by Chocolatier and Patissier Dominic Hutchings. You can find more of his recipes at his website and follow him on Instagram @domhutchings
Shop Our Cooking Chocolate Range