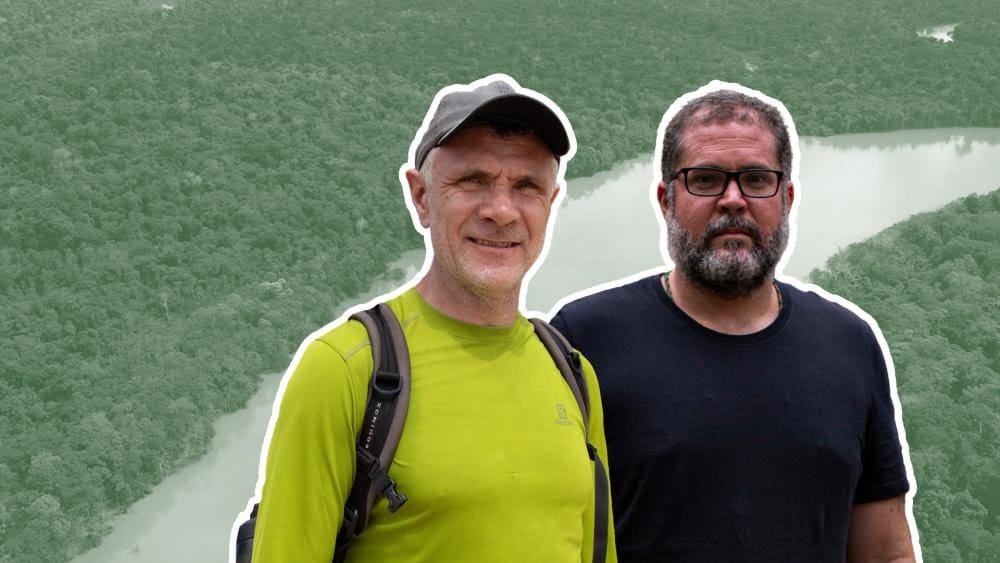 In June 2022, British journalist Dom Philips and fellow environmental activist, Bruno Pereira were murdered in Brazil. We may never know all of the exact details, but it's clear that they were murdered for their work researching the destruction of the Brazilian rainforest and indigenous peoples.
We'd like to highlight their work on chocolate specifically, as it helps contextualise the battles Dom and Bruno chose to fight.
Amazonian Deforestation
By now even the most ridiculous climate change deniers acknowledge that the Brazilian rainforest is facing unprecedented challenges from cattle farmers, gold miners, illegal loggers, drug smugglers and even (parts of) the elected Brazilian government.
But the numbers are pretty staggering; here are a few from the appropriately acronymic SAD (Deforestation Alert System or 'SAD', in Portuguese, who since 2008 have been using satellite imagery to monitor deforestation).
Between August 2020 and July 2021, 10,476 square kilometres of the rainforest was destroyed.
To put this in context, this is an area nearly seven times bigger than greater London, and 13 times the size of New York City. That is to say, for every month in 20/21 a rainforest area larger than New York City was destroyed.
These "results" were over 50% worse than 2019/20; and 21/22 is set to be even worse, with a predicted increase to over 15,000 square kilometres being destroyed (i.e. an area the size of Greater London being raised every month).
What this means for the people living in the Amazon:
Underpinning the destruction of the rainforest is another gruesome tragedy; the destruction of the indigenous tribes living in the Amazon. Bruno and Dom bravely covered many crimes here; documenting everyday murders through to massacres of entire tribes.
And this mentality and approach of destroying the indigenous peoples has now permeated government policy. Again, to quote an article from Dom Philips, where he reported how in a a Facebook Live broadcast where the president of Brazil, Jair Bolsonaro, claimed:
"The Yanomami reserve is too big for its population",
The indigenous people in the Amazon "really yearn for white society's consumer lifestyles" and "don't want to live in the Amazon".
"The indigenous [peoples] changed, they are evolving … indigenous [peoples] are increasingly becoming human beings just like us".
It's worth re-reading the last line, and reflecting that this is a quote by the President of Brazil. This is the same President Bolsonaro who congratulated the US on decimating its Native American population, and regretting that Brazil hadn't (yet) done the same.
The Link to Craft Chocolate
Back in early January 2020, Dom Philips wrote a piece for The Guardian about how the Ye'Kwana and Yanomami indigenous people were planting, and harvesting, cacao as a means to counter the threats posed by smugglers, illegal loggers, wildcat gold miners (known as garimpeiros), etc. to their traditional ways of life.
Cacao is indigenous to the Amazon; the tree Theobroma cacao can be traced back at least 5000 years. And within the 9.6 million hectares (23.7m acres) Yanomami indigenous reserve, Theobroma cacao trees were well documented and known. However they weren't that common, and they weren't regularly harvested. But in the mid 2010s a Brazilian non-profit group, Instituto Socioambiental (ISA), saw an opportunity to plant more cacao trees to support of local indigenous peoples.
The logic was simple; plant cacao trees to provide the indigenous people with an alternative source of income to the bribes, handouts and corruption from the loggers, miners, smugglers, etc.
As Dom Philips wrote:
Garimpo gold is seductive and buys televisions and phones. Four villagers work as boat pilots, others deliver food, and even the village community centre was built with garimpo money. …But the cacao project will offer an alternative, says its coordinator, ISA anthropologist Moreno Saraiva. "We're trying to build another possible future," he says. "It will take five years, but if we don't do this now there will never be another alternative." …. For these Ye'kwana indigenous men, the skinny (Cacao Tree) saplings, less than a metre high, aren't just baby cacao trees but green shoots of hope in a land scarred by the violence, pollution and destruction wrought by illegal gold prospecting. That hope is chocolate."
Brazilian Craft Chocolate
We are trying to source the craft chocolate that Dom Philips wrote about; it's called: Yanomami-Ye'kwana – 69% Cocoa. But we don't yet have it for sale.
We do have a range of other bars from crafted from Brazilian beans from makers including Georgia Ramon, Åkesson's, Fjåk, Bonnat and Zotter.
In addition, we are delighted to work with the Abram family (Luisa, Andre, Mirian and Andrea) who craft their bars in São Paulo (Brazil) and source beans from indigenous peoples living alongside various rivers (rivers provide the main way to transport beans).
Luisa started with beans from the Rio Purus, grown by 'Cooperar'; a cooperative with around 300 members (and we featured this when we launched her bars over five years ago). Next she branched out to source beans from the Cassipore River; a quest that took her over four years from discovering the beans to finally being able to make bars with these beans. And in the last few years she's added new sources of beans to support indigenous peoples, including her Rio Acará bars. For these bars Luisa has partnered here with 10 riverside families living alongside the Arauaia, Acará and Guamá rivers who pool their beans and have them transported annually by a local fisherman, Francisco Bico and his wife Yolanda. Luisa is now also sourcing beans from the Tocantis river and region; including a bar infused with cupuaçu (otherwise known as Theobroma grandiflorum), a close cousin of Theobroma cacao. And for more on these bars, and their farmers, and more details on how Luisa and her family are working with them, please check out our updated maker profile.
As we've said many times; craft chocolate doesn't just taste better, it isn't just better for you; but it REALLY IS BETTER FOR THE PLANET, RAINFOREST AND THE FARMERS!