Corporate and Private Virtual Tastings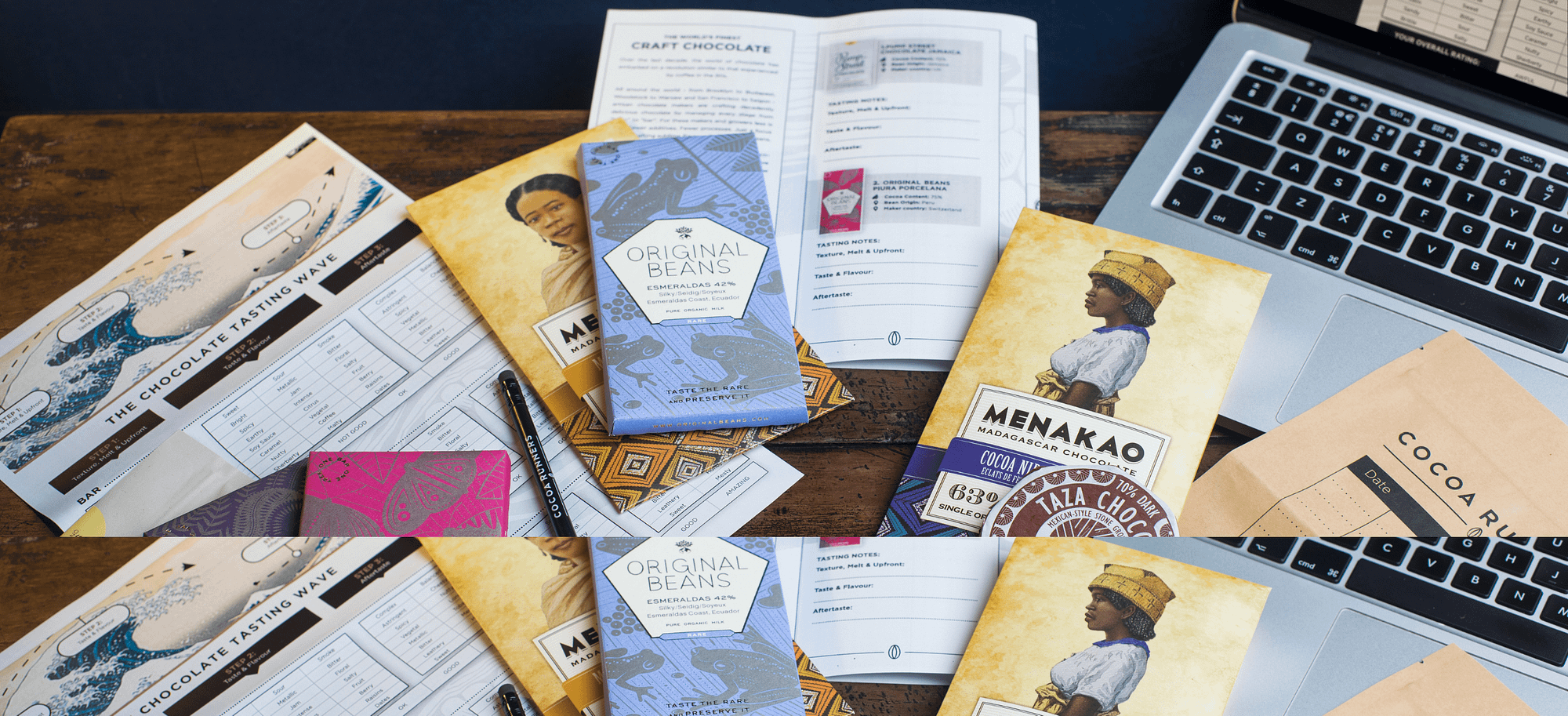 Taste | Learn | Share | Enjoy
Cocoa Runners online virtual chocolate tastings are a fun and unique experience to bring together your team and colleagues in the comfort of their own homes. Our virtual tastings are interactive and have been created for all levels of knowledge and interest.
What People Are Saying
---
How Does It Work?
Select a date and time that suits your team (subject to availability – dates in grey are unavailable)

Select the tasting kit (options below)

Prepay for the session
We'll send you (or the organiser) an email to send to each team member. This email will include a coupon code to order their tasting kit directly from our website free of charge (you can also offer a partial discount, etc.). Please note that if preferred, one person can place all the individual orders via our website – but we, Cocoa Runners, cannot do this for you

We'll deliver our chocolate tasting kits directly to each team member ahead of the session

In the run up to the session, we'll email everyone with the Welcome & Joining Instructions
Pricing & Your Options
We offer Pair Kits at £19.95 and Family Kits at £34.95 (inc. VAT)
The minimum cost of the chocolate per tasting needs to be £300 (i.e. that means at least 15 Pair Kits, or at least 9 Family Kits need to be bought for a Private Tasting)
Our Private Tasting fee on top is £120 (inc. VAT). This is for the 60-90 minute tutored session
We also offer Chocolate & Wine tasting kits, prices starting from £49.95 (inc. VAT)
What to Expect?
Experience a 60-90 minute Craft Chocolate tasting session hosted by one of our chocolate experts. Please note that Zoom is our standard platform. But we can use other platforms, e.g. Microsoft Teams, Google Meet, Cisco.

Taste a delicious selection of eight (or more) craft chocolates from around the world, and learn about the background, tasting notes and history of each bar whilst also refining your palate and learning how to taste. We'll take you on a journey of flavour discovery and throw in a couple of taste experiments.

Participate in a relaxed, informative, energising and engaging activity to keep connected with your team members and colleagues from the comfort of your home.

Towards the end we'll include a Quiz (chocolate prize to be won) and a Q&A session
---
To calculate a quote and make an enquiry, please fill out this form:
To secure your booking and to start ordering the chocolate kits, payment is required upfront and in full. If you have any questions, please write to us at corporate@navigatorcommerce.com.
For full Terms & Conditions and Overview of our corporate tastings, please see the following pdf download: