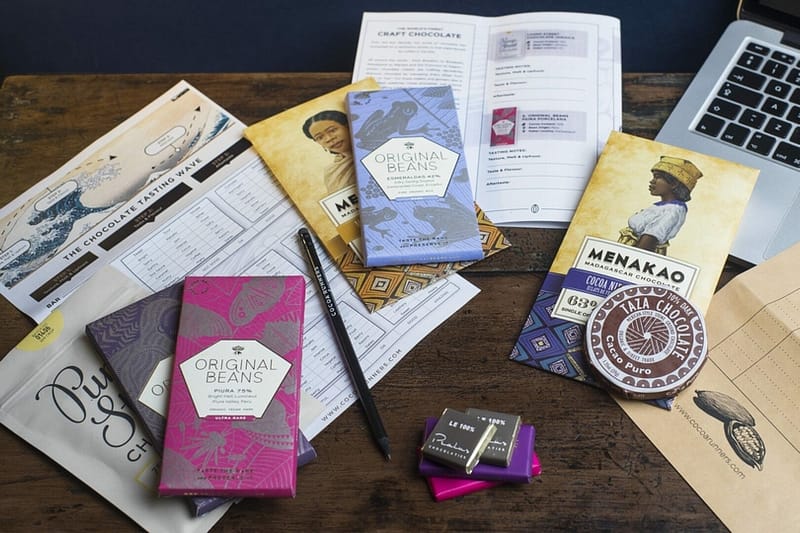 Corporate & Private Tastings
Our virtual chocolate tasting sessions are huge fun, great for team building and a delicious luxury
1. CHOOSE YOUR PACKAGE. Choose from Single, Deluxe and Specialty tastings such as Wine & Chocolate.
2. ARRANGE PAYMENT AND DELIVERY. We send all packages via tracked services (including international delivery).
3. JOIN IN! Our interactive tastings last for 60-90 minutes (shorter sessions can be arranged). Includes a quiz with (chocolate) prizes. 10 delicious chocolates will be tasted
Enjoyed By:

What People Are Saying
---
Thank you for going above and beyond on the logistics and for delivering a very insightful and engaging session!

Google
It was a great event and everyone had a fantastic time!

Accenture
When remembering the chocolate tasting, I'm still smiling. I really have taken some lessons to learn.

NatWest
More Information
---
What to Expect?

Participants receive ten distinctive chocolates to taste and compare. You'll also learn what gives rise to these flavours and tastes in a fun, interactive format whilst also exploring the history and science of chocolate.

Sessions last between 60 and 90 minutes (depending on how much you want to talk!).

Discover and explore a world of taste and flavour. We'll provide you with a tasting kit containing ten different craft chocolates from all over the world.

Join the discussion. Interaction is not mandatory but highly encouraged! Share your thoughts about the bars you're tasting, and ask/answer questions.

We'll finish with a fun quiz (with chocolate prizes to be won!).
Options

We offer several tasting kits. Note that different participants can have the Taster or Deluxe kit in the same session, but a different session is required for Wine and Chocolate packages.

The Taster Kit

Contains enough chocolate for 1 or 2 people.
£19.95 (incl. VAT)

The Deluxe Kit

Contains the same chocolate as the Taster kit, but with full-size bars.
Enough for more people, or for sharing and enjoying after the session.
£34.95 (incl. VAT)

Wine and Chocolate Pairing

We have sessions for pairing fine craft chocolate with fine wines. See here for more details. [Link to wine page.]

The private tasting fee for a session is £120.
How does it work?

Booking is simple and flexible:

1 Choose your package and a date/time.
2 Arrange payment and delivery.
3 Join the tasting session.

To find out more or to get a quote, click here. You can have a fantastic time enjoying world-class chocolate from the comfort of your own home. Join your friends, family and colleagues for interactive and fun sessions.
Booking and Delivery

Click here to get in touch/get a quote for a tasting.

You'll need to select a date/time which suits your group. We ask for at least two weeks to plan UK-based sessions.

Choose which of the tasting kits you'd like.

Prepay for the session (either by card or invoice). Delivery charges are included in your quote. These are £3.95 per box in the UK and £14.95 per box delivered internationally. All kits are sent via tracked delivery.

We'll give you a unique coupon for everyone in your group to order kits to their home for free.

Receive and look after your chocolate kits.

Follow the joining instructions and join in the fun!
---
FAQs (click for more information)
BOOKING
How can I arrange a virtual tasting?
Click here to get in touch and get a quote.
How soon can I arrange a virtual tasting?
We ask for at least two weeks for participants in the UK, and more for international.
How many people can attend a single tasting?
We find that anywhere between 15 and 50 is an ideal group size. Larger groups are also possible. Get in touch via this form to discuss possible arrangements.
Is there a minimum number of attendees?
We have a minimum spend requirement of £300 for tasting kits and booking fees. This is the equivalent of 10 attendees using our cheapest tasting kit option.
Can we choose the date for the tasting?
You can choose any weekday for your tasting, although this is subject to availability. If you need to book an unusual time (such as late night or weekend) for your session, get in touch here and we can discuss this.
How long do virtual tastings last?
Sessions last for about an hour and half, including a quiz and Q&A at the end. Sessions can be a bit longer or a bit shorter depending on how interactive your group is.
Can we choose bars to go into the tasting?
We use a specifically curated collection of bars for our tasting sessions to best illustrate the world of craft chocolate. We don't offer an option to edit these, but we're confident that they will have everything you need for the best experience
Is there a delivery charge?
There is a shipping fee for each individual tasting kit, and we will include these in the quote for your session. Deliveries in the UK are charged at £3.95 each and deliveries outside of the UK cost between £7.95 and £9.95 depending on location. All kits are sent via tracked delivery.
We would like to organise a sequence of tastings on several days. Can you organise this?
Depending on availability, and how many participants are involved, this is something that we can arrange.
How can I get in touch?
Click here to ask any questions and get a quote.
For full Terms & Conditions and Overview of our corporate tastings, please see the following pdf download: