Our Promise
We promise to search the world for the finest chocolate, handmade by artisans from the bean to the bar.
And we promise to take you on a voyage of discovery, introducing you to some of the most exciting flavours and fascinating stories from around the chocolate world.
The Story Of A Chocolate Bar
We believe that every bar of craft chocolate has a story to tell. From the hard working cocoa farmer striving to make a living from his harvest to the innovative chocolate maker working to get the very best from the beans and the organisations committed to sustainable, ethical development.
We have a passion for chocolate and we'd love to share it with you. Every month, we'll introduce you to some of the world's most delicious, exciting and innovative artisan chocolate and the people who devote their lives to creating it.
We invite you to come with us on this epic journey and discover a world of intense flavours, extraordinary people and traditions that have been handed down for thousands of years.
Discover New Tastes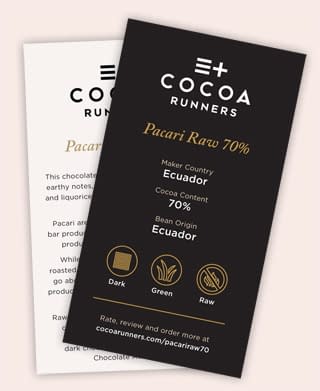 We'll also introduce you to some of the new wave of chocolate makers who are combining that tradition with technology to make entirely new experiences. From small Caribbean islands, across the United States, Europe and beyond, this new generation are producing award winning chocolate. We'll seek out the best of the best and deliver it to your door.
Supporting Artisans, Helping Farmers
All our chocolate is sourced direct from artisan chocolate makers. All our partners source their beans ethically from around the world. Many of them deal directly with the farmers themselves. This gives the makers an unprecedented level of control over how the beans are treated from the moment they are harvested, resulting in the best possible tasting chocolate.
This direct trade also ensures that cocoa farmers in some of the poorest parts of the world get the best possible deal, and that you can feel good about eating every bar you receive.