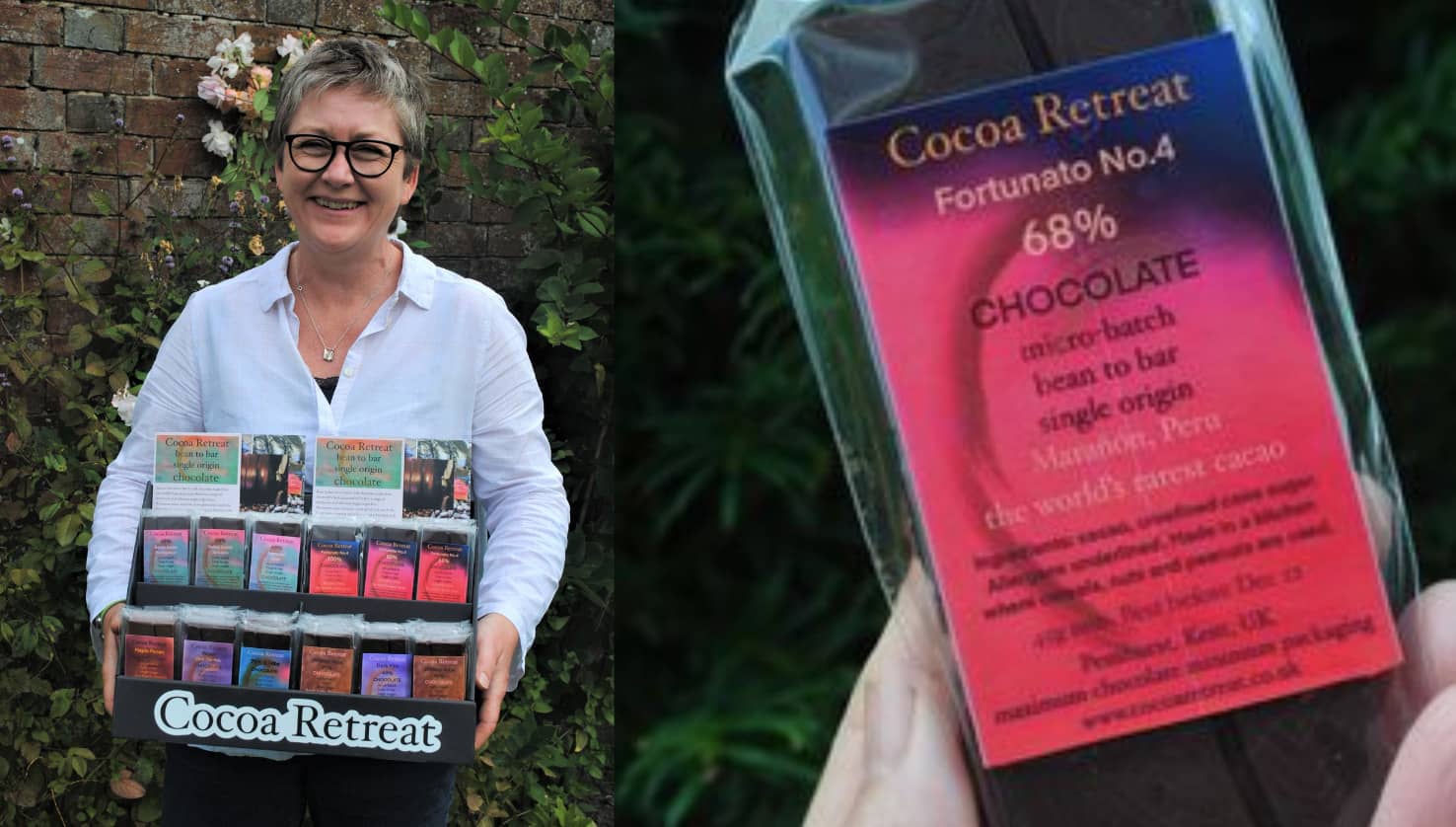 About Cocoa Retreat
Taking time out, having a moment of mindfulness and enjoying chocolate with consideration is the ethos behind Cocoa Retreat. A one-women company, founded and run by Oenone Thomas in 2021, who prioritises the quality and taste of cacao, whilst working to protect the fragile environment in which the cacao is grown.
Oenone relies on her incredible tasting palette and sense of smell to produce the perfect recipe for her bars. With each new batch of beans, she carries out the same experiment, breathing in the aromas whilsts she roasts until she can identify the volatiles seeping into the air. This precision roasting is what gives her bars their wonderful unique profiles and incredible depth. 
Getting the chance to chat to people at her local farmers market and to introduce them to the world of craft chocolate is part of why Oenone loves making her chocolate – she says "I get a real thrill from taking people who have never experienced craft chocolate on a bean to bar tasting journey. There are so many wonderful cocoa origins to enjoy!".
How they became makers…
In her first career, Oenone trained and worked as a journalist before moving on to become a child and adolescent counsellor. Behind the scenes, she has always had a love for chocolate – initially, this was a hobby for finding new and wonderful chocolate and a joy for eating it. Slowly, she developed the knowhow for producing small batch chocolate and has since been perfecting her craft. 
Cocoa Retreat's Sourcing
Transparency is at the very forefront of Cocoa Retreat's mission – Oenone only sources beans from cooperatives which pay farmers a living wage in return for their cacao crops. Protecting the environment and reducing wastage as much as possible is also central to Oenone. In keeping with this, she has developed minimalist packaging for her chocolates, a simple recyclable and compostable film wrapper, which also symbolises the transparency which she aims to uphold with her bars – being clear about where her beans are sourced from. 
Additionally, the majority of her inclusion ingredients are locally sourced, using Kentish cobnuts to produce her notoriously irresistible Gianduja bar and walnuts to add to her amazing dark milk chocoalate.
Chatting with Oenone 
We had the pleasure of chatting with Oenone about her craft chocolate journey, covering everything from the alchemy of chocolate making to where she forages her ingredients. Please click below to listen to our conversation.
Cocoa Retreat In The Chocolate Library