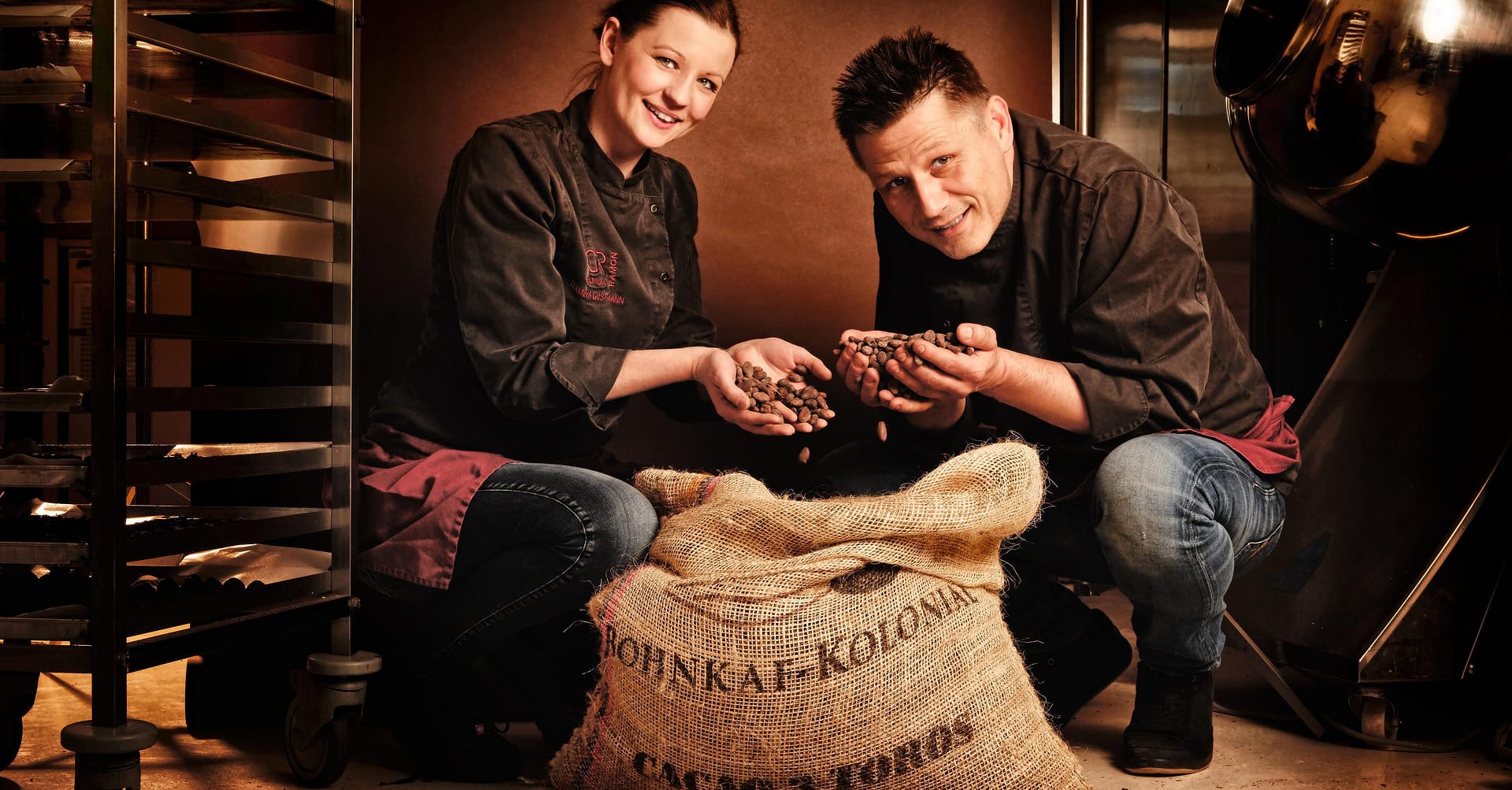 We were very excited to welcome our first German bean to bar chocolate maker Georgia Ramon to the Library. The company was founded in spring 2015 by Georg Bernadini and Ramona Gustmann.
For those well-acquainted with the chocolate world, Bernadini's name might already be familiar. Georg Bernadini has over 27 years experience in chocolate, patisseries & confiserie. Starting out as an apprentice Patissier in Bonn, he worked in Munich and then Paris as a confectioner and bakery manager. He then spent 6 months as Head Patissier at Les Jardins de l'Opera in Toulouse, which held 2 Michelin stars at the time.
In 1992 he helped found Confiserie Coppeneur et Compagnon with Oliver Coppeneur. During his time there, Bernadini was involved in almost every aspect of the company from production and purchasing to marketing and sales. His most important project and the one he is perhaps most proud of was setting up the company's bean to bar chocolate line. He oversaw the whole project from its conception. He personally took a hand in sourcing beans and machinery as well as creating the recipes and packaging for the bars. Ramona also spent two years working at Confiserie Coppeneur in Bonn as a shop manager. Together the two have a wealth of chocolate knowledge an experience on how to run a chocolate business.
Bernadini left Coppeneur in 2010 to pursue other projects. Since then he has used his chocolate expertise to write Chocolate – The Reference Standard. This encyclopedic 920 page book provides an in depth overview of artisan chocolate (both bon-bon makers and craft chocolate makers).  The bulk of the book is a directory of chocolate artisans around the world. Bernadini gives a summary of the company, tasting notes on some the chocolate and a rating of the maker. (And if you want to read for yourself we've got a few copies for sale here)
Flicking through Chocolate – The Reference Standard it is evident how well Bernadini knows the chocolate world. With Georgia Ramon he has been able to put his experience and expertise into practice. As well as the bean to bar range, Georg and Romana have a shop and cafe in Bonn where they their own range of sell gluten free cereals and chocolate confections.
Georgia Ramon puts sustainability at its core. Ingredients are often organic and always carefully sourced. The beans either come directly from plantation owners and cooperatives or from merchants that Georg has come to know and trust inside the industry.
As well as simple but expertly-crafted single origin bars, Georg and Ramona have crafted some unique bars with very creative flavour combinations. Perhaps the most bizarre combination we've come across is their white chocolate with broccoli and almonds. Another bar (and definitely not one for the fainthearted) is a dark chocolate made with the world's hottest chili pepper – The California Reaper.
Getting in touch with Georg, we had a couple of questions for him…
What's your background? Why and how did you get into chocolate?
I stems from an Italian family of restaurant proprietors. I started my career in 1984 as apprentice at a German patisserie in Bonn.
In 1987 I worked for few month in Munich at Kreutzkamm (very famous for Stollen and Baumkuchen). In the same year I moved to Paris where I worked for five years at a German/Austrian Patisserie and in the meantime also in a 2 Michelin star Restaurant in Toulouse.
In 1992 I established the Confiserie Coppeneur together with Oliver Coppenur. In 2005 we started our Bean-to-Bar project. I was responsible for the whole project starting with sourcing machines and cocoa beans, but also for recipes, production, design and marketing.
In June 2010 I retired as partner of the Confiserie Coppeneur.
In 2012 I published my first book Der Schokoladentester followed from the second edition, this time also in English, in September 2015. (The English edition The Chocolate Reference Standard is available for sale on Cocoa Runners here). In 2016 I write one or two new books (with chocolate recipes), but this time not self-published.
When I was working in Paris my dream was to establish my own company. The choice was between a patisserie or to specialize in gelato or chocolate. Chocolate seemed to me to be the best choice. Chocolate was always my favorite sweet so I didn't take long to think about my choice.
What mission have you set for making crafting chocolate?
I saw the new revolution of craft Bean-to-Bar in USA, but also in many other countries. Only few new projects started in Germany. I wanted to bring this wonderful craft to the mind of German consumers. I was tired about the mediocre and bad chocolate produced from the industry. Also I like to go new ways. There are already many, many single origin chocolates. The market doesn't need the 75th Akesson Madagascar-chocolate bar…
Of course we will always produce also single origin bars, but I also would like to create new tastes, like our Brokkoli chocolate (our number one seller). Actually I'm working on a tomato and on a stinging nettle chocolate. It's a thrilling time as we are able to make every day tasting at the counter of our own shop. So we get feedback every day.
My main focus is to use the best ingredients as I can find and not to make any compromise in this!
When did you start your company — and with whom? How many are there of you?
With my life partner, Ramona (Gustmann) we started in May 2015. Now we have a full time pastry chef and 3-4 part-time staff.
Where do you want to go next? New bars? New beans? New markets?
The first step is to establish our brand in the traditional market as a high quality craft Bean-to-Bar brand. We still work to optimize our way to produce chocolate. The feedback of our customers is even better than I dreamed. They love our chocolate and this is quite satisfactory.
Of course we will create new bars. New flavored bars, but also new origins. There are so many origins to discover that I refuse to limit myself to work only with few origins. I know that some customers, especially re-sellers, wish to have a kind of stability in the selection. But this is not always possible.
For example: we started with a quite rare organic Ghana cocoa bean from the ABOCFA-Cooperative since the beginning of our company. Two weeks ago I got the information that we cannot anymore buy this beans as the cooperative sold the whole harvest to one customer in Netherlands. Our Ghana chocolate is the bestseller from our origin range, but we cannot anymore produce this chocolate. So we have to find a new origin. And I'm seriously when I say to all chocolate lovers: buy this bar before it is sold out! You will hardly find this quality made from Ghana cocoa beans, especially in organic quality!
I also want to develop our range of strange and new tastes like tomato and stinging nettle. Somebody wrote last week on Instagram in context to our broccoli-chocolate something like 'Nobody need this kind of chocolate'. This is a quite big error and nonsense! If we don't continue to experiment with any kind of ingredients, ways to produce a chocolate etc., where is the legitimacy existence of creativity and also of craft bean-to-bar? How can we progress and develop new products if we don't try to go new ways? Also, why is chocolate in dishes (as mole) OK, but not vegetables in chocolate? It don't make any sense to me. Why coffee or matcha is OK in chocolate, but not broccoli, tomato or stinging nettles? Sorry, but this kind of opinion and also of inconsistency I don't understand.
New markets: This is not our main focus at this time. Before thinking about new markets we would like to get enough and good partners in the traditional market.
How did you source your beans?
Our beans from Maranon (Peru) and Philippines are directly traded. Our Belize beans are fair traded beans which we buy through the importer of the TCGA-Cooperative, Mr. Patrick Walter. But we are in direct contact with the cooperative in Belize. The fair trade and organic Ghana cocoa beans we sourced from Josef Zotter and our Dominic Republic beans we buy from a local dealer who I know now for more than 10 years. For us it is important to know the traces of the beans. From where they come, who produces them, how are the conditions where the people work etc.
What is your favourite food? Wine? Other chocolate makers?
My favourite food? Oh, many… and I'm happy that Ramona agrees with me in almost all of my favourite foods. First of all, of course, chocolate in all variations. But I love also all other kind of fine food. Pastry/Desserts (especially Japanese pastry in European style) Cheese, fish, seafood, fine salami, olive oil, bread.
Wine is not really my favourite beverage. I like good wine, yes. But I prefer often to get a delicious IPA craft beer or craft beer generally. I love a nice Rhum and my favourite cocktail is definitely: Cacacha + fresh cocoa pulp and a hint of lime served on a cocoa plantation in Brazil (I had this wonderful experience with my friend Diego Badaro/AMMA). For food I'm/we have quite simple tastes. The quality of the ingredients has to be good and the cook not the worst. In this case you will always be happy with what you get.
I have some chocolate makers which are definitely my favourite makers (in no order): Rogue Chocolatier, SOMA, Sirene, Metiisto, Zotter, Domori, A. Morin, Pump Street Bakery, Patric Chocolate and of course Fruition.
For assorted chocolates I love especially Es Koyama, Demarquette, Le Chocolat de H, Nobile Cioccolato, William Curley, Patrick Roger and Wild Sweets.
Image © Hagen Willsch
Save
Georgia Ramon In The Chocolate Library