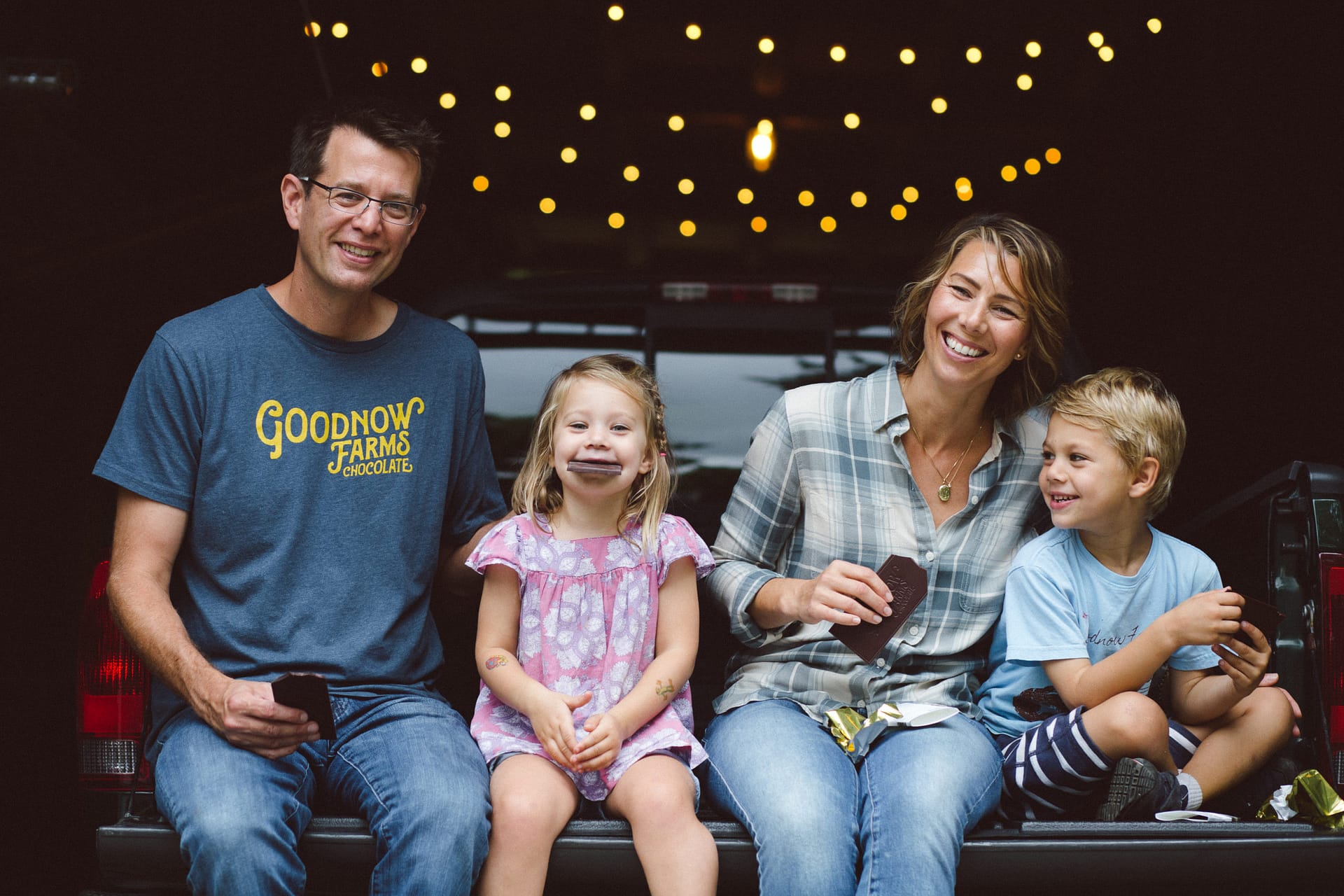 Tom and Monica were living in Los Angeles as a TV producer and real estate agent and, in their own words "first discovered craft chocolate in, of all places, a vintage furniture shop in Los Angeles.  The incredible flavors we tasted in those bars completely changed how we thought about chocolate, and started us on our journey to become single origin chocolate makers".
They fell in love with the idea of harnessing, and revealing, the flavour of "single origin" beans. For Tom and Monica " beans sourced from only one farm or region (enables us) to highlight the distinct flavor characteristics of that particular bean.  Discovering those flavors is one of the joys of making (and eating!) single origin chocolate.
So after a little pondering, Tom and Monica upped sticks and moved back to the East Coast – to a  225 year old farm in Sudbury, Massachusetts called – appropriately – GoodNow.
Not only do they pay huge attention to the crafting of their bars (they are one of a very small number of our makers who even press their own butter), but they also work directly with their partner farmers to select, ferment and dry the "most flavorful beans".  Working directly with farmers in Mexico and Central America also means that they are "able to ensure that they're fairly compensated for their cacao, and also that the farming practices they're using are sustainable".  They also "put their money" directly into the farmers – investing directly for example in new fermentation and drying areas in Guatemala for their Asichovite bar.
We caught up with them to find out more about the stories behind the brand…
What's your background? Why and how did you get into chocolate?
I used to produce television shows and my wife was in real estate development.  We came across craft chocolate about ten years ago when we were living in Los Angeles.  The idea that chocolate could have different flavors based on the beans themselves fascinated us and we started making chocolate as a hobby in our home kitchen.  The more we learned about cacao the more it fascinated us and we made it our goal to make chocolate full time.
When did you start your company — and with whom?  
We started as Goodnow Farms Chocolate in 2016, but we'd been making chocolate on a smaller scale since 2008.  We spent years traveling to Central America and Mexico sourcing our beans before we launched our first bars in the fall of 2016.  It's my wife and myself, and we have several people who help us on a part time basis, both in the kitchen and wrapping bars
What mission have you set yourselves for making chocolate?
To make incredible chocolate that's true to the flavours of the bean from which it's sourced, and to source those beans equitably and sustainably
Where do you want to go next?  New bars?  New beans?  New markets? 
We want to continue finding great beans and developing close, personal relationships with farmers and post harvest processors who are doing incredible things with cacao.  We also are developing new inclusions bars with unique flavour pairings.
What is the story behind your company name?
We make our chocolate on our farm in Sudbury, Massachusetts.  The farm is named Goodnow Farm after one of the families who owned it in the mid-1800s.  We also like that it reminds people of the connection between chocolate and the farmers who grow it.
Who designed your packaging?
We had a very specific idea of what we wanted for our packaging and we worked with a boutique design firm in Boston to bring it to life.  We very much wanted to quality of the packaging to reflect the care that went into making the bars, and we feel we've accomplished that.  Each bar is hand-wrapped from start to finish.
How did you source your beans?
We travelled to several countries in Central America and also to Mexico looking for beans with great flavour, and for farmers who were capable of achieving a consistently high level of quality with their post harvest processing.  We also wanted to make sure the farmers were using fair labor practices and sustainable farming methods.
What inspired your choice of wrapper and mould design?
With the wrappers we wanted the look and feel of a "classic" chocolate bar – something that was fun and not stuffy or inaccessible.  With the molds we wanted something simple, hence our logo.
What innovations are you pursuing? 
We're always experimenting with innovations in crafting.  Little things make a big difference.  One of the things we do that almost no other makers do is press out own cocoa butter – that's been a continual evolution and is often frustrating, but the end result is a unique and exceptional chocolate bar.
What is your favourite food?  Wine?  Other chocolate makers?
Being part Lebanese my favourite food is Kibbe Naya.  I'll always opt for a cabernet, and my current favourite chocolate is Pump Street's Sourdough and Sea Salt.
What chocolate achievement are you most proud of to date? 
We're pretty proud of our Good Food Award for our Esmeraldas Bar.
Goodnow Farms Chocolate In The Chocolate Library