You cannot add "Manufaktura Czekolady Ecuador 70% Grand Cru" to the cart because the product is out of stock.
About Manufaktura Czekolady
At Cocoa Runners, we take joy in seeking out new beans, bars, and makers across the globe. Great chocolate is loved universally so it makes sense great chocolate should be made all around the world too. Wherever they are, we love finding others who share our passion for single estate chocolate. We are therefore delighted to welcome to the chocolate library Poland's first (and to date only) single origin chocolate maker, Manufaktura Czekolady.
Krzysztof Stypułkowski and Tomek Sienkiewicz started Manufaktura Czekolady in 2009. Escaping from their comfortable jobs in IT, they wanted to transform their chocolate snacking habits into rewarding and creative careers. Never satisfied, Christopher and Thomas are always experimenting, trying out different flavour combinations, ingredients and products from chocolate cakes, to desserts and even chocolate beer. Now they let their customers experiment too. In Febrary 2014, they opened a cafe in Łomianki where customers can sit and enjoy a hot chocolate while designing their own unique chocolate bar.
Manufaktura Czekolady's Sourcing
Whenever possible, Krzysztof and Tomek strive to source beans directly from the plantation, chasing after the best quality beans, in small-batch quantities. Currently, Manufaktura Czekolady sources beans of 5 origins: Ecuador (Arriba beans), The Dominican Republic (Hispaniola – Trinitario), Ghana (Forastero), Colombia (Santander& Trinitario), Java (Criollo) and Madagascar (Criollo and Trinitario).
Krzysztof  and Thomas describe their chocolate as being produced in a traditional way, as it would have been 150 years ago. The fermented and dried beans from plantations around the world are transported to Poland. Once arrived everything is done by hand: from manually selecting the beans, to the roasting, crushing, winnowing, grinding and conching. It is these final steps, overseen by Christopher and Thomas, that create the unique flavours and aromas.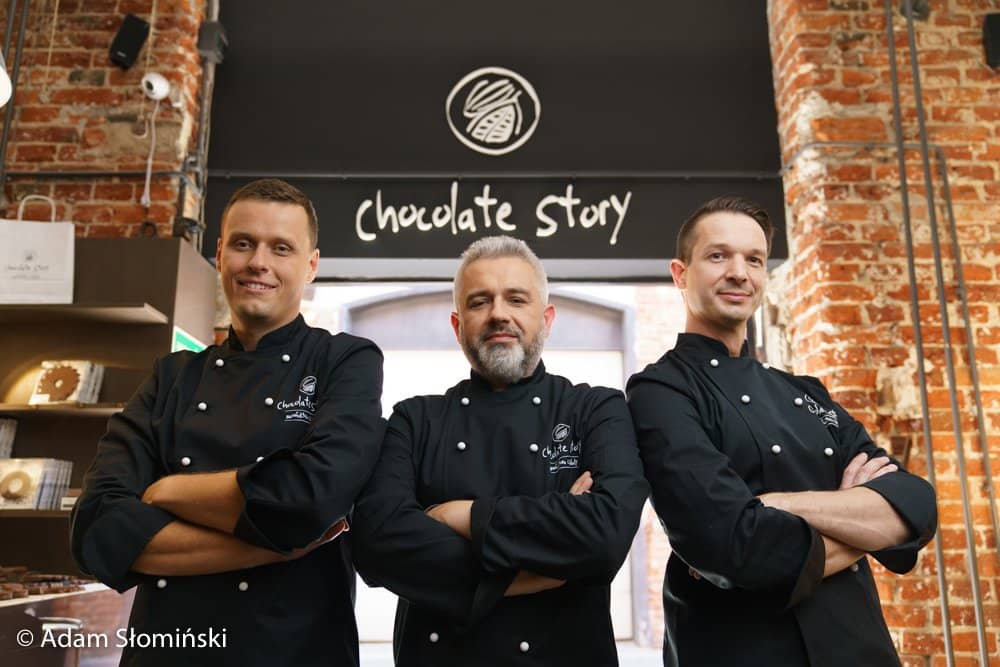 One of Manufaktura Czekolady's more unique bars is their Ecuadorian 80% with xylitol. Not only does xylitol have fewer calories than normal sugar, it is actually good for your teeth and is commonly a common additive in toothpastes. As Thomas and Christopher say, 'you could take it to bed' and once you try it, you might well be tempted. We found it was an unusual combination of earthy and fresh green notes.
An Interview with Manufaktura Czekolady
We were fortunate enough to speak to Krzysztof and find out more about his and Tomek's chocolate story.
1. What's your background? Why and how did you get into chocolate?
Tomek and I are friends from high school. We both graduated from top tier universities in Poland, majored in computer science and worked in big corporations for a while (3 and 5 years). Then, we thought it was high time we made our dreams come true – Manufaktura Czekolady, our chocolate story, came to life as a product of those dreams.
In 2009 we dropped our careers and decided to make this happen. We used our savings to buy the necessary equipment and learned how to produce chocolate step by step. Some of the machines we've created ourselves.
Because of our technical background it was fairly easy for us to read technical books from a different field – food technology. We've read how sugars mix and connect with fat, how particles can be ground into the desired sizes, and how water evaporates from stirred cacao mass. We've also learned a lot on viscosity, yield values and how they're influenced by how much you grind the chocolate, and much more about the technologies involved in chocolate production.
2. What mission have you set yourselves for making chocolate?
We want to bring as much out of chocolate as possible. We don't try to hide anything. We want to let people know how chocolate used to taste when it first came out in its solid form. We want to enable them to taste real chocolate. For many people, this is the first time in their life they taste real chocolate.
I hope you'll be able to taste our passion in each bar. It really is there! After all we changed our lives to make chocolate, and chocolate making has also changed our lives.
We are incredibly proud of what we have achieved with our chocolate.
3. Where do you want to go next? 
We're always on the lookout for new, great beans (thus new products), but we also want to be a part of the bean to bar revolution that is happening in the world right now. We've started it in Poland but now we're looking for other markets. The UK is the key one of them.
Another project is our chocolate tools called "The daily chocolate". It's a second brand that we produce. Here we work on different shapes and customers all over the world.
4. How do you source your beans?
Whenever it's possible we strive to source beans directly from the plantation. It's difficult because we want the best quality beans, but because of the size of our production we also want quite small quantities.
Directly sourcing beans is the biggest challenge for us every time we find something interesting. Sometimes importers approach us with samples of new beans they have and send us samples. If we like the bean, we use it for production.
We only source beans of five origins at the moment: Ecuador (Arriba beans), The Dominican Republic (Hispaniola – Trinitario), Ghana (Forastero), Colombia (Santander& Trinitario), Java (Criollo) and Madagascar (Criollo and Trinitario).
5. Can you tell us a bit more about your chocolate? How do you make it?
We pride ourselves on being the only micro batch chocolate producer in Poland. We make sure that all the ingredients we use are of the best possible quality.
Our chocolate is 100% real and natural (no colorants, emulsifiers, aromas, or cocoa butter added). Many producers add cocoa butter to their chocolate to make it smoother and creamier, not to mention soy lecithin. We don't do that. Adding these in masks the real taste of good cocoa – which is what we want to bring out.
We source the beans, then we clean, roast and hand – select them while they cool off. Next we crush the beans, winnow them, grind, refine, conch, temper, mould and hand-wrap the chocolate bars.
6. What is your favourite food?  Wine?  Other chocolate makers?
We pretty much enjoy every tablet of small makers. We enjoy tasting chocolate with whiskey and wine and sometimes we host tastings at our place near Warsaw.
Recently I've tasted some tremendous turkey with chocolate sauce and chili. Such experiments bring lots of joy to what we do.
Save
Manufaktura Czekolady In The Chocolate Library