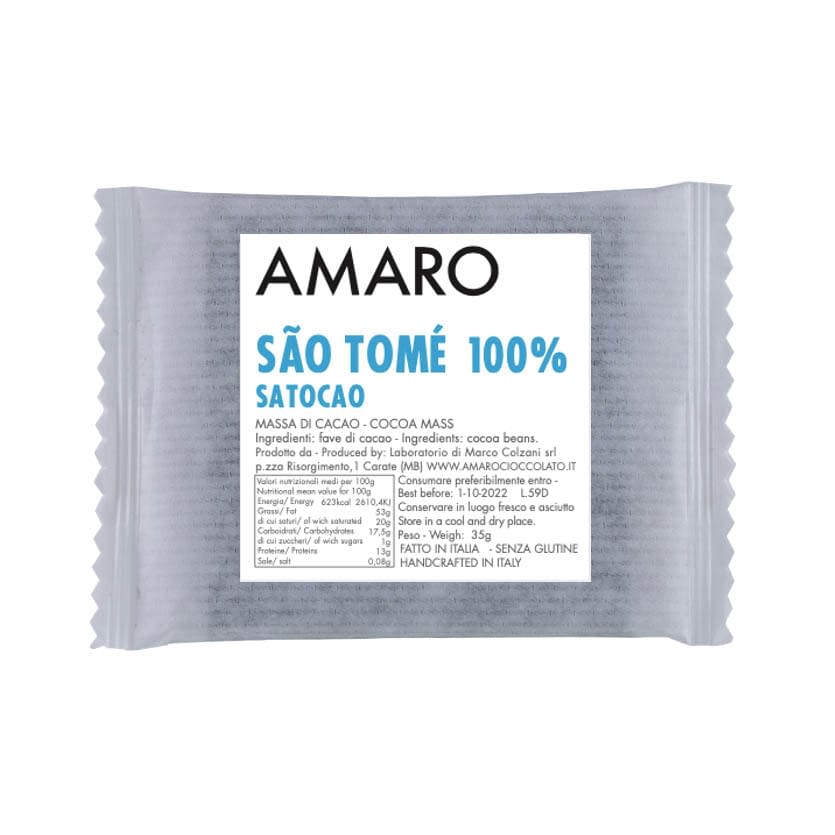 Amaro – Sao Tome 100%
£3.95
A 100% chocolate that demonstrates the full depth of Sao Tome cocoa beans, this thin bar experiences many flavour notes, from butter to wood to a deep earthiness.
In stock
Description

TASTING NOTES

This strong 100% dark chocolate reveals the true depth of Sao Tome cocoa beans. Amaro's thin mould gives the chocolate a quick melt, which produces a fast transition from the smooth opening notes of butter and vegetal to the earthy intensity and bright astringency of the finish. It would pair perfectly with an Italian espresso.

ABOUT THE MAKER

Marco Colzani spent his childhood playing in his family's bakery and pastry shop just outside Milan. He studied agriculture and viticulture, and worked for a number of years as a wine producer before noticing the similarities between the bean-to-bar and wine industries. He soon returned to his family business and set about creating the very best bean-to-bar chocolate, first as an ingredient for chefs and then as a product in its own right. Now, he and his wife, Alice, are aiming to bring about a renaissance in Italian craft chocolate making.

Additional information

| | |
| --- | --- |
| Weight | 35 g |
| Type of Chocolate | |
| Maker Country | |
| Maker | |
| Bean Origin | |
| Cocoa Percentage | |
| Ingredients | |
| Certifications | |
| Dietary Information | |

Reviews

There are no reviews yet.

Energy
2610kJ/623kcal
Fat
53g
of which
- saturates
20g
Carbohydrates
17.5g
of which
- sugars
1g
Protein
13g
Salt
0.08g

Allergens coming soon.

Ingredients

Cacao mass
You need to be logged in to post a review.
Maker description