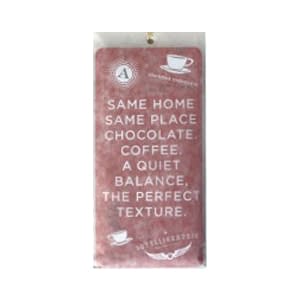 Askinosie – Dark Chocolate + Coffee CollaBARation
£9.95
A luxury dark chocolate bar with coffee, made by the bean to bar maker Askinosie.
In stock
Description

In collaboration with Intelligentsia Coffee, Askinosie has married single origin coffee with single origin chocolate.

As you unwrap the bar you are greeted with a powerful aroma or roasted coffee with just an undertone of chocolate. The strong, well-roasted coffee initially dominates gradually revealing the chocolate beneath as the flavours of each meld together. Dark fruity notes from the coffee blend with red berries from the Tanzanian cocoa beans.

Sweeter honeyed hints in the chocolate are given a pleasantly bitter edge by the coffee which extends into a distinctive finish, the fruitier notes dominated by burnt treacle and molasses.

This is a complex bar, bursting with so many subtle but strong flavours you can almost get lost in it. While there is a touch of chalky dryness at the start we were impressed by how well the coffee had been ground and blended into the chocolate. There is none of the ground grit texture sometimes found in coffee chocolate. Instead the overall texture is typically smooth and heavy with cocoa butter. The bar's creamy, melt in your mouth quality provides a refreshing contrast to the jumble of flavours.

Askinosie works and trades directly with farmers in Tanzania to source the beans for this bar. As well as creating incredible craft chocolate, they are passionate about giving farmers a fair deal and to 'leave whatever part of the world we touch better for the encounter.' Similarly Intelligentsia Cofffee works directly with farmer and coffee growers to ensure the best quality beans and fair prices. They were pioneers of the Direct Trade initiative, which Askinosie also supports.

Additional information

Click on any underlined term to see more products

1 review for

Askinosie – Dark Chocolate + Coffee CollaBARation

Nicky H.

June 1, 2016

I liked this. I'm a big fan of coffee. I'm afraid I can't remember many details now but I kept the wrapper to remind myself to give it a good review! Sorry I can't be more helpful, but anyway, try it, it's good.

Nutritional info coming soon.

Allergens coming soon.

Ingredients

Cocoa beans, organic cane sugar, single origin coffee, cocoa butter
You need to be logged in to post a review.
Maker description
Based in Springfield, Missouri and founded by former defence lawyer Shawn Askinosie, Askinosie Chocolate is one of the pioneers of the American bean-to-bar movement. Read more about Askinosie Chocolate
Type of Chocolate
Maker Country
Cocoa Content
Bean Origin