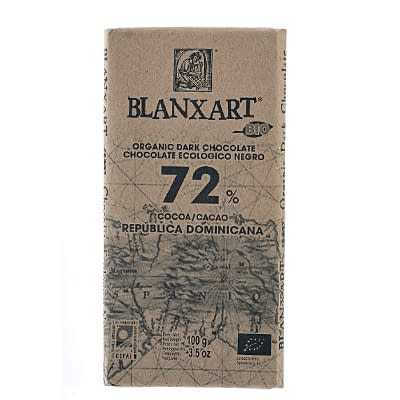 Blanxart – Dominican Republic 72%
Unfortunately, this chocolate is no longer being produced by Blanxart. Please note that this Organic certified bar is very different to the non-organic variety that is still being produced by Blanxart. We do not stock the non-organic 72%.
Description

Unfortunately, this particular chocolate is no longer being produced. Please note that this Organic certified bar is very different to the non-Organic variety that is still being produced by Blanxart. 

Making chocolate since 1954, today Spanish maker Blanxart remains faithful to its origins; all of its packaging and boxes contains the same logo and its production is overseen by fourth generation master chocolatier Xavier Cordomi.

This Dominican Republic bar is quite remarkable.  It's as it melts on your tongue, you're met with wave after wave of chocolatey pleasure.  This super dense bar has an almost molten quality.  Tasting a piece of this incredibly rich, creamy bar is just like eating the centre of a chocolate fondant.  Truly impossible to resist.

Want to find your perfect chocolate match?  Visit www.cocoarunners.com/tastetest today.

Additional information

Click on any underlined term to see more products

| | |
| --- | --- |
| Weight | 80 g |
| Maker | |
| Bean Origin | |
| Cocoa Percentage | |
| Maker Country | |
| Select Size | Single Bar £4.95, Carton of 20 £99 |
| Lifestyle and Diet | |

24 reviews for

Blanxart – Dominican Republic 72%

krishna_s

September 6, 2019

Bitter yet creamy, a very interesting dark bar.

Irene W.

August 14, 2019

I found this powerfully chocolatey in a rather conventional way; there's nothing subtle or complex about it. It would be an excellent chocolate for cooking.

ERIKA G.

April 2, 2019

This chocolate is my absolute favorite, I have tried a lots of brands and eat fine chocolate on a daily basis, still this is the number ona on my list. This bar used to have a contemporary bar with Almonds, which also was one of my favorite, but Blanxart have changed the beans and the recipe for the latter recently and it's no longer upp to the old standard. I honestly hope they are not goint to alter the recipe or the beans for this particular bar because it is perfect as it is with its rich, creamy, aromatic chocolate flavor. It's also very suitable to have it to a cup of espresso for instance.

Richard B.

February 14, 2019

Nothing special for me about this bar. Decent, but for me there are better options out there.

Justin M.

February 12, 2019

Enchanting and amazing bar. The moment it melts it takes on a brownie-like consistency and texture. Highly recommended.

Augustas Ribokas

January 23, 2019

Thick, very creamy, like someone said double-choc, classical true dark chocolate bar, quite dry cocoa-y aftertaste. if it would be coffee, it would be Brazil Santos. Bonus points for no foil. Lets keep that packaging straightforward. Less is more.

Paweł F.

December 20, 2018

Very rich dark brown colour for a 72%. Delicate on the nose. Melts on the tongue. Bittersweet taste, some nutty notes, a hint of truffle. Very mellow. Not an original taste, but this one delivers the classical dark chocolate in a great way.

emmahouse84

November 20, 2018

One of the best chocolate bars I've tried, it's compares to the taste of double chocolate and is very smooth. Any dark chocolate lover must try!

Michele R.

August 12, 2018

Takes a minute for the true flavour of this chocolate to develop but once it does its fudgy and decadent.

Christen D.

March 6, 2018

Absolutely loved this bar. It struck a perfect balance of a deep rich taste and smooth, creamy texture. It reminded me of eating dark chocolate pudding. My favorite bar from the first box and one that I would definitely buy again.

Victoria F.

June 1, 2017

Definitely my favourite from my first box. Creamy, rich and indulgent with no bitter undertones. Will purchase this again.

Rowan F.

March 30, 2017

It's very rich and lingers a long while after tasting. This one has a quite one-note flavour and is perhaps not the connoisseur's chocolate, but it has depth and is utterly enjoyable. I cannot award it less than five stars.

Grainne B.

January 29, 2017

I'm a new to the world of dark chocolate and this was my favourite from the first box. Dark chocolate is defiantly an acquired taste and this is a good one to start with.

10 Treats To Try For National Chocolate Week - Good Things Magazine

October 11, 2016

[…] With chocolate in possession of over 400 flavour compounds, it seems fairly feeble to say that this Spanish maker's Dominican Republic bar tastes 'chocolate-y'. But it's the truth – this is creamy, cocoa-y, and altogether like plunging a spoon into the liquid heart of of a warm chocolate fondant. Find it here. […]

Anne H.

August 7, 2016

Our favourite from the first box. Fudgey and rich

Steven K.

May 20, 2016

Favourite bar in the first pack. Only holding back on the 5 stars as think there is room for improvement in future bars

Elin D.

April 23, 2016

This was my favourite bar from my first box. Smooth, creamy and rich.

Matthew M.

March 24, 2016

It is indeed creamy with a nice texture, and it has the bittersweet flavours which are typical for chocolate. There is not too much astringency and overall it is nice. But there is not much complexity of flavour. It would best suit those that are looking for a straightforward chocolate flavour with a pleasant mouth-feel. PS: The star.png image asset when rating this bar cannot be found (404 error)

Isabella W.

March 13, 2016

One of my favorites! It's very rich and finish taste is a little astringent, love it!

Angeline B.

March 11, 2016

Really nice for a 72% cocoa bar. Tastes like a rich chocolate flavoured ice cream.

1edenhill@gmail.co.uk

March 5, 2016

One of my favourite bars after 3 months membership, rich and green and lovely long lasting taste.

William T.

February 20, 2016

Incredibly smooth with a sumptuous and pronounced cocoa flavour. Luscious breakdown, very well integrated sweetness and long lingering flavour. Subtle tannins on finish. Exemplary organic chocolate.

Marcos D.

January 24, 2016

Not a superbly complex dark chocolate, more linear but goes well with milk chocolate lovers that seldom eat dark chocolate

Joanne R.

November 23, 2015

bit disappointed with this one, dry and tasteless, wouldnt purchase again

Nicos G.

June 7, 2015

Sits nicely in the sweet spot between milk- and dark chocolate, with only a hint of bitter and without unpleasant aftertaste. Very nice to have a piece after a meal.

Energy
2338kJ/561kcal
Fat
35.9g
of which
- saturates
23g
Carbohydrates
47.6g
of which
- sugars
27.1g
Protein
11.8g
Salt
0.02g

Allergens

Soybeans (traces), milk (traces), nuts (traces)

Ingredients

Cocoa, sugar, cocoa butter, vanilla
You need to be logged in to post a review.
Maker description
This maker is no longer available from Cocoa Runners
Blanxart are Spanish chocolate makers whose excellent chocolate comes wrapped in award winning packaging, making for a visually, as well as epicureally, appealing product. Read more about Blanxart
Bean Origin
Maker Country