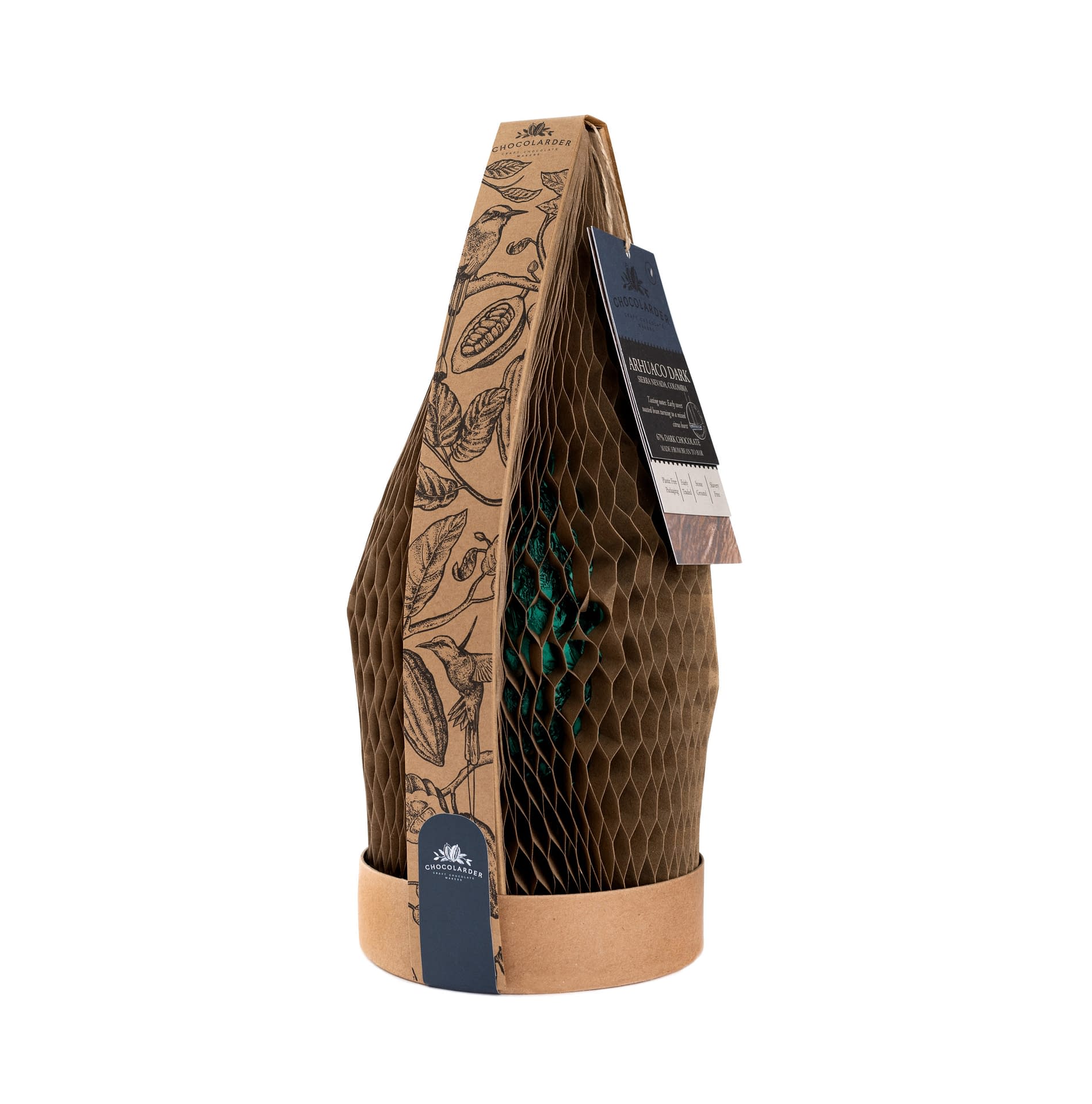 Chocolarder – Sail Shipped Arhuaco 67% Dark Chocolate Easter Egg
£24.95
Out of stock
Description

Tasting Notes

This Easter egg is made form an earthy dark chocolate, with malted notes up front and a citrus finish.

About the Maker

Chocolarder crafts its chocolate in Falmouth, Cornwall. Chocolarder's exciting line of fine single-origin bars and delightfully innovative locally-inspired inclusions use only top quality ingredients that succeed in doing better for the environment and the communities at their source. The whole company has at its heart an ethos of "ethical transparency". Mike Longman – founder and chocolate maker – is unwavering in his commitment to a truly transparent and sustainable production process, even to the point of transporting his beans to Falmouth by sailboat.

About the Egg – notes from the maker

This Easter egg is made from craft chocolate, presented in plastic free, recyclable packaging that is not only good for the planet but strikingly different. Take the guilt out of Easter Eggs, no plastic, just two ingredients and completely slavery free!  What's mere, the cocoa was brought to the UK via sail ship, making it an ever more planet-friendly choice.

The cocoa for this egg is sourced from the Arhuaco region of Colombia.  The Arhuaco are indigenous people who live in Colombia. With over 50,000 people living in 52 settlements around the Sierra Nevada mountains, their land spans all the way from the snowy peaks to the sea.

The Sierra Nevada de Santa Marta includes the highest mountain in Colombia at 5,775 meters above sea level. It also includes a biodiverse rainforest and is home to three indigenous communities, as well as countless species throughout all of the different terrains.

The Arhuaco believe it is their responsibility to look after the mountains they call their home and educate others to achieve a balanced relationship with the natural world.

Additional information

| | |
| --- | --- |
| Weight | 210 g |
| Maker | |
| Maker Country | |
| Type of Chocolate | |
| Cocoa Percentage | |

Reviews

There are no reviews yet.

Coming soon.
You need to be logged in to post a review.
Maker description
Chocolarder is a small, truly ethical, and wonderfully innovative bean to bar chocolate maker based in Cornwall, UK. Read more about Chocolarder