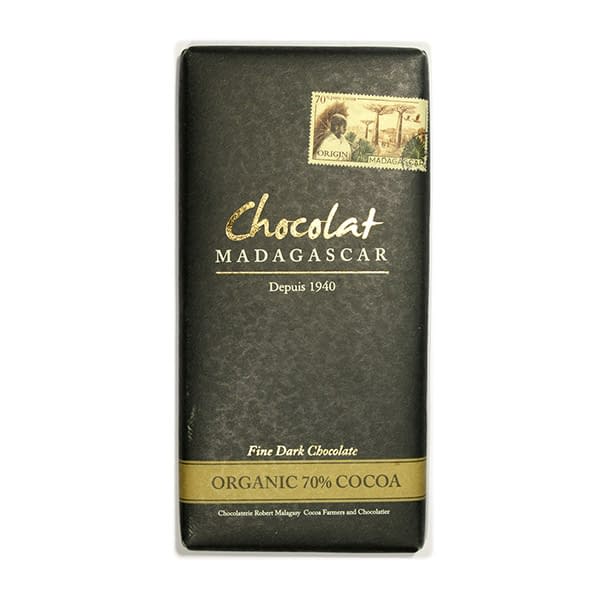 Chocolat Madagascar – 70% Organic Dark Chocolate
£5.95
In stock
Description

Underneath the simple, understated packaging of this bar, you'll find some truly exciting Madagascan chocolate that shows of the rich flavour notes the island is famous for. The bar has a slightly peppery aroma, however once tasted, the flavour develops into hints of forest fruits and raisins. Alongside this, we detected a mild spice and flavour notes of balsamic vinegar.

This is an extremely smooth bar, and carries all the notes typical to a Madagascan bar, and more. A must try bar!

Most of the cocoa grown in Africa is exported once its been fermented and dried.  Chocolat Madagascar is one of relatively few companies that both grow cocoa and make chocolate bars in Madagascar.   Doing this injects both skills and investment into the local communities.  Chocolat Madagascar was one of the first to produce chocolate in this way.  The Company has been making chocolate from local Malagasy cocoa beans since 1940 working closely with local farmers.  Indeed, its bars have been sold locally for many years, but until now – it has not been easily available outside of this African island nation.

Additional information

| | |
| --- | --- |
| Weight | 85 g |
| Type of Chocolate | |
| Maker | |
| Maker Country | |
| Bean Origin | |
| Cocoa Percentage | |
| Certifications | |
| Icons | |
| Select Size | Single Bar £5.95, Carton of 10 £59.50 |

2 reviews for

Chocolat Madagascar – 70% Organic Dark Chocolate

Rachael T.

January 15, 2021

An easy to eat 'mellow' bar with nicely balanced taste much like that of descent pure Madagascan chocolate. The bar has a nice melt and but lacks the flavour profile of other bean/tree to bars I've tried.

Alex S.

March 25, 2019

This is my wife's favourite chocolate, hence I have to regularly purchase it. Lovely fruity flavour with a pleasant dryness, I often steal a bit for myself!

Nutritional info coming soon.

Allergens coming soon.

Ingredients coming soon.
You need to be logged in to post a review.
Maker description
One of two major factories on the island of Madagascar, Robert produces chocolate that is widely available locally, but little known outside the island. Read more about Chocolat Madagascar