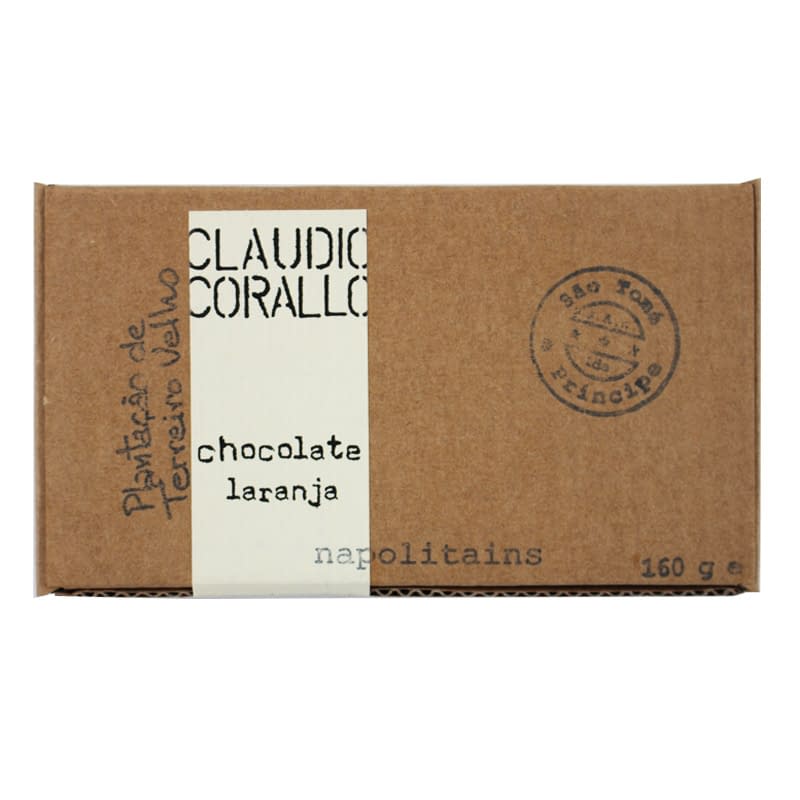 Claudio Corallo 70% with Crystallized Orange Peel
Description

Unfortunately this bar is no longer available in our Library. Please see below for four bars that we think you will enjoy.

A classic combination with a serious twist. Claudio Corallo's signature pieces of dark chocolate are given a sweet citrus edge by delicious pieces of orange peel.

The little bites of peel blend perfectly into the thin pliable chocolate. As you break off a piece, there is no 'clean snap' but rather a soft bend, as the chocolate slowly breaks releasing a heavenly aroma that hints of jungles, orange groves, and rich, fresh soil.

The candied orange peel has zesty floral aroma that cuts through the earthiness of Claudio's chocolate. The result is neither bitter nor overly sweet as the sugar of the peel is balanced by the fruit's natural astringency. The chocolate too is not a bitter dark, but the cacao's distinctive nutty wood notes provide a perfect contrast to the zing and sweetness of the fruit.

The deceptively simple box contains 160g of dark chocolate orange delight. Such a generous portion of chocolate, which comes in thin bite-sized squares, is the perfect way to finish off a dinner party.

Additional information

| | |
| --- | --- |
| Weight | 160 g |
| Type of Chocolate | |
| Maker | |
| Maker Country | |
| Cocoa Percentage | |
| Bean Origin | |
| Icons | |

Reviews

There are no reviews yet.

Nutritional info coming soon.

Allergens coming soon.

Ingredients coming soon.
You need to be logged in to post a review.
Maker description
This maker is no longer available from Cocoa Runners
Maverick chocolate maker Claudio Corallo produces his chocolate from tree to packaged bar on the tiny islands of Principe and Sao Tome. Read more about Claudio Corallo