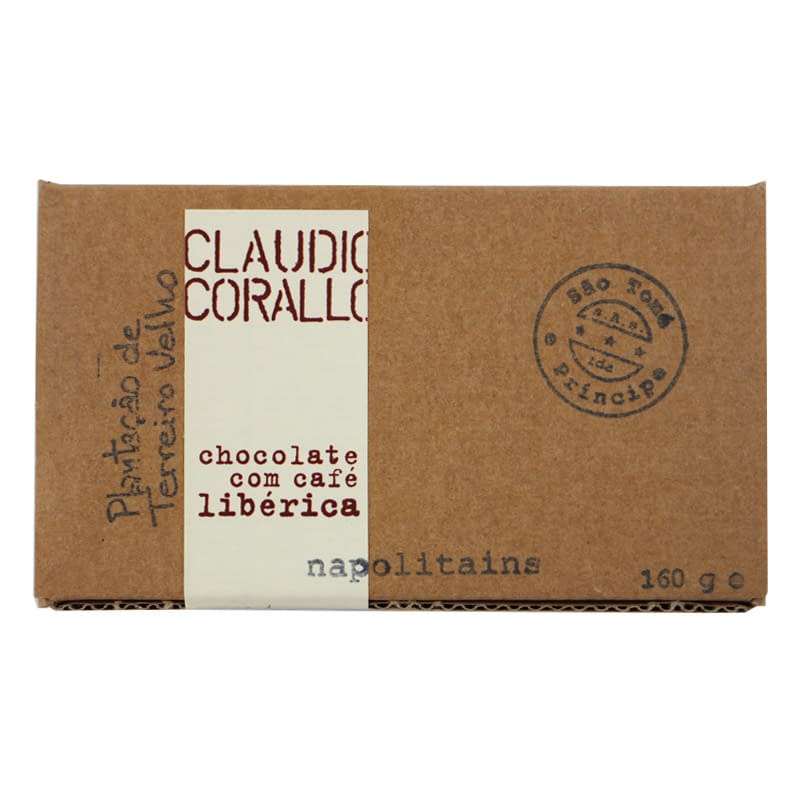 Claudio Corallo 70% with Liberica Coffee
Description

Unfortunately this bar is no longer available in our Library. Please see below for four bars that we think you will enjoy.

Claudio has been working with Cocoa and Coffee beans for over four decades, and in this box he combines this expertise to amazing effect.  Inside the box are three different Liberica coffee beans all grown on the same plantation, all covered in the same Sao Tome chocolate, but with very different tastes.

Claudio has chosen three very different liberica beans for this box, varying from a delicate light bean to a robust and well roasted one.  These Liberica beans are, to quote Claudio "wonderful and  very venerable", despite their amazing flavour and history, their size means that they are now only rarely seen (Liberica beans are relatively large and is too big a bean to be peeled in most modern machines).

Additional information

| | |
| --- | --- |
| Weight | 160 g |
| Type of Chocolate | |
| Maker | |
| Maker Country | |
| Cocoa Percentage | |
| Bean Origin | |
| Icons | |

Reviews

There are no reviews yet.

Nutritional info coming soon.

Allergens coming soon.

Ingredients coming soon.
You need to be logged in to post a review.
Maker description
This maker is no longer available from Cocoa Runners
Maverick chocolate maker Claudio Corallo produces his chocolate from tree to packaged bar on the tiny islands of Principe and Sao Tome. Read more about Claudio Corallo