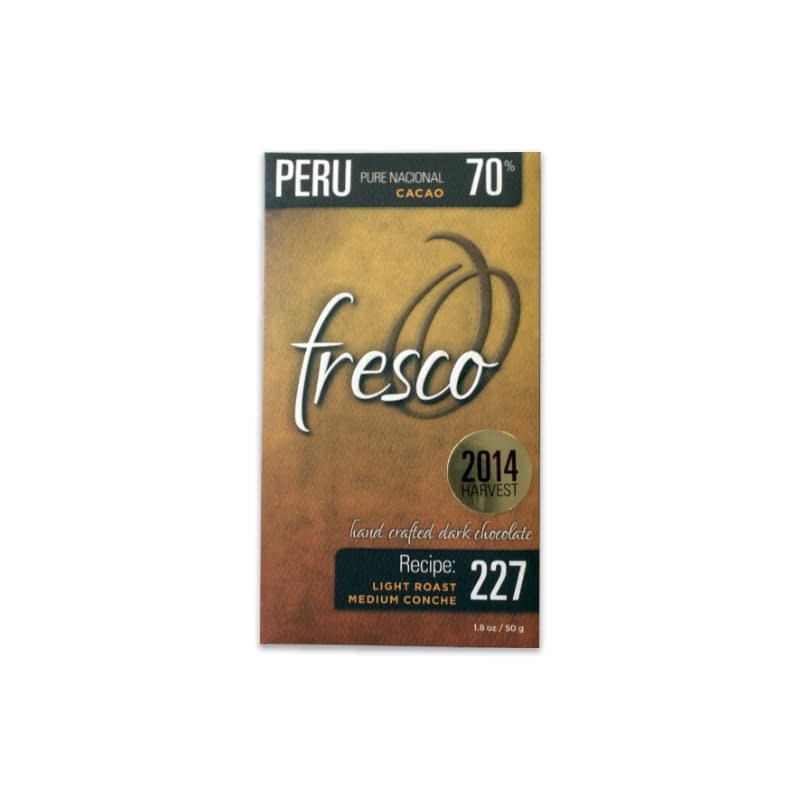 Fresco – 227 (2014 Harvest)
Description

This dark chocolate from Fresco is a Limited Edition bar. The bar has been crafted using beans from the 2014 Maranon harvest.

Rob Anderson of Fresco doesn't give his bars elaborate names. Instead he numbers each one according to bean origin and the exact recipe he has used. For this particular '227' bar Rob has used a light roast and medium conche to reveal the flavours concealed in his beans.

Unwrapping the bar, the first thing you'll notice is the chocolate's light colour. This is typical of Maranon, which has a particularly high proportion of white beans, and of the light roast used by Rob Anderson. A thick, slightly fudgy texture gives the chocolate a softness. The intense sweetness is balanced by as squeeze of citrus. Astringent apricots blend into the sweet and sour nose that ends with a sharp finish.

This bar is part of a very special limited edition run by Fresco. Rob Anderson has taken Maranon beans from the 2015 and 2014 harvests and crafted a range of bars, playing with particular variables such as roast level and conche time. Compare this bar to Fresco's 227 (2015 Harvest) to really see the impact that vintage (i.e the particular year the beans were grown) has on a bar's flavour.

Additional information

| | |
| --- | --- |
| Weight | 45 g |
| Type of Chocolate | |
| Maker | |
| Maker Country | |
| Cocoa Percentage | |
| Bean Origin | |
| Roast | |
| Conch | |
| Ingredients | |

Reviews

There are no reviews yet.

Nutritional info coming soon.

Allergens coming soon.

Ingredients coming soon.
You need to be logged in to post a review.