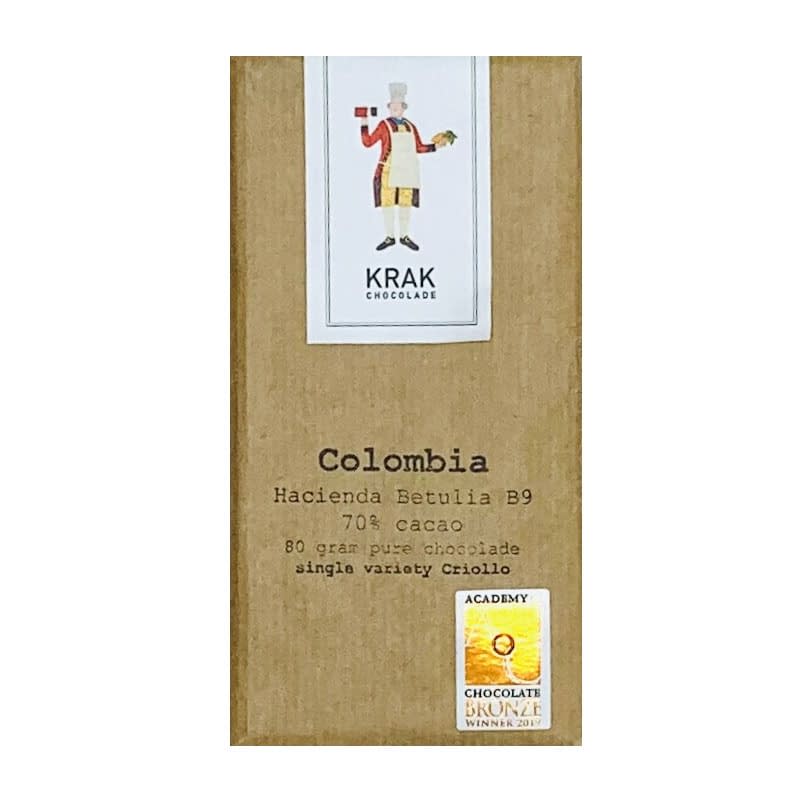 Krak Chocolade – Betulia B9, Colombia 70% Dark
£8.95
This light-coloured bar carries a complex palate with a fudgy texture and an astringent quality. Look out for notes of tea, spice, pine, and tropical fruit.
Out of stock
Description

TASTING NOTES

This bean was selected by Mark for its insanely fruity flavour profile. It's a light-coloured bar, almost like milk chocolate, and it carries a complex palate with a fudgy texture and an astringent quality. Look out for notes of tea, spice, pine, and tropical fruit.

ABOUT THE MAKER

Before he turned his talents to crafting chocolate, Mark Schimmel was a talented pastry chef. He trained in three-star Michelin kitchens before eventually becoming head pastry chef in a two-star Michelin restaurant in The Netherlands. It was during this time that Mark developed a real passion for chocolate. He loved working with it as an ingredient and wanted to learn more. Eager to discover the role of origin, and to understand how even the smallest change to a recipe could dramatically alter the flavour of a finished chocolate, Mark established Krak Chocolade in 2013. Now, he specialises in chef's couverture, supplying chocolate to some of the best chefs in Europe. He only makes a limited number of bars, which is why we're delighted to be able to share his gorgeous chocolate with our customers.

THE BEANS

The beans in this bar are sourced from the Hacienda Betulia, a Swiss-Colombian family plantation in the northwestern province of Antioquia, Colombia. The cacao grows under an agroforestry scheme of 15 hectares alongside 30 hectares of protected native forest. The farm has selected three trees that produce completely "white" cocoa beans with a chocolatey profile and complex fruity notes. The trees were numbered B6, B8, and B9, and after years of grafting from these mother trees, there are enough of the 3 varieties available for the commercial market.

Additional information

Click on any underlined term to see more products

| | |
| --- | --- |
| Weight | 70 g |
| Maker | |
| Maker Country | |
| Bean Origin | |
| Cocoa Percentage | |
| Icons | |

1 review for

Krak Chocolade – Betulia B9, Colombia 70% Dark

Zoe D.

August 6, 2021

A thick, fudgy bar with a creamy melt. Flavour is strong and unusual. I don't know what flavour I experience but it is joined by a pleasant fresh fruitiness. I wasn't a fan of at first, but the flavour grew on me over time. Fruitiness becomes more apparent when left in the sun for a minute or two. Pairs really well with Hogarth Ecuador 85%, especially since it is quite astringent. Very different to anything else I've tried.

Nutritional info coming soon.

Allergens coming soon.

Ingredients coming soon.
You need to be logged in to post a review.
Maker description
Founded by Dutch pastry chef, Mark Schimmel, Krak is making waves in the world of craft chocolate with its silky smooth single origin craft chocolate bars. Read more about Krak Chocolade
Maker Country
Bean Origin
Cocoa Content