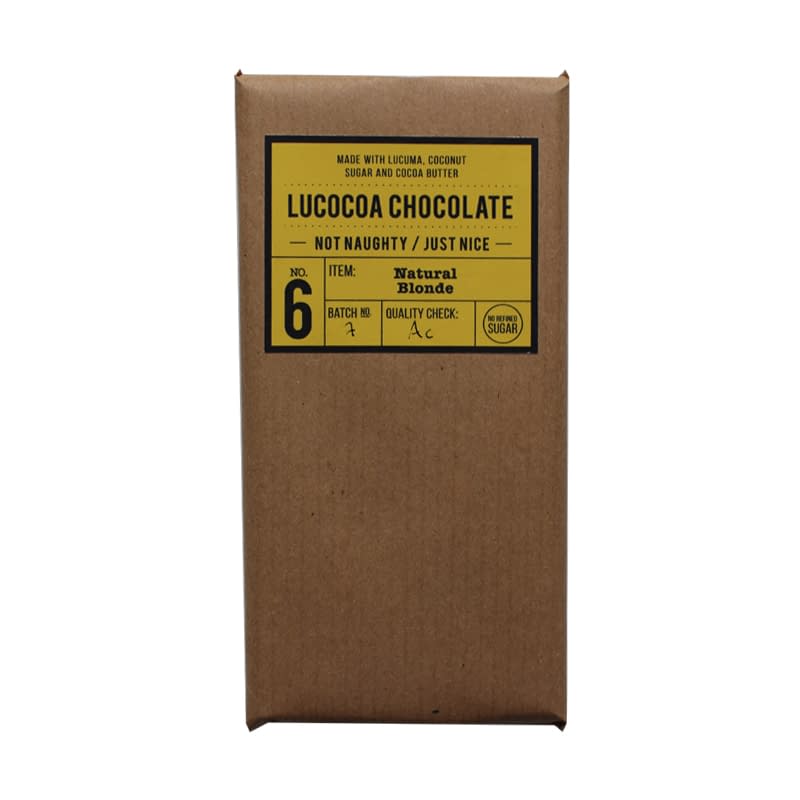 Lucocoa – Natural Blonde
Description

Unfortunately this bar is no longer available in our Library. Please see below for four bars that we think you will enjoy.

Made in London, Lucocoa describe their signature white chocolate bar as 'Enigmatic and alluring'.

The first thing to point out is the bar's rich texture – more fudgy than creamy.  The bar's sweet caramel notes are given added depth by the coconut sugar and lucuma which really shine through here.

Rather than using refined sugar, Lucocoa sweeten all the their bars with just coconut sugar and lucuma (hence the name). Lucuma is a subtropical fruit, native to the Andean valleys of Peru, Ecuador and Chile. The dry yellow flesh has a unique sweet taste that is often compared to sweet potato or maple. When dried, this so-called superfood can be used as a natural sweetener, adding an unusual flavour dimension to Lucocoa's bars.

Additional information

| | |
| --- | --- |
| Weight | 75 g |
| Type of Chocolate | |
| Maker Country | |
| Icons | |
| Ingredients | |
| Dietary Information | |
| Certifications | |

1 review for

Lucocoa – Natural Blonde

Matthew W.

March 9, 2016

'Our Mona Lisa. Enigmatic and alluring, its creamy, caramel flavour will be like nothing you've ever tasted before and will always leave you wanting more.' That's what it says on the wrapper. It's a big statement, but the chocolate doesn't disappoint. I had never heard of a lucuma fruit. Nor had I heard of coconut sugar in a chocolate bar. What I expected was something like white chocolate, but this is a warm mustard colour which immediately looks unusual for a chocolate bar. It has a nice snap and a long melt. Not much happening for the first few seconds, but then it melts into delicious waves of caramel with a hint of honey. Despite its richness, this doesn't taste too creamy or sweet, so it's hard not to keep eating. This is not a bar that can be kept for long. It has a flavour and a colour of summer. It is a rather enigmatic bar, quite unique, and it definitely does leave me wanting more. If you haven't yet had a blond this is well worth trying.

Nutritional info coming soon.

Allergens coming soon.

Ingredients coming soon.
You need to be logged in to post a review.