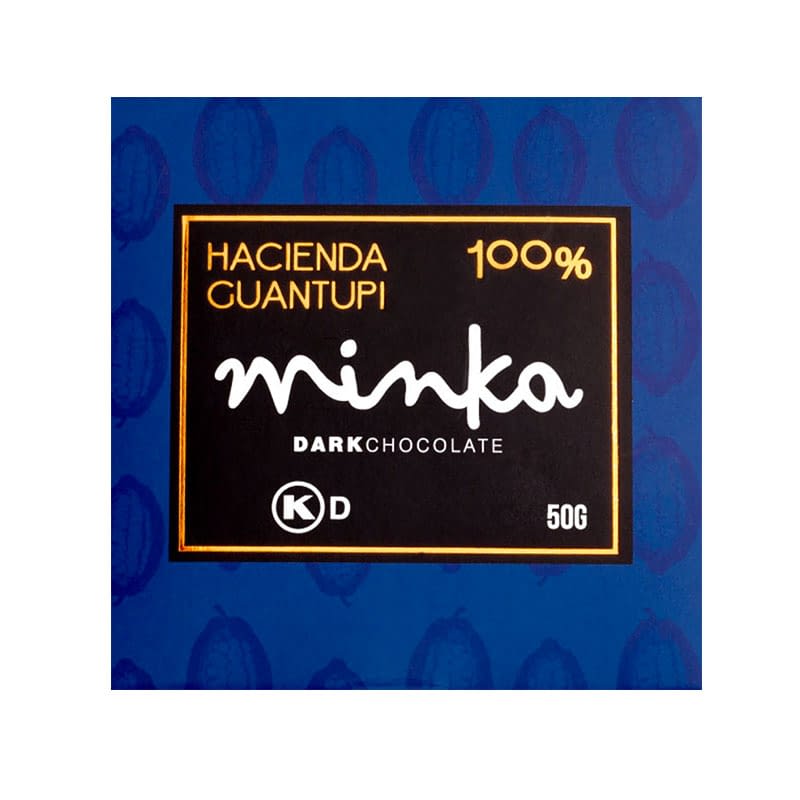 Minka – Hacienda Guantupi 100%
Description

Unfortunately this bar is no longer available in our Library. Please see below for four bars that we think you will enjoy.

This bar is single-origin, single-farm and 100% dark chocolate. It's made with fine aroma cocoa beans from La Mana Cotopaxi Ecuador. Minka's beans are carefully selected at Hacienda Guantupi and used in the bars.

Who is Minka?

Inspired from the term 'minga', Minka believe in the old tradition of community and collective work for the purpose of social unity.

Minka applies completely with the concept of minga. They know every step that their cocoa takes from the tree it has grown or to the shelves it is put on.

Their bars have earned two awards in the Heirloom Cocoa and Preservation in NY.

Tasting Notes:

Minka has made a very approachable 100% dark chocolate bar. It's earthy with a hint of asparagus and a buttery note that helps mellows the intensity of the 100% bar.

Additional information

| | |
| --- | --- |
| Weight | 50 g |
| Type of Chocolate | |
| Maker | |
| Cocoa Percentage | |
| Cocoa Content | |
| Icons | |
| Bean Origin | |

Reviews

There are no reviews yet.

Nutritional info coming soon.

Allergens coming soon.

Ingredients coming soon.
You need to be logged in to post a review.
Maker description
Minka is a bean-to-bar chocolate maker, working with different haciendas in Ecuador. Read more about Minka