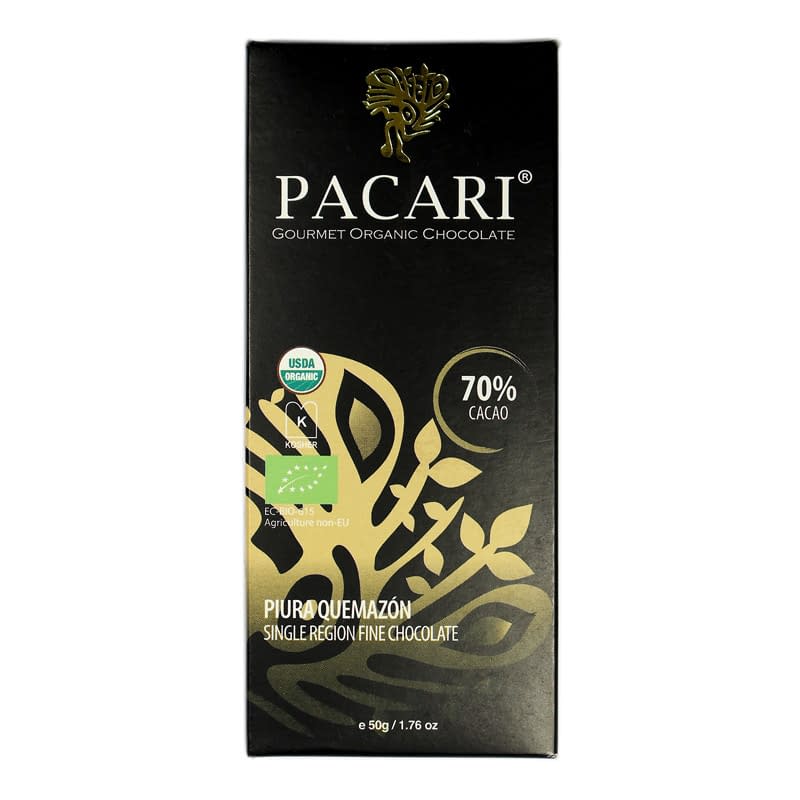 Pacari Piura Quemazón
Description

Unfortunately this bar is no longer available in our Library. Please see below for four bars that we think you will enjoy.

Santiago Peralta set up Pacari over ten years ago to show the world that Ecuador not only grow great beans, but can also make great chocolate. Most of the chocolate Pacari produce is made from unroasted Ecuadorian cocoa, so this bar, made from roasted Peruvian cocoa beans is something of a departure for them.

It's an outstanding chocolate that shares many of the green and earthy flavour characteristics of Pacari's unroasted chocolate, but it also has some wonderfully floral notes. The perfectly balanced flavour and aroma have won it international recognition and an unparalleled four International Chocolate Awards.

This bar is certified organic, soy free, gluten free and kosher.

Additional information

| | |
| --- | --- |
| Weight | 50 g |
| Type of Chocolate | |
| Maker | |
| Maker Country | |
| Cocoa Percentage | |
| Bean Origin | |
| Certifications | |
| Archived Maker | |

3 reviews for

Pacari Piura Quemazón

Amanda K.

October 4, 2015

We've been rating our bars on our regular deliveries for the past 6 months now, this bar scored a highly respectable 9/10. It has hidden depths with an after taste that just keeps on giving.

Sabeen S.

April 14, 2015

I like floral and grassy flavours but I found this one to be a bit sour

Helen P.

April 10, 2015

A very grassy and earthy tones. Initially, I was not so sure about the citrus after taste but I was reaching for the next square piece and enjoyed the aftertaste after each piece. Addictive.

Nutritional info coming soon.

Allergens coming soon.

Ingredients coming soon.
You need to be logged in to post a review.
Maker description
This maker is no longer available from Cocoa Runners
Pacari makes chocolate from the tree to the bar at source in Ecuador. Best known for their award winning "Raw" chocolate, they have a full range of delicious flavoured and unflavoured bars too. Read more about Pacari