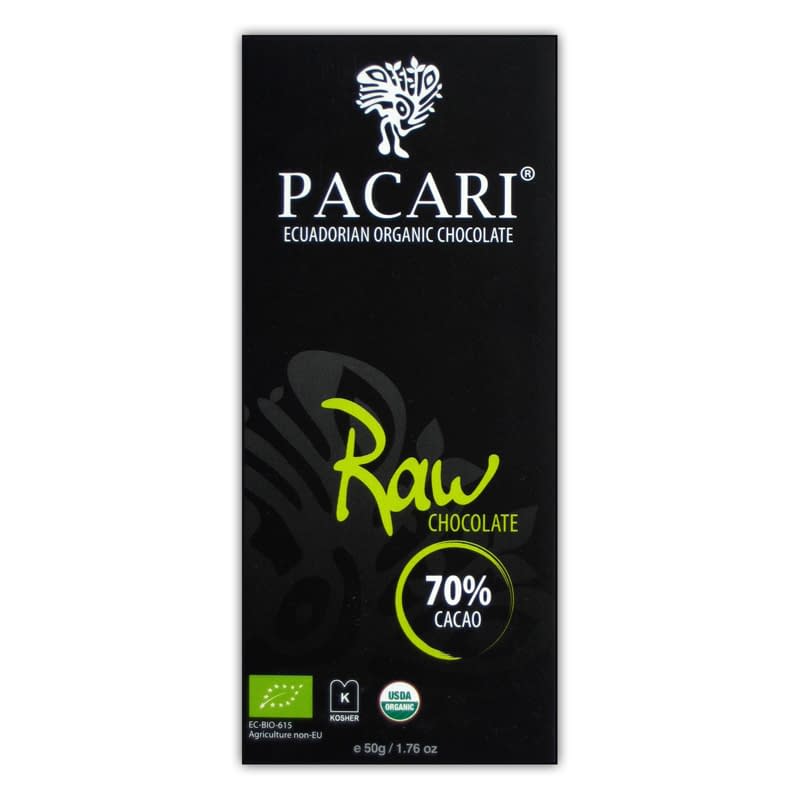 Pacari Raw (unroasted) 70%
Description

Unfortunately this bar is no longer available in our Library. Please see below for four bars that we think you will enjoy.

This chocolate features natural green and earthy notes, with hints of unripe banana and liquorice. We love the smooth texture, intense taste and earthy finish.

Pacari are pioneers of ethical bean-to-bar production and their unroasted chocolate is produced entirely within Ecuador.

Back in 2009, Santiago launched bars that, in his words "all the cocoa ingredients are minimally processed and kept at low temperatures to maintain the antioxidants and complex flavour profile of our carefully selected cacao" and titled them "RAW". It is important to note that he makes no claim, nor offers any guarantee, as to what temperature the beans may reach during fermentation, drying, roasting, concheing or tempering.

If you are a "raw" food purist who does not want to eat any food heated to e.g., over 42 degrees, this product may not be for you. We are not aware of anyone who has fermented cacao outside of an oxidation chamber at below 42 degrees. When choosing a chocolate bar we believe that the focus should be on the ingredients, quality of the beans and craftsmanship of the maker, rather than whether or not the beans have somehow been processed at sufficiently low temperatures to meet specific new dietary definitions. And in the case of Pacari's bars, these bars are not only crafted from high quality beans that are sourced from small, independent, growers and farmers, but they also taste great. In 2012 this bar was voted the best dark chocolate at the International Chocolate Awards.

This bar is certified organic, soy free, gluten free and kosher.

Note: Sourcing constraints mean that occasionally we can only obtain Pacari products in EU packaging (e.g., German or French)

Additional information

| | |
| --- | --- |
| Type of Chocolate | |
| Maker | |
| Bean Origin | |
| Icons | |
| Ingredients | |
| Dietary Information | |
| Certifications | |

26 reviews for

Pacari Raw (unroasted) 70%

Aisling M.

December 26, 2016

First try of raw chocolate. Very different, refreshing, and already planning on placing an order to try their other offerings.

Elin D.

April 23, 2016

This is one of the nicest raw chocolate bars I have ever tried.

Matthew M.

March 26, 2016

It has a strong earthy aroma and it shows in the taste too. There is indeed a slight banana quality to it and you can tell the difference from roasted chocolate. It's fairly tannic towards the end. I'm certainly interested in raw chocolate.

Isabella W.

March 13, 2016

Too fruity, did not suit my taste

William T.

February 20, 2016

My rating reflects my enjoyment of the product, not necessarily it's quality. I'm sure it's exemplary stuff. Quite savoury and bright, vegetal and green fruit flavours, notes of green tea. Long smooth breakdown reveals the cane sugar as it melts (I found this a bit odd, like the cacao and the sugar weren't unified properly). A complex and distinctive 'specialist' chocolate with dry tannins on the finish.

Joanne R.

November 23, 2015

a little underwhelming. Earthy, grassy tones as described in the tasting notes but not the rich intense full flavour I was hoping for.

Jordan W.

June 21, 2015

Strong fruit notes, slightly bitter finish. Rich flavor but a little too fruity for my taste.

Julian B.

December 10, 2014

Rich, smooth, not as bitter as expected. Raw chocolate for those who don't usually like raw?

Joseph B.

November 25, 2014

Tasting notes were spot on.

Marnie P.

October 30, 2014

I've been waiting to try this Pacari bar, I'm dedicated to the raw process and love dark chocolate. Pacari's reputation and hype is well deserved, amazing flavour and texture.

Morten C.

October 13, 2014

I have to say, I found this chocolate very underwhelming. It has a smooth feel in my opinion, and a rich taste, but overall I found it too restrained.

Roberto Z.

October 1, 2014

The first shipment from Cocoa Runners is really great and Pacari Raw 70% is definitely the best bar in the set and one of the best I've ever tasted before.

Lesley J.

September 26, 2014

Pacari 70% has a great snap and a deep raisiny aroma. On the tongue it melts well, and even though 'raw' has a great warm flavour of fruit and nuts. I'm not normally a fan of raw chocolate, but for this I will make an exception. One question, what beans are these? I may have missed it on the info, but I do need to know, y'know!

Jillian F.

June 10, 2014

This was part of my first shipment. I like raw chocolate in general and feel this is the best raw chocolate bar I have tried to date. I enjoyed the intensity and earthiness of the chocolate.

Jonathan R.

June 6, 2014

I really loved this: a deep, interesting bar with flavours that develop throughout the time in the mouth. Regrettably I finished this a few weeks ago and didn't get a chance to review it at the time so I cannot give more detail - only to say that I would welcome a repeat. I haven't been too keen on "raw" bars previously, but this was accessible and complex.

JoJo S.

May 1, 2014

Surprising and really intense taste , even with a little square bit . A bit too much for my liking.

Rachel W.

March 21, 2014

Surprising taste... but not unpleasant... which lingers on the palette, like a happy, warm memory.

Dina A.

February 16, 2014

Ooh what a great bar. Very green and quite fruity. Reminds me of green bananas and coconut, giving it a nice tropical sweetness. The first raw chocolate bar I've tried and I love it, I was expecting a lot of bitterness but it's just lovely. You only need a small square of this chocolate to be satisfied, meaning it will last a long time

Laura C.

February 9, 2014

The taste of this bar was interesting, smoky and almost vegetal but there was something about the mouth feel and texture which meant this really wasn't my favourite, I guess this was due to the fact it was never heated sufficiently to temper the cocoa solids to get the normal smooth texture and melt I associate with high quality chocolate

Gilli K.

January 30, 2014

Just received my first box. Shipped within the week of registering which is a fast service. Just tried a little bit of the Pacari 70% and it is lovely. Nice dark chocolate taste with almost a hint of cherry for a little sweetness. Texture is good. I think i am going to regret thinking i will share this chocolate with my partner Rich because it is just so nice. looking forward to trying the others. Thanks Lee for the link. Beats cake...... hang on did i just say it beats cake...... hmmmm if there is a cake with this kinda quality of chocolate omg!!!!!!! i have died and gone to heaven LOL!

Joshua D.

January 4, 2014

Fruity, dark and with a simply brilliant snap.

kerry r.

January 2, 2014

Interesting flavours, but a bit too "raw" for our taste. Might be tolerable in very small doses, but one bar at one sitting between 2 people is a square too far.

Irene C.

December 5, 2013

Wasn't sure what to expect with a raw bar but was pleasantly surprised. I found the description card to be accurate to my palate (natural green and earthy tones) but i found it had an overwhelming hoppy/beer overtone which i enjoyed. Looking forward to trying other bars from Pacari.

Lee D.

November 26, 2013

My 2nd Cocoarunners bar, again shared with my office (I think I've started a tradition I'll come to regret). Again a unanimously positive reaction to the deep rich chocolate flavour, slight astringency, and lingering smoky quality... It would've got a 4* review except for the mouth feel/melt, which was powdery, almost gritty. Not entirely unpleasant during eating, but left me feeling like I had a coating over my teeth and tongue. Like drinking that last sip of espresso made with too fine a grind.

Gordon H.

November 5, 2013

Probably one of the best tasting chocolates I have ever had. I believe that Pacari do not roast the cocoa beans in the making of this product - unlike the traditional method. However, this results in a wonderful dark chocolate with grassy almost pineapple/tropical overtones... I just didn't believe that chocolate could produce such complexity on the palate. I will be buying a few more of these!!

Louise N.

October 22, 2013

A small square of this extraordinary chocolate certainly distracted me from my pile of invoices and took me to another place for a moment in time. You cannot multi-task when you are eating this chocolate. Good length.

Nutritional info coming soon.

Allergens coming soon.

Ingredients coming soon.
You need to be logged in to post a review.
Maker description
This maker is no longer available from Cocoa Runners
Pacari makes chocolate from the tree to the bar at source in Ecuador. Best known for their award winning "Raw" chocolate, they have a full range of delicious flavoured and unflavoured bars too. Read more about Pacari