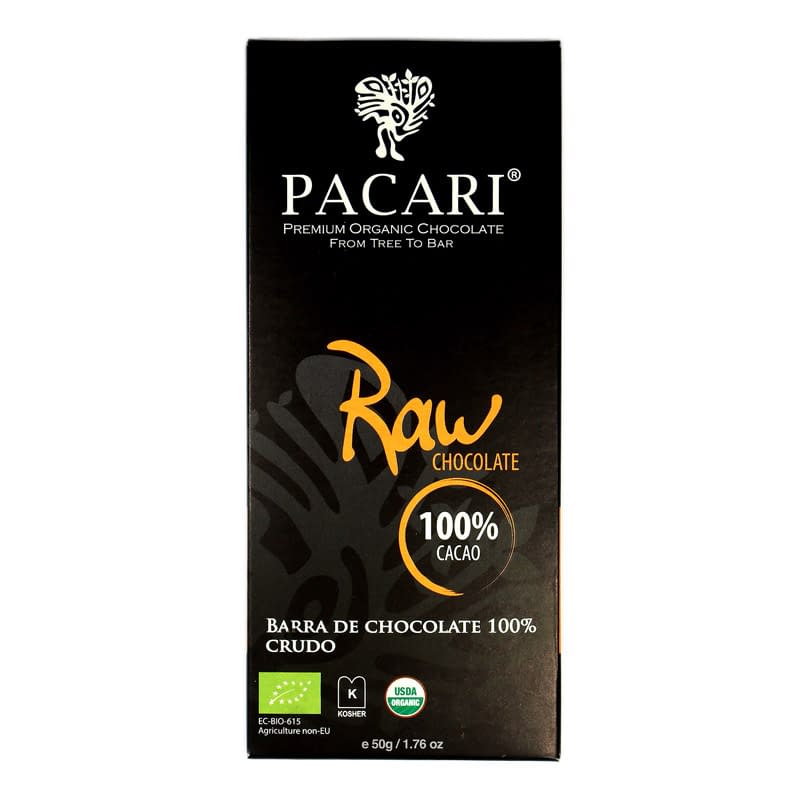 Pacari Raw (unroasted) 100%
Description

Unfortunately this bar is no longer available in our Library. Please see below for four bars that we think you will enjoy.

A 100% unroasted chocolate made with Ecuadorian beans. This chocolate is one of Pacari's most popular bars, yet contains no sugar at all. Be prepared for an intense experience with lots of raw green and earthy notes with this bar!

This bar is certified organic, soy free, gluten free and kosher.

Note: Sourcing constraints mean that occasionally we can only obtain Pacari products in EU packaging (e.g., German or French)

Back in 2009, Santiago launched bars that, in his words "all the cocoa ingredients are minimally processed and kept at low temperatures to maintain the antioxidants and complex flavour profile of our carefully selected cacao" and titled them "RAW". It is important to note that he makes no claim, nor offers any guarantee, as to what temperature the beans may reach during fermentation, drying, roasting, concheing or tempering.

If you are a "raw" food purist who does not want to eat any food heated to e.g., over 42 degrees, this product may not be for you. We are not aware of anyone who has fermented cacao outside of an oxidation chamber at below 42 degrees. When choosing a chocolate bar we believe that the focus should be on the ingredients, quality of the beans and craftsmanship of the maker, rather than whether or not the beans have somehow been processed at sufficiently low temperatures to meet specific new dietary definitions. And in the case of Pacari's bars, these bars are not only crafted from high quality beans that are sourced from small, independent, growers and farmers, but they also taste great.

Additional information

| | |
| --- | --- |
| Weight | 50 g |
| Type of Chocolate | |
| Maker | |
| Maker Country | |
| Cocoa Percentage | |
| Bean Origin | |
| Ingredients | |
| Dietary Information | |
| Certifications | |
| Archived Maker | |

3 reviews for

Pacari Raw (unroasted) 100%

Timo K.

May 3, 2016

The best 100% chocolate so far and I have tried about 20 or so. This is so full of aromas that it is almost like sipping good cognac. Quite bitter, just the way I like it.

Julie M.

February 8, 2016

I'm new to 100% chocolate and for a newbie this was quite difficult to eat (in comparison especially to the other 2 I bought). I wouldn't recommend it as a first foray into 100% chocolate, but maybe for those who are keen on raw chocolate and particularly like the bitter taste. I may come back to it and try again when my palate changes!

Dina A.

November 23, 2014

Very strong and astringent, the green grassy tones hit you amongst the tropical fruit notes of banana, mango, papaya.

Nutritional info coming soon.

Allergens coming soon.

Ingredients coming soon.
You need to be logged in to post a review.
Maker description
This maker is no longer available from Cocoa Runners
Pacari makes chocolate from the tree to the bar at source in Ecuador. Best known for their award winning "Raw" chocolate, they have a full range of delicious flavoured and unflavoured bars too. Read more about Pacari