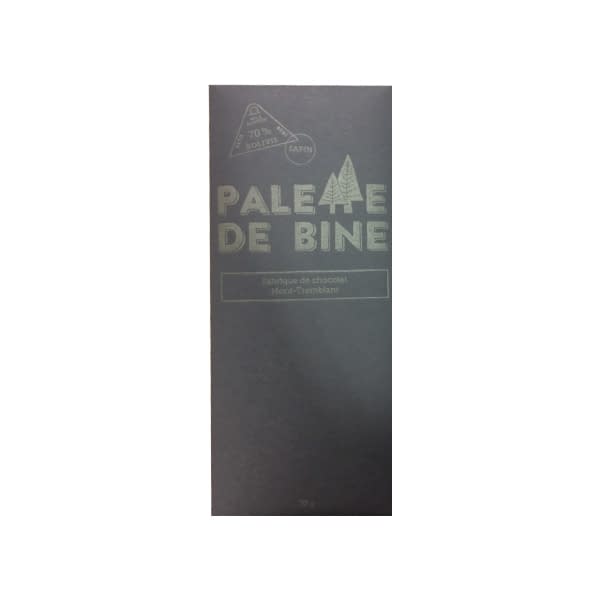 Palette de Bine – Alto Beni Wild Harvest Sapin
£17.95
Out of stock
Description

This dark chocolate bar was hand crafted using Bolivian cacao by Palette de Bine in Mont-Tremblant, Québec.

As you unwrap this dark bar, make sure you admire the Palette de Bine's plank-like mould and inhale the chocolate's menthol aroma. Bite into the gently smooth dark chocolate and discover a delicate and unique tasting bar. Hints of honey, typical of beans from Alto Beni mix with fresher notes. The minty, slightly herbal tones and the sweet Bolivian beans produce a flavour that can best be described as 'caramelised pine needles'. A delicious and unique bar that perfectly blends Canadian and Bolivian ingredients.

Christine Blais of Palette de Bine has sourced the cocoa beans for this bar from Alto Beni region in Bolivia. She has combined the rare beans with Balsam fir powder from her Canadian home.

Due to difficulties in sourcing and Christine's long waiting list, we only have a very limited number of this bar available.

This bar achieved a Silver at the Academy of Chocolate Awards 2017.

Additional information

Click on any underlined term to see more products

| | |
| --- | --- |
| Weight | 70 g |
| Type of Chocolate | |
| Maker | |
| Maker Country | |
| Cocoa Percentage | |
| Bean Origin | |
| Ingredients | |
| Certifications | |

1 review for

Palette de Bine – Alto Beni Wild Harvest Sapin

Matthew W.

March 29, 2017

I like chocolate that takes me to the place of origin, but strangely I just couldn't get this one at first. It has wonderful wild Bolivian cacao, which I love, but here joined by pine from the north. Somehow a confusing mixture of rainforest and pine forest. Having said that, it's always interesting to see how the flavours of chocolate change at different times of the day. I think this is partly due to temperature and maybe just the vagaries of taste. Into the second half of this bar and I was surprised at the way the flavours all came together. The dark Bolivian giving an earthy undertone to lighter caramels and maples rising above (can a pine be maple? I'm not sure). It also has a fantastic melt. Nothing waxy here, just leaving me wanting more. I like the card packaging. Simple, but really well considered, with its folksy lettering and silver pine design on the inside of the outer wrapper. Moulding the chocolate to look like a plank of wood does seems a bit gimmicky. All in all it's a great bar, though, and very individual. The wild dark cacao echoes tropic heat, but then the pine notes and the wrapper takes me to a full moon over snowy mountains. The rarity of these small batch bars is reflected in the price, but I'd be quite happy with another one.

Nutritional info coming soon.

Allergens coming soon.

Ingredients coming soon.
You need to be logged in to post a review.
Type of Chocolate
Maker Country
Cocoa Content
Bean Origin