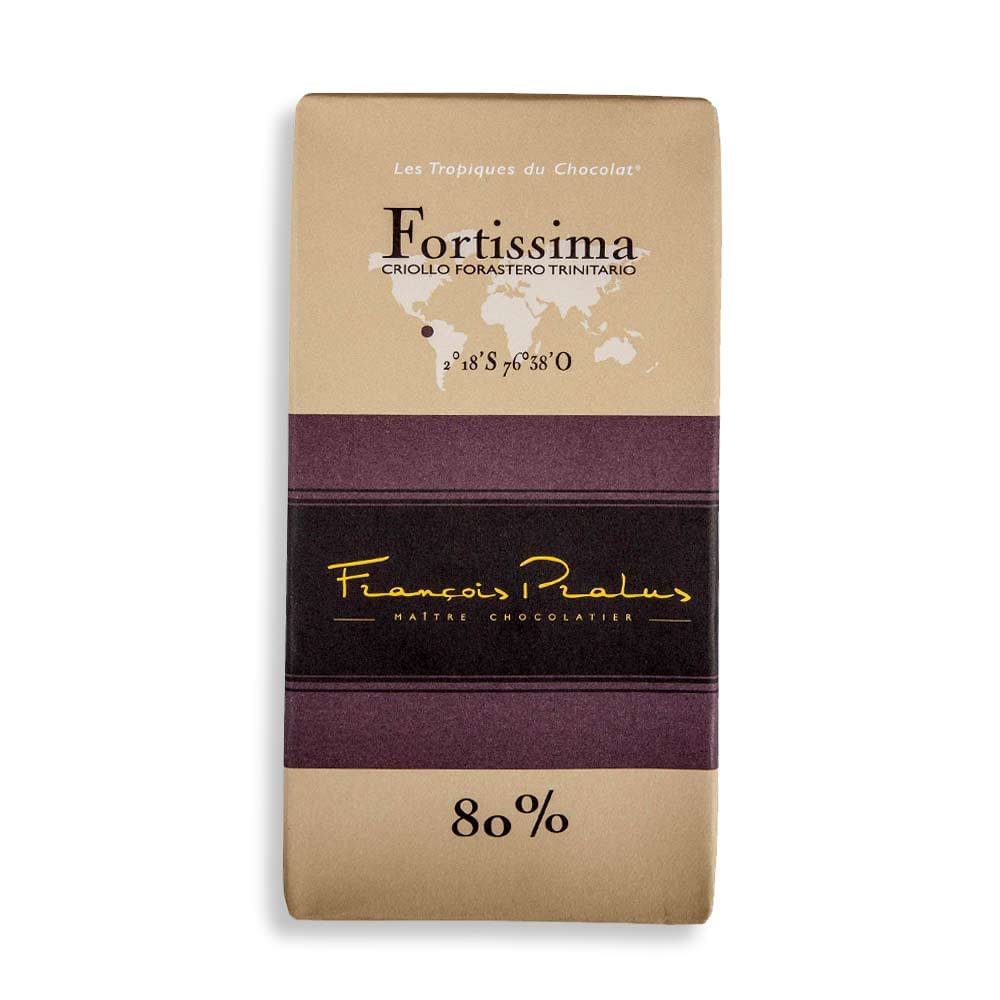 Pralus – Fortissima 80% Dark
£7.95
An 80% dark bar from French chocolate maker Pralus, this gorgeous chocolate enjoys hints of milk and mild spice.
In stock
Description

TASTING NOTES

This 80% dark bar from French chocolate maker Pralus is a fantastic exploration into the possibilities of craft chocolate. A measured aroma of vanilla becomes slightly bitter as it hits the tongue, melting into exuberant notes of milk and mild spice.

ABOUT THE MAKER

Pralus has been making patisserie and baked treats in Roanne, France, since 1948. Auguste Pralus quickly became famous for his Praluline, a gorgeous brioche packed with rose-sugar-coated pieces of almonds and hazelnuts. Auguste's son François is now at the helm, and Pralus has become famous the world over for its fabulous chocolate. François is a master chocolate maker – he's always on the lookout for new cocoa beans and has recently bought his own farm on the Madagascan island of Nosy Be.

This bar was featured in our November subscription box. You can hear what Spencer and Mika had to say about it in the video below:

Additional information

Click on any underlined term to see more products

| | |
| --- | --- |
| Weight | 100 g |
| Type of Chocolate | |
| Maker Country | |
| Cocoa Percentage | |
| Cocoa Content | |
| Maker | |
| Lifestyle and Diet | |

1 review for

Pralus – Fortissima 80% Dark

Ben S.

November 29, 2020

Very nice dark chocolate - just the right amount of sweetness and creaminess

Energy
2558kJ/618kcal
Fat
50g
of which
- saturates
32g
Carbohydrates
28g
of which
- sugars
17g
Protein
9.5g
Salt
traces

Allergens

Milk (traces), nuts (traces)

Ingredients

Cocoa beans, pure cocoa butter, sugar, non-GMO sunflower lecithin
You need to be logged in to post a review.
Maker description
Pralus are an artisan patisserie and chocolate maker, founded by Auguste Pralus in 1948. Now run by his son François, they are best known locally for their "Praluline" brioche and range of single origin chocolate bars. Read more about Pralus
Type of Chocolate
Maker Country
Cocoa Content