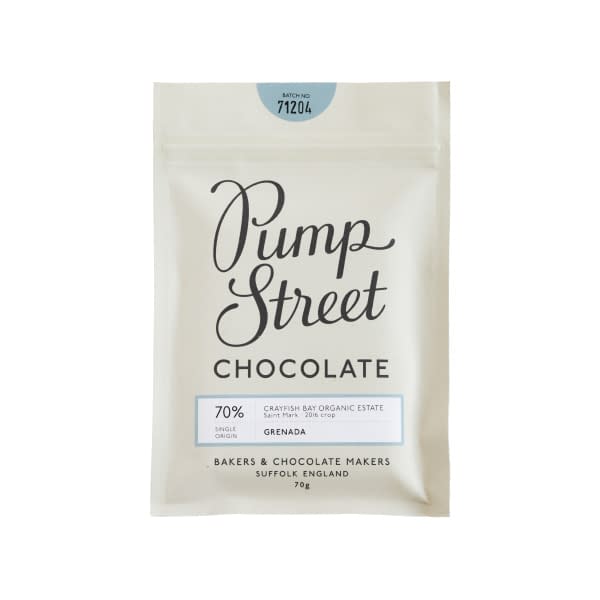 Pump Street – Crayfish Estate, Grenada 70% Dark
£6.25
In stock
Description

TASTING NOTES

Chris Brennan, founder of Pump Street Bakery, hails from the Caribbean and has always wanted to craft a bar from the West Indies.  And boy has he succeeded with Crayfish Cacao!  This bar has extraordinary depth of berry flavours that last and last and last.  The bar also has Pump Street's classic chunky texture enabling one to savour this depth.

ABOUT THE MAKER

After a long and successful career at IBM, international jet-setter Chris Brennan briefly retired before deciding to pioneer the making of sourdough and other breads in his idyllic countryside bakery in Orford, Suffolk. About a decade later, he and his daughter Joanna decided to delve into crafting award-winning chocolate in their eponymous bakery situated on Pump Street, and have won numerous awards for both their chocolates and their innovative packaging.

THE BEANS

The source of these beans, Crayfish Bay Estate, is a farm in Grenada with some distinctive management practices. Kim Russel, the owner of the estate, has delegated the running of the estate, recruitment decisions, wage structure, working practises, etc to the workers.  In return the workers receive 90% of the returns on the wet cacao. Kim keeps the other 10% and is responsible for the sweating, drying and marketing of the beans. A truly fair trade arrangement, with the returns split according to the amount of work performed by each party.

Additional information

| | |
| --- | --- |
| Weight | 70 g |
| Type of Chocolate | |
| Maker | |
| Cocoa Percentage | |
| Maker Country | |
| Ingredients | |
| Dietary Information | |

4 reviews for

Pump Street – Crayfish Estate, Grenada 70% Dark

Zoe D.

June 4, 2021

(Batch 1094, 2019 crop) Smells like vinegar in the pouch. A smooth and really slow melt. Little-to-no flavour- I only detected a slight nuttiness. I think this is really quite a poor chocolate however, my non-craft-chocolate-eating family tried and enjoyed it. I ended up using it in baking and it was fine.

Ben C.

April 10, 2021

Crumbly rather than melting to be expected, but crumbles to open with sour fruit flavours that is an altogether unpleasant sensation.

Matthew M.

July 22, 2019

It opens with notes of toffee and honey and as it melts it provides a blackcurrant fruitiness. However it has a slightly strange note that comes through that I can best describe is like pork fat. It's not pronounced, but it is enough to make it less appealing to me. It might be that this bar developed such flavours through exposure to the summer heat, I don't know.

Farrah L.

October 31, 2018

Nutritional info coming soon.

Allergens coming soon.

Ingredients coming soon.
You need to be logged in to post a review.
Maker description
As makers of both bread and chocolate, UK-based maker Pump St Bakery is a truly unique company. Set up by father and daughter team Chris and Joanna, they really care about making high quality chocolate, managing their production process with a forensic attention to detail. Read more about Pump Street Chocolate