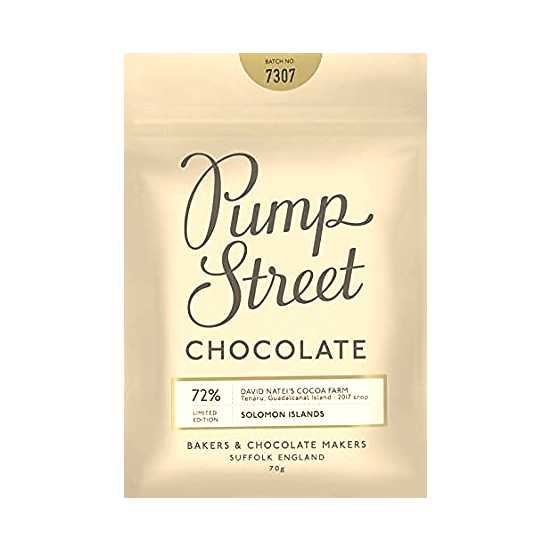 Pump Street Chocolate – Guatemala 64% Dark Milk Chocolate
£6.25
In stock
Description

After a career at IBM, international jet-setter Chris Brennan briefly retired before deciding to pioneer the making of sourdough and other breads in his idyllic countryside bakery in Orford, Suffolk. Chris decided to delve into crafting award-winning chocolate, along with his daughter Joanna, in their eponymous bakery situated on Pump Street.

This bar is crafted with cocoa beans harvested by farmers living in the Laguna Lachuá Reserve, a national park surrounding the Lachuá Lake in Guatemala.

Tasting Notes

Expect a thick, rich milk chocolate that verges on the darker side. The aroma starts sweet with butterscotch, with a flavour of double cream, biscuits, cherry and almond notes akin to a Bakewell tart.

Additional information

| | |
| --- | --- |
| Weight | 70 g |
| Type of Chocolate | |
| Bean Origin | |
| Maker | |
| Maker Country | |
| Cocoa Content | |
| Cocoa Percentage | |
| Ingredients | |
| Dietary Information | |

1 review for

Pump Street Chocolate – Guatemala 64% Dark Milk Chocolate

Kate A.

November 14, 2020

Everything pump street does is fantastic and this is no exception. A great staple dark/milk bar for the chocolate cupboard!

Coming soon.
You need to be logged in to post a review.
Maker description
As makers of both bread and chocolate, UK-based maker Pump St Bakery is a truly unique company. Set up by father and daughter team Chris and Joanna, they really care about making high quality chocolate, managing their production process with a forensic attention to detail. Read more about Pump Street Chocolate