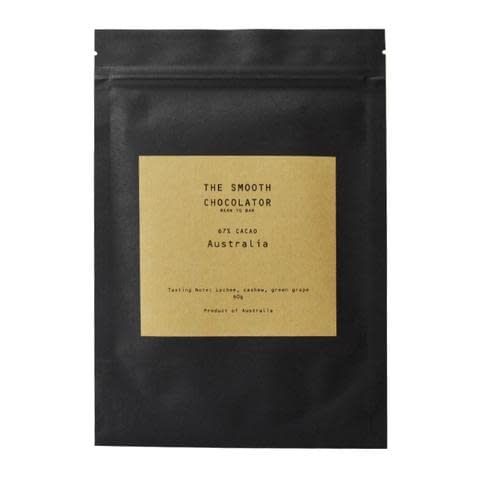 The Smooth Chocolator – Australia 67%
Description

Unfortunately this bar is no longer available in our Library. Please see below for four bars that we think you will enjoy.

Very few people ever get chance to taste a chocolate bar crafted from Australian cacao. Australia is possibly one of the world's smallest cocoa producers, with just a very small amount of cocoa being grown by a dedicated group of farmers in the far north of the country. We were delighted to discover that super talented Australian craft chocolate maker Smooth Chocolate had sourced some cacao from her native Australia. When we tasted the bar, we knew at once that we had to find a way to include in our craft chocolate library. This truly exceptional bar is a must-try for true craft chocolate aficionados.

Tasting Notes

This bar is deliciously light, fruity and sweet, with hints of tropical fruits. A creamy, sweet dark chocolate bar crafted from Australian cacao. We detected hints of mango, papaya and juicy lychees with orange rind at the finish.

Additional information

| | |
| --- | --- |
| Weight | 60 g |
| Ingredients | |
| Type of Chocolate | Dark Chocolate |
| Maker Country | Australia |
| Bean Origin | Australia |
| Cocoa Percentage | 67 |
| Certifications | |

1 review for

The Smooth Chocolator – Australia 67%

Sonam J.

November 15, 2017

Loved this one. It is really smooth and has a hint of lychee; a bit expensive though.

Nutritional info coming soon.

Allergens coming soon.

Ingredients coming soon.
You need to be logged in to post a review.