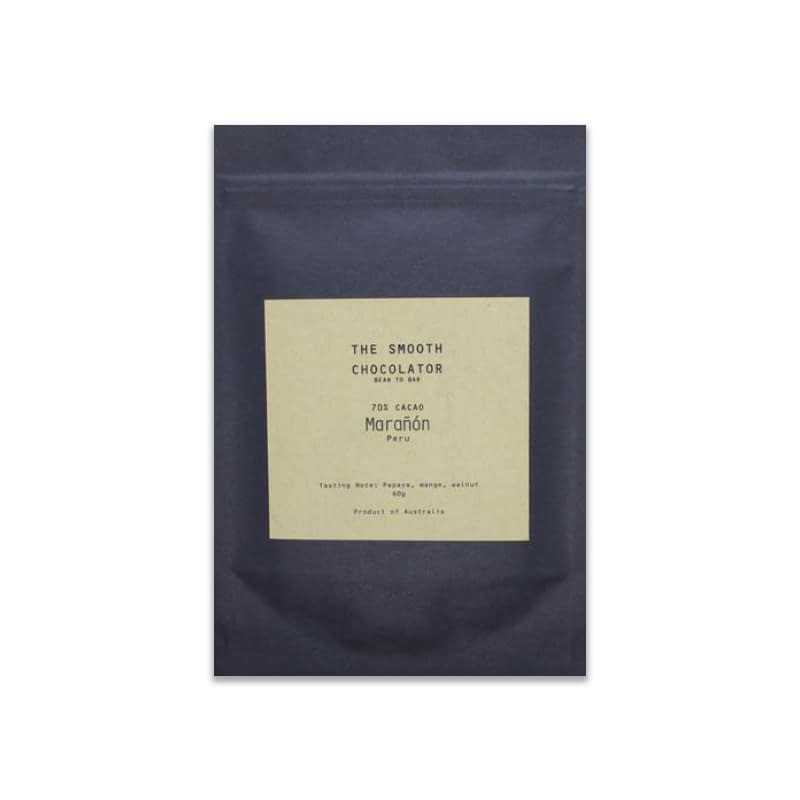 The Smooth Chocolator – Maranon 70%
Description

Unfortunately this bar is no longer available in our Library. Please see below for four bars that we think you will enjoy.

The Smooth Chocolator has crafted a buttery and delicate dark using 'the world's rarest cacao' Peruvian Maranon beans.

The thin and delicate chocolate is smooth with an easy melt. Place a piece on your tongue and allow the sweet fruits to build. Caramel notes have a slight tang from the tropical fruits. We noted a hint of papaya and very ripe peach as well as something a little nutty. A drying finish closes the bar.

If you take the bar out and unwrap it you will notice the pallor typical of Maranon chocolate. The high proportion of white beans found in the pods not only change the chocolate's colour but help give the cacao its uniquely varied but subtle flavour.

This bar has been crafted using the 2015 Maranon harvest. The bean is named after the Maranon river valley where this unique genetic strand was rediscovered a few years ago. The Maranon bean is a pure strain of the Nacional bean which until recently was thought to be extinct. Notoriously difficult to use, when crafted well it produces many-layered chocolate full of complexity.

Additional information

| | |
| --- | --- |
| Weight | 60 g |
| Type of Chocolate | Dark Chocolate |
| Ingredients | |
| Maker Country | Australia |
| Bean Origin | Peru |
| Cocoa Percentage | 70 |

Reviews

There are no reviews yet.

Nutritional info coming soon.

Allergens coming soon.

Ingredients coming soon.
You need to be logged in to post a review.