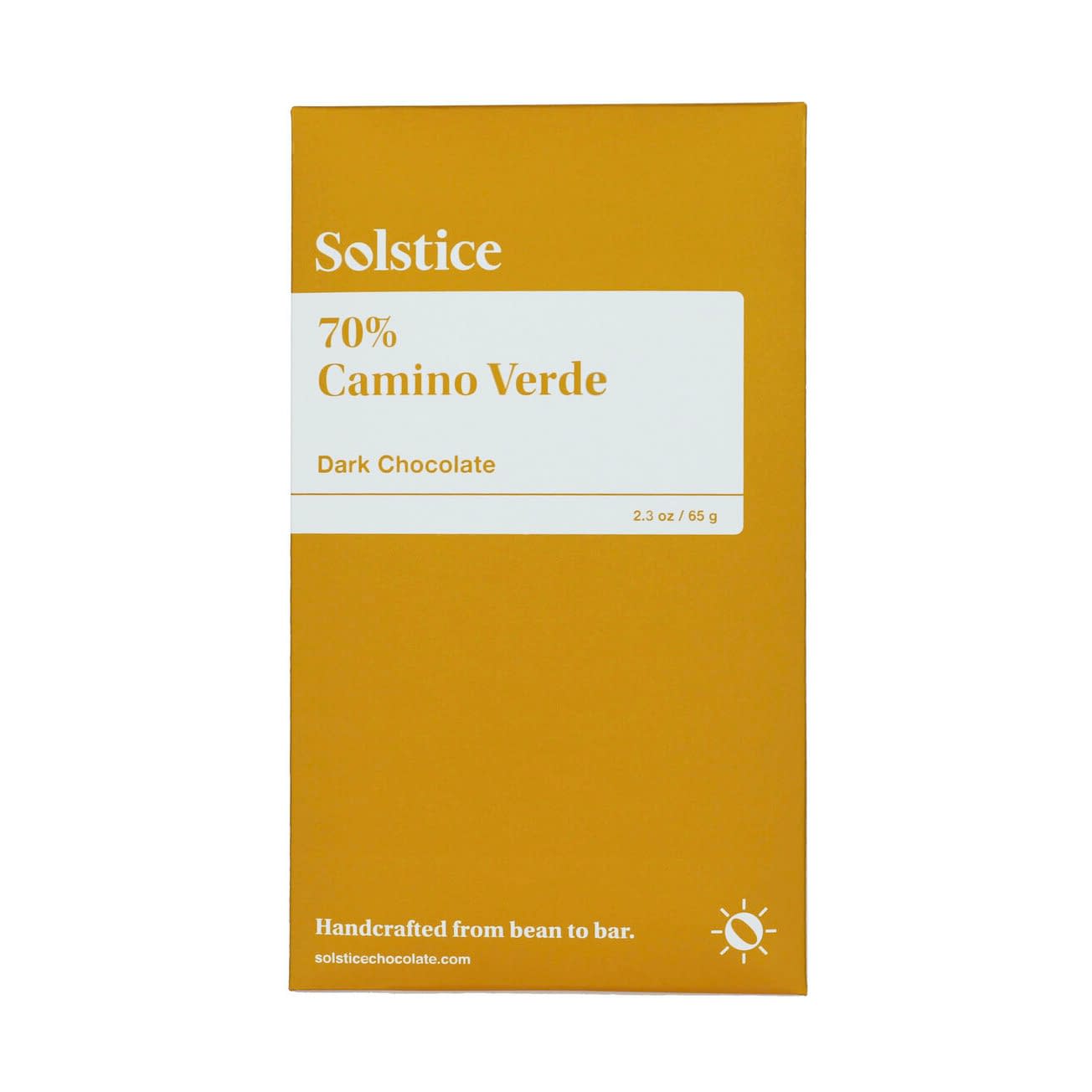 Solstice – Camino Verde, Ecuador 70% Dark
£8.95
In stock
Description

TASTING NOTES

This is an aromatic cacao that gives rise to a nutty flavour profile, with hints of cinnamon and brown sugar.

ABOUT THE MAKER

Husband and wife Scott Query and DeAnn Wallin founded Solstice Chocolate in 2013, among the scenic vistas of Salt Lake City, Utah. Utah has recently been dubbed the craft chocolate capital of the States, and rightly so with its boom in makers and retailers of small-batch craft chocolate. Starting as a hobbyist before running Solstice as a business, DeAnn has always been fascinated by chocolate. Chocolate made its way into many of DeAnn's family activities, from making chocolates as a child with her grandmother, to making chocolates as a mother with her daughters. Yet another example of chocolate finding wonderful ways to bring people together.

THE BEANS

The beans in this bar are grown by Vicente Norero on the Camino Verde Estate, located near Balao on the southern coastline of Ecuador.

Additional information

Click on any underlined term to see more products

| | |
| --- | --- |
| Weight | 70 g |
| Type of Chocolate | |
| Maker | |
| Maker Country | |
| Cocoa Percentage | |
| Icons | |

1 review for

Solstice – Camino Verde, Ecuador 70% Dark

Zoe D.

July 13, 2021

10/10. Blew me away! Highly, highly recommend trying this bar! Intensely nutty. A mix of nuts(excluding pistachios) that evokes making homemade nut butter and has such a complex flavour that you can even detect flavours of nut skin! Flavourful from start to finish. The flavour was also very consistent across pairings with different bars. I think this pairs wonderfully with Qantu Gran Blanco in particular, but I found any fruity bar accentuated the nuttiness of the Solstice bar and vice versa. Qantu Chuncho and Morropon, Goodnow Farms Asochivite and Latitude Semulkiki were also very good. A thin bar and I thought the sunshine mould was endearing. Packaging is unique and very easy to reseal. Lot/batch no. 102007

Nutritional info coming soon.

Allergens coming soon.

Ingredients coming soon.
You need to be logged in to post a review.
Maker description
Type of Chocolate
Maker Country
Cocoa Content