Description
One of our mantras at Cocoa Runners is that Craft Chocolate tastes better, it's better for you, it's better for the farmers, and it's better for the planet.
It's also a great way to explore the world – and so we are delighted, and humbled, to be launching our first Ukrainian Chocolate Maker, Stranger – the creation of Tetyana and Ruslan, and their children Anya and Matvii.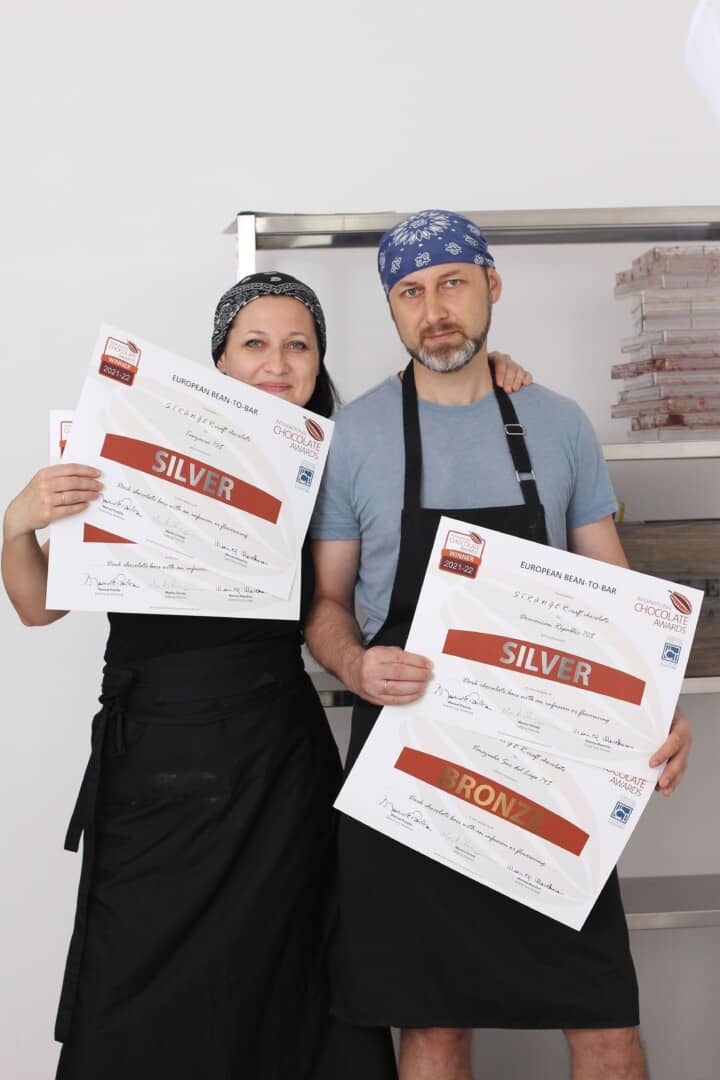 What's really extraordinary is that Tetyana and Ruslan are continuing to craft their bars – and to win awards for these bars – in, to put it mildly, challenging circumstances.  Celebrated columnist and Chocolate Correspondent for The Observer, Annalisa Barbieri, recently described Ruslan and Tetyana's bars as 'exquisite' (you can read more about this here). Somehow they are still able to import beans, run their small factory, and find a way to deliver their bars to us here in the UK. These are the same bars that they are also sending to Ukrainian soldiers on the front lines, which adds poignancy to these bars. 
We've managed to import a small number of their 70% 50g bars from four regions – and they provide a great way to delight in very different and distinct origins. This box includes a gift box, and a £5 donation from you that we will also match to support a charity selected by Tetyana and Ruslan.  That is to say: for every box you purchase, we'll send £10 to this charity, supporting the Ukrainian people and army.  It's a charity set up by a well known Ukrainian TV presenter and Comedian, Serhiy Dmytrovych Prytula, called the Serhiy Prytula Foundation, which you can read more about here: https://prytulafoundation.org/en
Due to supply challenges, you may receive a mixture of the different bars – and not all the bars below. 
70% Öko Caribe, Dominican Republic
Recently described by celebrated columnist and Chocolate Correspondent for The Observer, Annalisa Barbieri as an exquisite chocolate, this smooth and creamy 70% dark bar is an absolute joy to taste. Sweet for a 70% bar, we tasted notes of caramel, blue and red berries, and a vegetal finish.
70% Akesson's Sambirano Valley, Madagascar
This 70% dark bar is well-roasted and smooth. The chocolate has a certain smokiness, with notes of citrus and red berries.
70% Lachua, Guatemala
This smooth, velvety 70% dark chocolate has a fantastically long melt. With hints of stone fruit and strawberries at the beginning, this buttery bar ends on a lengthy sherbet note.
70% Kokoa Kamili, Tanzania
This award winning 70% dark bar is smooth and creamy. Initially tart and bright, the bar opens up to have a good mouthfeel and chocolateyness.