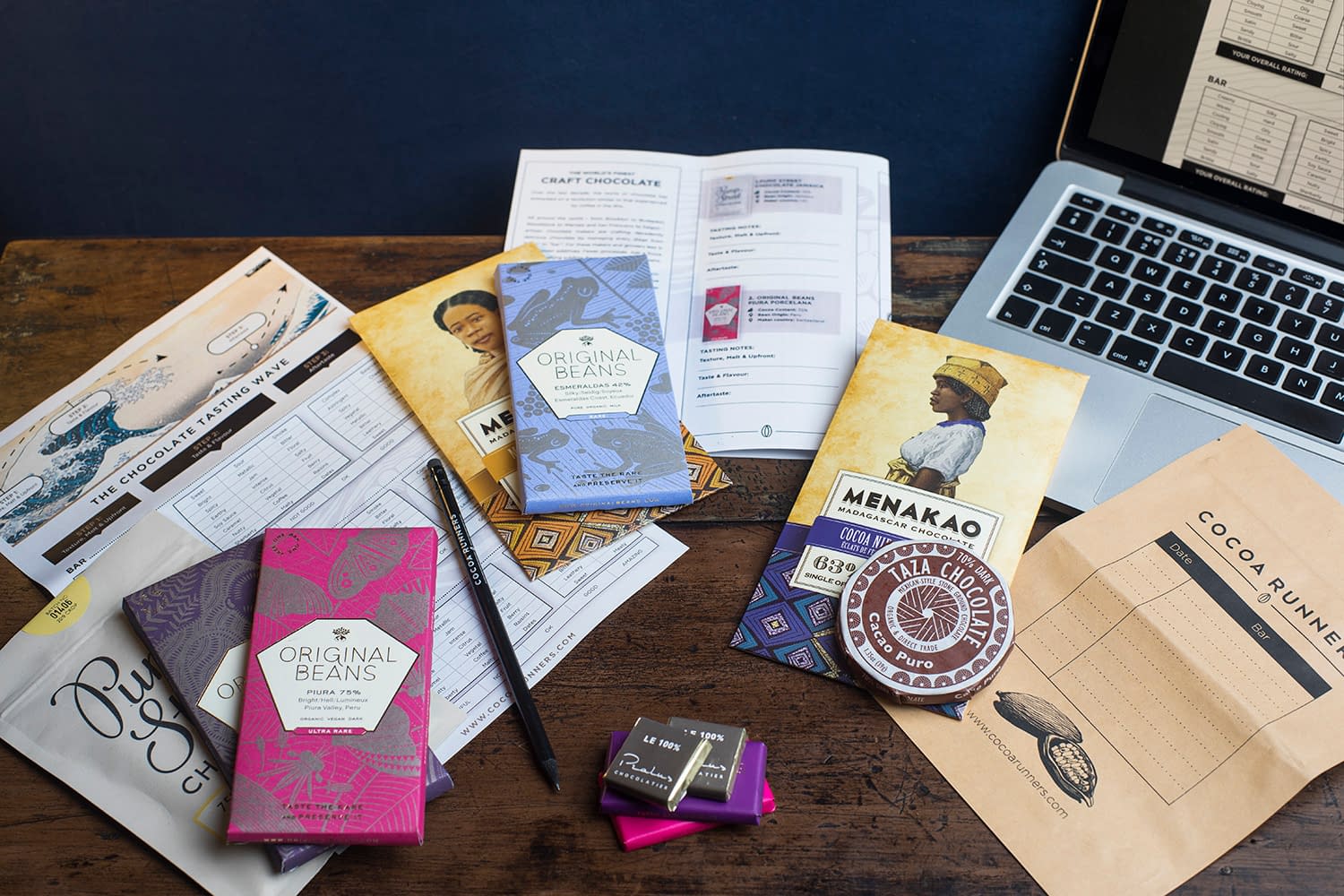 Summer 2021 – Virtual Chocolate Tasting Kit for Young People
£12.95
This is the tasting kit for our Summer 2021 children's chocolate tasting sessions.
It's important to help young people develop their palate, by exploring and discovering flavours. The world of craft chocolate is so diverse, there are amazing flavours to experience, but it's also a world steeped in history and driven by fascinating science. If you're looking for something to keep your young people occupied in the school holidays, where they can learn about the amazing world of chocolate, and where they can taste some amazing flavours, then we have just the thing!
The kit contains everything you'll need.
Description

Who's this for?

Anyone who will be attending our 'Introduction to Craft Chocolate' sessions for young people during half-term will need this kit. The bars and papers in the kit are the learning resources for these tasting sessions.

What's inside?

The kit contains everything that you'll need to enjoy the tasting session. We've included 8 taster bars, which we'll use to unwrap the history and science of chocolate, and explore some amazing flavours. Inside, you'll also find some leaflets with information about the bars, and how to taste them.

FAQs:

Are the kits gluten free?

None of the bars in these kits contain gluten, but several are made in factories which handle gluten.

Are the kits vegan friendly?

Each kit contains bars which contain dairy. We will make it clear during each session when we come to bars that contain dairy.

Will there be future sessions?

We're currently planning a 3-part course for the summer holidays. You can help us by suggesting the best dates for this here.

How many children can each kit be used by?

Each kit is suitable for 1-2 children.

Do the sessions require parental supervision?

Younger children may benefit from having an adult nearby, in order to get the most out of the interactive technology.

What safety measures do you have in place?

Our sessions for children take place via private Zoom webinars. We control who joins the session and any problematic individuals will be removed as we go. We will only show the faces of the presenters; all other participants will not be visible.

Will the sessions be recorded?

No; we don't record sessions.

Reviews

There are no reviews yet.

Coming soon.
You need to be logged in to post a review.