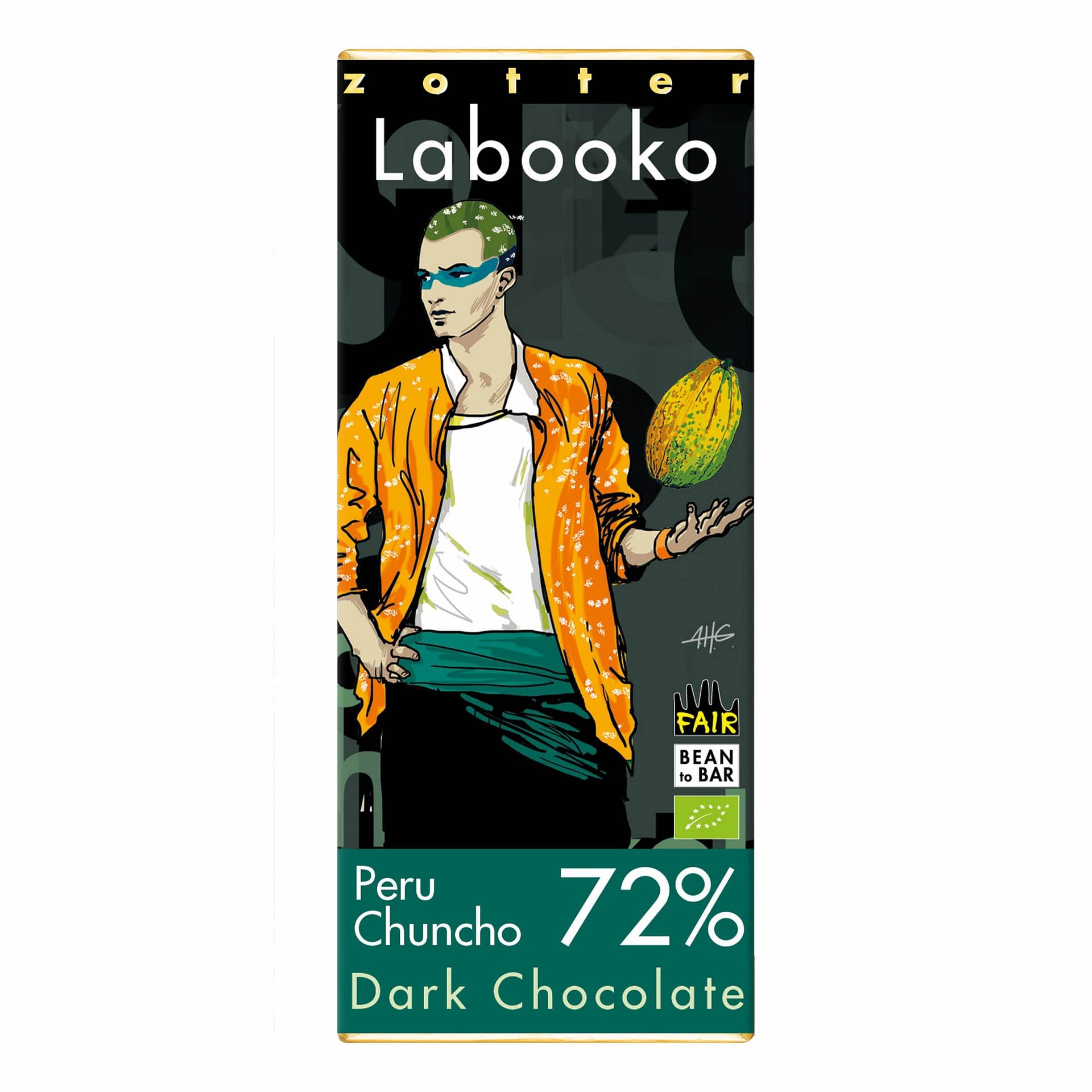 Zotter – Chuncho, Peru 72%
£3.95
A mild and fascinating profusion of flavours emerge from these delicate Peruvian beans.
In stock
Description

TASTING NOTES

These supremely elegant Chuncho beans hold a multi-layered bouquet of aromas, from rose petals and tropical fruit to caramelised nuts and pretzels. On the tongue it takes you on an equally complex journey, through notes of lightly-salted crackers, sweet cream, mango, banana, and watermelon.

ABOUT THE MAKER

Josef Zotter is one of the long-established heroes of the craft chocolate movement. He has been producing chocolate since 1992, became famous for his wacky flavour combinations (scarlet runner bean and coriander pastry, anyone?), and was one of the earliest to produce 100% Organic and Fairtrade products. He has worked tirelessly to improve the lives of his growers around the world, engaging in numerous initiatives in Latin America, Africa, and Southeast Asia. He also runs an outstanding chocolate factory visitor experience – The Zotter Experience – that is a must-see for any chocolate-loving visitors to Austria.

Additional information

| | |
| --- | --- |
| Weight | 70 g |
| Type of Chocolate | |
| Maker | |
| Maker Country | |
| Cocoa Percentage | |
| Bean Origin | |

1 review for

Zotter – Chuncho, Peru 72%

Sabine R.

January 28, 2021

This is a classy bar with a rich creamy intense dark flavour that has a hint of satisfying acidity. I am keen to try more in this range

Nutritional info coming soon.

Allergens coming soon.

Ingredients coming soon.
You need to be logged in to post a review.
Maker description
Zotter is an Austrian bean to bar maker known for its experimental nature, wacky flavours and ethical approach to chocolate making. Read more about Zotter