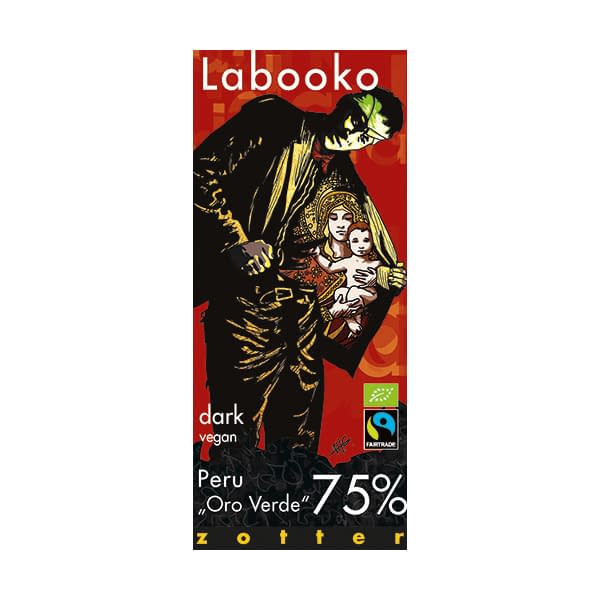 Zotter – Peru Oro Verde 75%
£3.95
In stock
Description

A delicious 75% Peruvian dark chocolate from Joseph Zotter.

Crafted from Native cacao, sourced by Zotter himself from on a trip to Peru together with his daughter Julia. The Oro Verde cooperative consists mostly of indigenous people from the Chanka and Awajun tribes as well as 30% migrants. The cooperative is quite proud of their cultural diversity and also of the variety of produce growing on their cocoa plantations. The cocoa farmers are convinced that this kind of biodiversity, a combination of a variety of plants, influence the flavour of the cocoa beans and lend them a broad aroma spectrum.

Zotter has conched his beans for a total of 22 hours – a little less than he conches many of his bars. This gives the chocolate a slightly fudgy texture. This bar has a deeply chocolatey start, which mellows into an earthy finish.

Additional information

| | |
| --- | --- |
| Weight | 70 g |
| Type of Chocolate | |
| Maker Country | |
| Cocoa Percentage | |
| Bean Origin | |
| Maker | |

Reviews

There are no reviews yet.

Nutritional info coming soon.

Allergens coming soon.

Ingredients coming soon.
You need to be logged in to post a review.
Maker description
Zotter is an Austrian bean to bar maker known for its experimental nature, wacky flavours and ethical approach to chocolate making. Read more about Zotter