Virtual Craft Chocolate Tasting and Learning Course for Young People
"A combination of history, palate busting flavour, and humour. You will never look, or taste, chocolate the same way again!"
It's important to help young people develop their palate, by exploring and discovering flavours. The world of craft chocolate is so diverse, there are amazing flavours to experience, but it's also a world steeped in history, and driven by fascinating science.
Buy our tasting and learning chocolate kit, and join a craft chocolate learning experience:
If you're looking for something to keep your young people occupied in the school holidays, where they can learn about the amazing world of chocolate, and where they can taste some amazing flavours, then we have just the thing! We've hosted sessions for over 1000 young chocolate-lovers, and we'd love to meet even more!
The content of our sessions is aimed at children aged 7-12, but we can flexible in what we cover, and there's something in there for everyone! We strongly encourage the whole family to get involved, to share in the experience!
How does it work?
Sign up to our programme by clicking the button below. Register for the specific dates you want, and join our mailing list so that we can give you instructions for your sessions.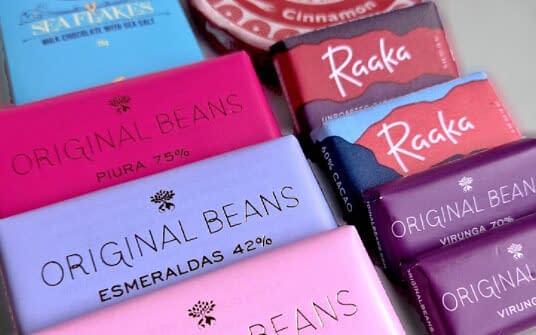 We have curated a collection of high quality craft chocolate which will help us tell stories about history and science, and let young people explore exciting new flavours. We'll send you instructions for ordering this kit once you've registered. Or, you can choose between the single and double kits in our store right now!
We'll also send you the joining instructions for the Zoom sessions closer to the time. Participants just need to sit comfortably in front of a device, with their tasting kit, a glass of water, and some paper and pens.
The following sessions will be fun and educational, and get kids back in a 'school mood' (with chocolate to soften the blow!):
How did we get here?

Introducing tasting chocolate; what to look for and how to talk about it.
Learning the history of chocolate; from its ancient origins to today.
Exploring how chocolate has changed, and why.

How does it work?

Learning about the senses used for flavour.
Breaking-down the chemistry and biology of tasting chocolate.
Examining what chocolate makers do to give us different experiences.

Why is it important?

Exploring the global chocolate network.
Evaluating the impact of cocoa farming on the environment.
Discussing how 'craft chocolate' can make a difference.
For anyone who completes this course, we'll send a certificate which shows how much of a craft chocolate expert they've become!
To get started: Register for the course, and the individual sessions:
---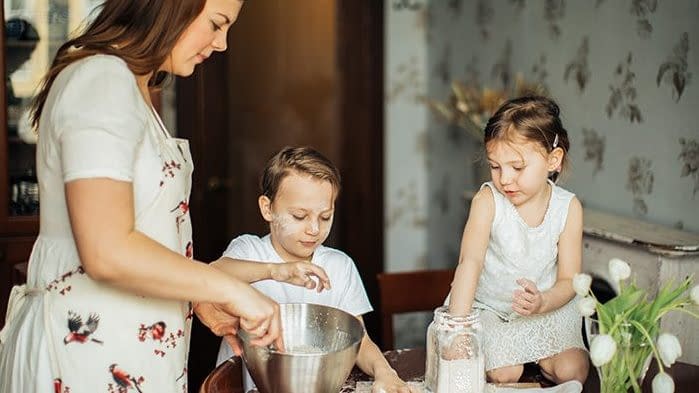 Other Family-Friendly Offerings
Other than these planned events, we also have lots of other gifts and activities for families and young people. We'd love for more young people to get involved in the craft chocolate revolution!
We have a whole host of chocolates, recipes, and kits available for family-friendly activities at home. Why not look at our chocolate making kits? We offer kits for making your own chocolate bars at home, and even chocolate lollies!
Or learn some amazing baking recipes using the world's best craft chocolate here.
We also love to host chocolate tasting sessions for kids' birthday parties! If you're thinking of planning something amazing for a young person's special day, then read more about our birthday party offerings here.
---
FAQs:
Are the kits Gluten Free?
Depending on the session, there may be one bar which contains gluten as part of the. All other bars do not contain gluten, but are made in factories that may handle gluten.
Are the kits vegan friendly?
Each kit contains bars that contain dairy. We will make it clear during each session when we come to bars that contain dairy.
Will there be future sessions?
Depending on interest, we hope to be able to continue to provide children's sessions moving forward.
We're keen to hear about what content parents and children would want to hear more about too.
How many children can each kit be used by?
Each kit is suitable for 1-2 children.
Do the sessions require parental supervision?
Younger children may benefit from having an adult nearby during the sessions to help support them, in order to get the most out of the interactive technology.
What safety measures do you have in place?
Our sessions for children take place via private Zoom webinars. We control who joins the session and any problematic individuals will be removed as we go.
We will only show the faces of the presenters. All other participants will not be visible.
Will the sessions be recorded?
No. We do not record sessions.
How long will each session be?
Each session is planned for an hour, which should include time for questions/discussion too.