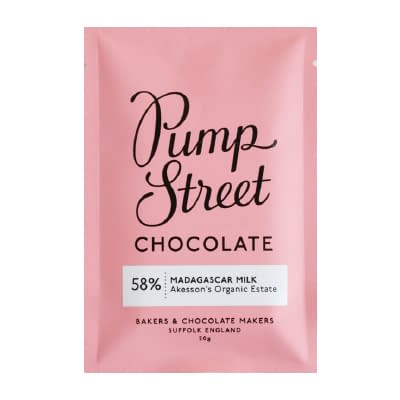 Pump Street Chocolate – Madagascar Milk Chocolate Taster Bar (Carton of 20)
£50.00
In stock
Description

PLEASE NOTE – THIS IS A CARTON OF 20 TASTER BARS

The notes of caramel and treacle are particularly prevalent in this bar, and as they round off in zesty finish, the natural creaminess of the whole milk chocolate is brought out. The contrasting flavours work wonderfully on the palette.

Additional information

Reviews

There are no reviews yet.

Nutritional info coming soon.

Allergens coming soon.

Ingredients coming soon.
You need to be logged in to post a review.
Maker description
As makers of both bread and chocolate, UK-based maker Pump St Bakery is a truly unique company. Set up by father and daughter team Chris and Joanna, they really care about making high quality chocolate, managing their production process with a forensic attention to detail. Read more about Pump Street Chocolate