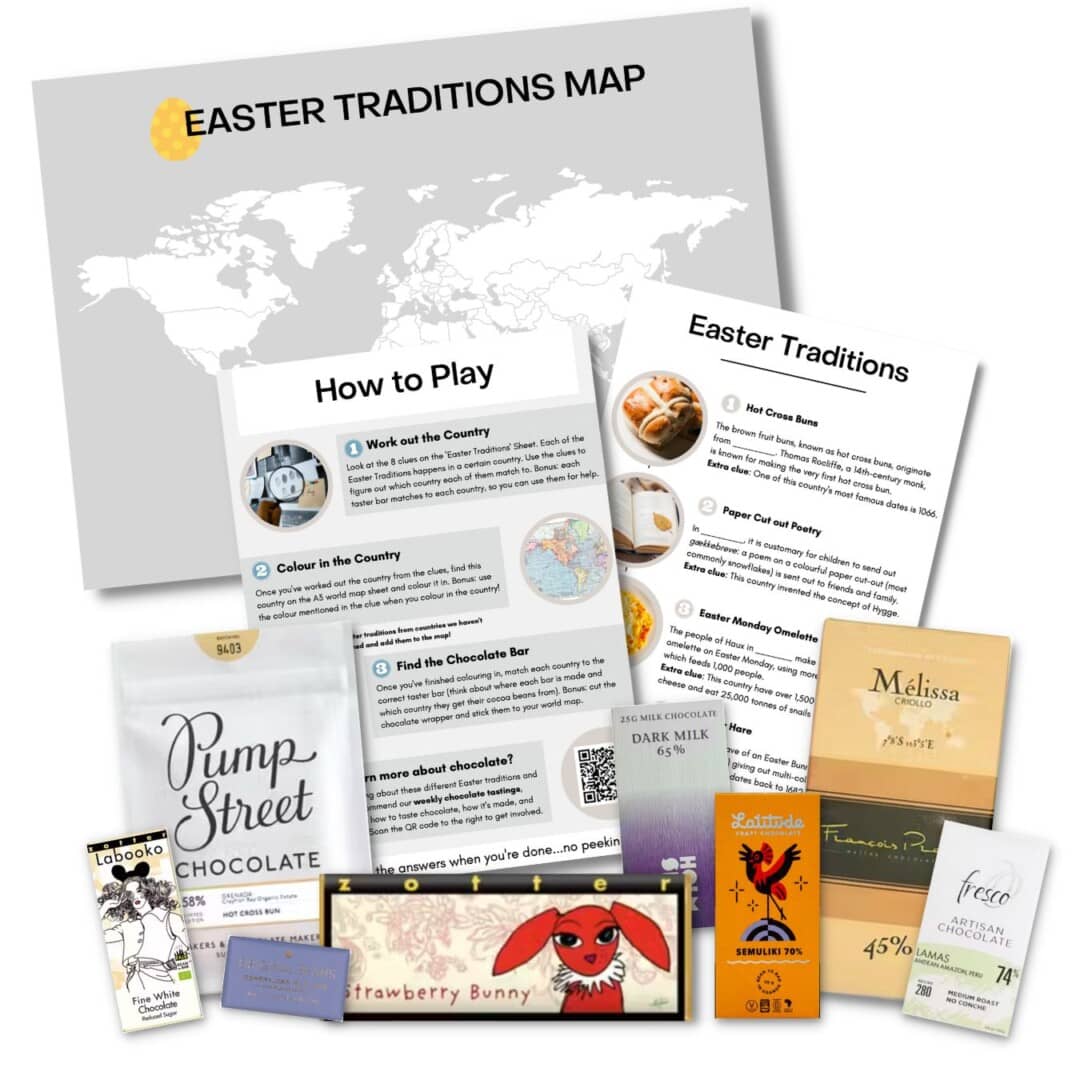 Craft chocolate today enjoys a truly global presence. We've makers from Copenhagen to Cleethorpes, Saigon to San Francisco, Warsaw to Woodstock. And beans from Choco (Colombia; yes really!) to Chuncho (Peru), Arhuaco (Colombia again) to ABOCFA (Ghana), Maleku (Costa Rica) to Maya Mountain (Belize), and Kerala (India) to Kokoa Kamili (Tanzania).
This Easter, get to know different makers and growers all over the world with our brand new Easter activity set, where you can explore the festivals, traditions, and histories of eight different countries via bars. To make the activity set more affordable, we've used a lot of taster bars, and so you can try dark, white, and milk bars from Fresco, Zotter, Friis Holm, Pump Street, Original Beans and Latitude. There is also a world map and set of quiz sheets that come with the box. So if you want to know who invented "Easter egg headbanging", "Easter Egg rolling" and "1000 egg omelettes", look no further; this gift set is for you!
To put all these different activities in context, we've also pulled together a quick history of why we celebrate Easter with bunnies (hint: It was really hares …not 'bunnies') and eggs.
---
Easter Bunnies (and Hares)
Tracing the origins of 'The Easter Bunny' involves going down a rabbit warren of different traditions, culminating in 17th century Germany with the first 'Easter hare'. In an unlikely but successful pairing, the 'hare' was then combined with chocolate eggs in the late 19th century.
The link between rabbits, spring, fertility, and the 'rebirth' of Easter is relatively obvious given the way that rabbits are well known for breeding like, well, rabbits. And these 'kittens' are often born around Easter time (note: When baby rabbits are first born, they are technically called kittens, not bunnies).
The link between hares and Easter is less obvious. Hares have long been associated with the Virgin Mary. In Roman times, it was (mistakenly) believed that hares were hermaphrodites and so could reproduce without sex. In Medieval church paintings and manuscripts, hares were often used to symbolise the idea of the Virgin birth.
The first record we have of an Easter Bunny (or to be precise, an Easter Hare) gifting eggs dates back to 1682 where Georg Franck Von Frackenau, a German physician and botanist, describes a German Lutheran folktale of an Easter hare bringing eggs for well-behaved children. German immigrants to the US brought this tradition with them in the 1700s. There are mentions in Pennsylvania diaries from this time of an egg-laying hare (called the 'Osterhase') and children making nests for this hare to lay their anticipated Easter eggs.
And the link to eggs?
The next puzzle is why the Easter bunny/hare laid and gifted eggs. Here too, the history is convoluted and requires a lot of disentangling:
Eggs, like rabbits, have been used as fertility symbols since antiquity. As early as the 1st century AD, eggs were associated by the Christian church with rebirth.
In medieval times, eggs became one of the many foods that were prohibited during lent, in the run-up to Easter. Before the start of Lent, parents would hand out eggs as special treats to children, and, rather like the origins of Boxing Day, children would go door to door asking for eggs before they started their Lenten fasts.
These traditions were then combined with the ancient custom of decorating eggs (the earliest decorated eggs date back more than 60,000 years to Howieson Poort Shelter, a cave in South Africa). Over the centuries, different ways were found to colour eggs and use them as gifts; for example, court records detail how Edward I of England dyed over 450 eggs with onion skins to give to his court for Easter in 1290.
During the 18th century, chocolate was added to the mix. Louis XIV used to give decorated ostrich eggs to his court favourites, and one of his pastry chefs had the bright idea of replacing these ostrich eggs with chocolate moulded to look like ostrich eggs. In 1725, a Mme. Giambone in Turin started filling empty chicken egg shells with molten chocolate.
It took the UK some time to catch up. The Victorians started to give out chocolate for Easter, but it wasn't until 1873 that J.S. Fry & Sons claim to have launched the first British chocolate Easter egg in 1873, closely followed by Cadbury in 1875.
These Easter Eggs were unfortunately fragile and hard to transport. So, it wasn't until the 1950s that the literal light bulb moment of inspiration of a packaging designer helped to protect, showcase and mass-market Easter eggs.
Today, eggs, chocolate, bunnies and hares have all been conflated and combined to create an extravagant movable feast of chocolate Easter bunnies, Easter eggs… and much else. While the exact numbers are unclear, it is estimated that over 80 million eggs are gifted every year in the UK alone, and this doesn't include 'Creme Eggs' (Cadbury annually sells over 500 million of these, two-thirds of which are enjoyed in the UK).
---
Please do check out our range of Easter treats. We have Easter eggs, Easter-themed bars, Easter-themed gift boxes and 'make your own' Easter egg sets.
---
---
And don't miss out on getting to know more Easter traditions and different bars with our Easter activity set.
---
Thanks again for your support.
Keep savouring!
Spencer