---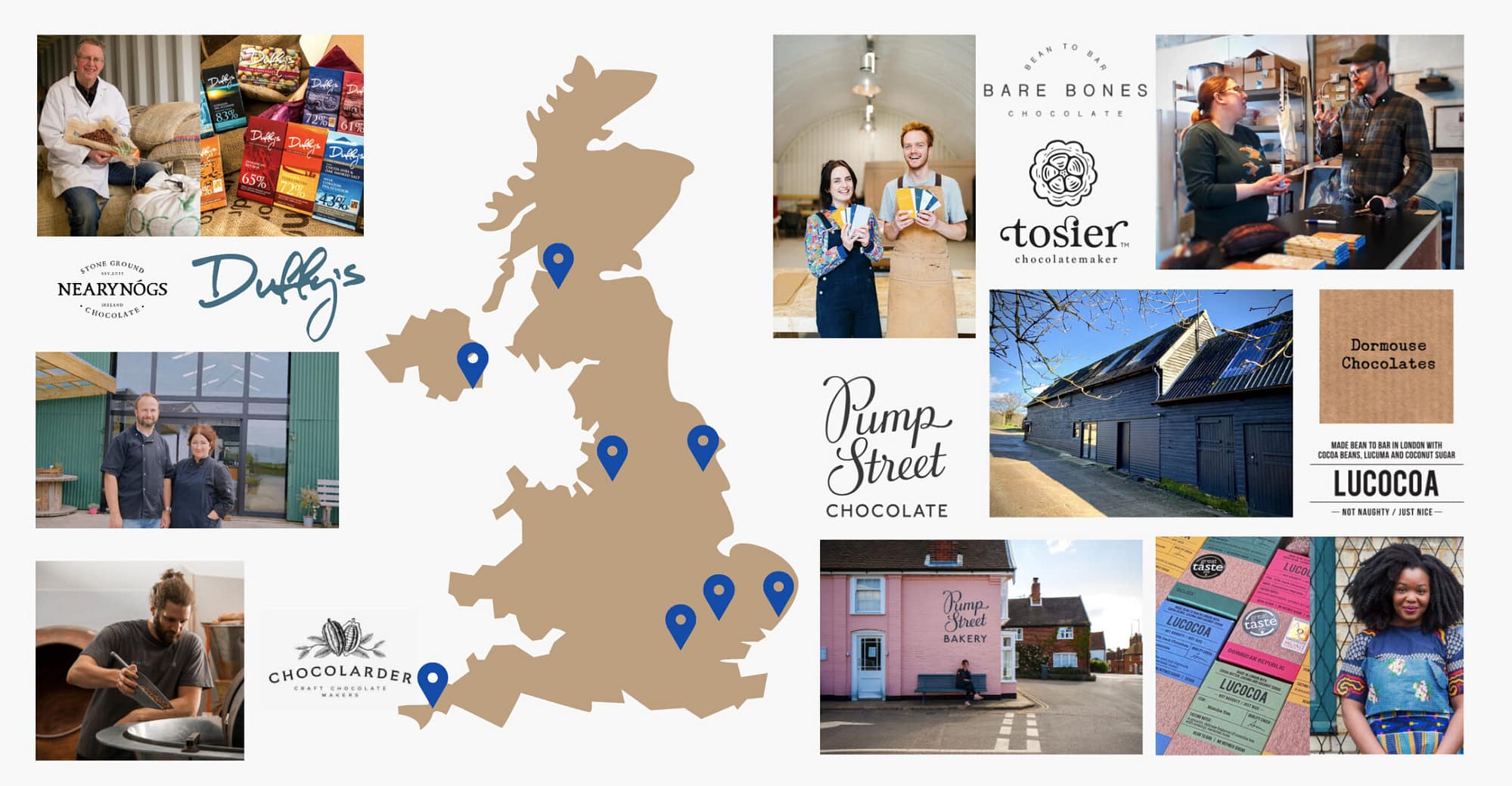 If you're based here in the UK, or you're planning a visit we've got the perfect chocolate locations for you – take a look at our list below.
BARE BONES CHOCOLATE Glasgow, Scotland
Glasgow is famous for whisky, industrial architecture and less commonly for having the first swimming club in the world. It is also home to one of the UK's amazing craft chocolate makers; Bare Bones Chocolate
Bare Bones was established by Lara and Cameron, their mission to strip chocolate back to its bare bones. Their chocolates have as little ingredients as possible, focussing on the natural flavour notes of the beans themselves
To see behind the scenes and to learn more about the process of making craft chocolate, you can visit their workshop. Located in a beautifully converted train storage arch in the heart of Glasgow
Bare Bones Chocolate – More information

Location: Bare Bones Chocolate, 7 Osborne Street, Glasgow, G1 5QN

How to get there: There is parking outside the workshop (metered) and a large NCP car park at the top of the street. They are a 10 minute walk from Glasgow Central Station, and buses frequently pass down the street

Tour times: The factory shop is open Monday-Friday 10-4pm serving hot chocolate along with their full selection of chocolate. They have tasting nights every week (normally on a Thursday but can sometimes be a different day). These tickets are available on their website. They also have pop-up events at the weekends which they announce on instagram

Tour length: The tour starts at either 6pm or 8pm and lasts just over 1 hour

What's included: The tasting starts with a mini tour of the factory with an in depth chat about the bean to bar process. Then there's the chance to taste their full collection (with wine) and finish the evening with a hot chocolate

Cost: £15

How to book: Go to Bare Bones' website to book. They also have "Golden Ticket" PDFS to gift a tasting to a friend

Age requirements: 18+

Special benefits: After the tour you get 10% off at their factory shop
NEARY NOGS CHOCOLATE Newry, Northern Ireland
Crossing the (hypothetical) Giants Causeway and journeying down to Newry, we find the fantastic Neary Nogs, ran by husband and wife team, Shane and Dot. They are Northern Ireland's first craft chocolate makers, they source speciality single origin cacao before meticulously sorting, preparing, roasting and stone grinding the beans… and you can see all of this with a visit to their factory shop and barista bar!
Neary Nogs – More Information

Location: Neary Nogs Chocolate, 19 Ballymaderfy Rd, Newry BT34 4SW

How to get there: The easiest route would be by car, or bike if you fancy building up an appetite. If you're taking public transport, the 39 bus service from Newry will take you to Ballmaderphy, just an 8 minute walk from the factory.

Tour times: Their Master Craft Chocolate Experience runs every Wednesday, Friday and Saturday at 11am and 1pm. Their shop is open Tuesday-Friday from 10am-5pm and Saturdays from 10am-4pm.

Tour length: The Master Craft Chocolate Experience is 85 minutes long.
DORMOUSE CHOCOLATES Manchester, England
Working our way down the country, we get to Manchester. Here you will find Isobel Carse, the brains behind Dormouse Chocolates. She runs a speciality chocolate shop, where she makes her chocolate on site – gorgeous aromas of melted chocolate fill the space.
Dormouse Chocolates – More information

Location: Unit O, Deansgate Mews, Manchester M3 4EN

Opening times: 12-2pm on Wednesday and Thursday, 12-4pm on Friday and 10am-4pm on Saturdays

What's included: Lots of amazing craft chocolate, and the chance to meet Isobel, find out more about making chocolate and try some delicious chocolates
DUFFY'S Cleethorpes, Lincolnshire, England
Heading eastward to where the river humber joins the North Sea. Cleethorpes is home to the renowned Duffy Sheardown, a craft chocolate veteran and owner of Duffy's. Journey here to see one of the UK's first craft chocolate factories and get a chance to practice making your own chocolate creations in one of Duffy's popular chocolate making classes.
Duffy's – More Info

Location: 2E, Humberston Business Park, Wilton Rd, Humberston, Grimsby DN36 4BJ

Advice on how to get there:

Tour length: 60 – 90 minutes

Tour times: The times for their chocolate making classes are updated on their Facebook page. You can also book private classes which can be arranged through contacting Duffy's here.

What will you see: In the chocolate making classes, you'll get a chance to make and decorate your own truffles and other chocolate creations – these classes are great for parties. 

Cost: Usually around £12pp
TOSIER CHOCOLATEMAKER Ipswich, Suffolk, England
Next, we journey to Suffolk! Get the chance to explore Tosier's converted barn chocolate factory, beautifully located just outside of Ipswich. This incredible chocolate company was built by the amazing chocolate maker Deanna Tilston, taking her love of chocolate she has perfected the craft and produces award winning bars.
See behind the scenes and taste their wonderful range of chocolates whilst enjoying a guided tour of the factory. You can also take the plunge with a tutored course learning to make your own chocolate.
Tosier – More Information

Location: Cottage Farm Cottage, Little Blakenham, Ipswich IP8 4LZ

Advice on how to get there: The easiest way is to drive. However, if you're travelling by public transport, you can take the 111 bus from Old Cattle Market in Ipswich

Tour length: 45 minutes

Tour times: The first and third Saturdays of each month at either 11am or 2pm

What will you see: The tour starts with an audio and visual presentation of the growing, harvesting and fermentation processes of cacao. The rest of the tour follows the journey of the bean to bar through the factory.

Special benefits: A free Tosier bar of your choosing!

Cost: £20 for the tour £55-£75 for chocolate making courses

How to book: All the information for how to book can be found here

Any restrictions: Attendees must be aged 8 or older, those under the age of 18 must be accompanied by an adult
PUMP STREET CHOCOLATE Orford, Suffolk, England
Also in Suffolk is Pump Street Chocolate, where a top-notch bakery decided to produced their own equally fantastic chocolates. Here you can get a taste for some brilliant bean to bar chocolate, the must try is their sourdough bar – made using bread baked on site.
Pump Street – More Information

Location: 1 Pump St, Orford, Woodbridge IP12 2LZ

How to get there: The best way is to drive. But if you're going by public transport, there is a bus (71) which runs from Melton station and drops you off just a 1 minute walk from the bakery. If you're taking this route, get off at "Market Hill".

Tour times: The bakery is closed on Mondays and Tuesday, every other day it opens 9am – 2:30pm, where on Sunday it opens an hour later, at 10am. The chocolate shop stays open a little later, you can still grab some delicious bars up until 4pm.

What's included: Visit their café and sample an amazing menu of baked goods, using there own amazing chocolate.

Cost: Free to enter

How to book: No need to book, just turn up and enjoy a lovely day in the english countryside.
LUCOCOA London, England
Tucked into a Bermondsey railway arch, you'll find Lucocoa. It's not just the rumble of the trains passing by, more delightfully there is a soft aramoa of chocolate in the air. The amazing Amarachi has been perfecting her craft here in London for over 7 years! Trialled, tested and most definitely approved at Brick Lane market, her chocolate is one to get your hands on.
Lucocoa – More information

Location: Arch 3, Spa Business Park, Dockley Rd, London SE16 4EJ

How to get there: Cycle, drive or take public transport (Bermondsey Tube station is just a 5 minute walk away!)

Opening times: The shop and factory is open Mon-Fri 10 am – 2:30 pm and Saturday 9 am – 2:30 pm

What's included: The chance to meet the wonderful chocolate maker, Amarachi! You'll get to browse the wonderful selection of chocolates, all made without any refined sugar – just lucoma

and coconut blossom sugar for sweetening. You won't want to miss their beautiful Gianduja filled bites – a delightfully nutty treat!

How to book: No need to book! Just turn up during opening hours!
Contact: Contact@lucocoachocolate.com
CHOCOLARDER Falmouth, England
Located in the south of England, in the beautiful seaside town of Falmouth, you'll find Chocolarder – amazing chocolate makers with brilliant values – they source as much as they can from the local area, even going as far as picking their own gorse flowers to flavour their chocolates.
Chocolarder – more information

Location: Unit 1 Tregoniggie Ind Est, Falmouth TR11 4SN

How to get there:

Tour times:

What to expect:

Cost:
---
---
ITS NOT THE END OF THE JOURNEY