---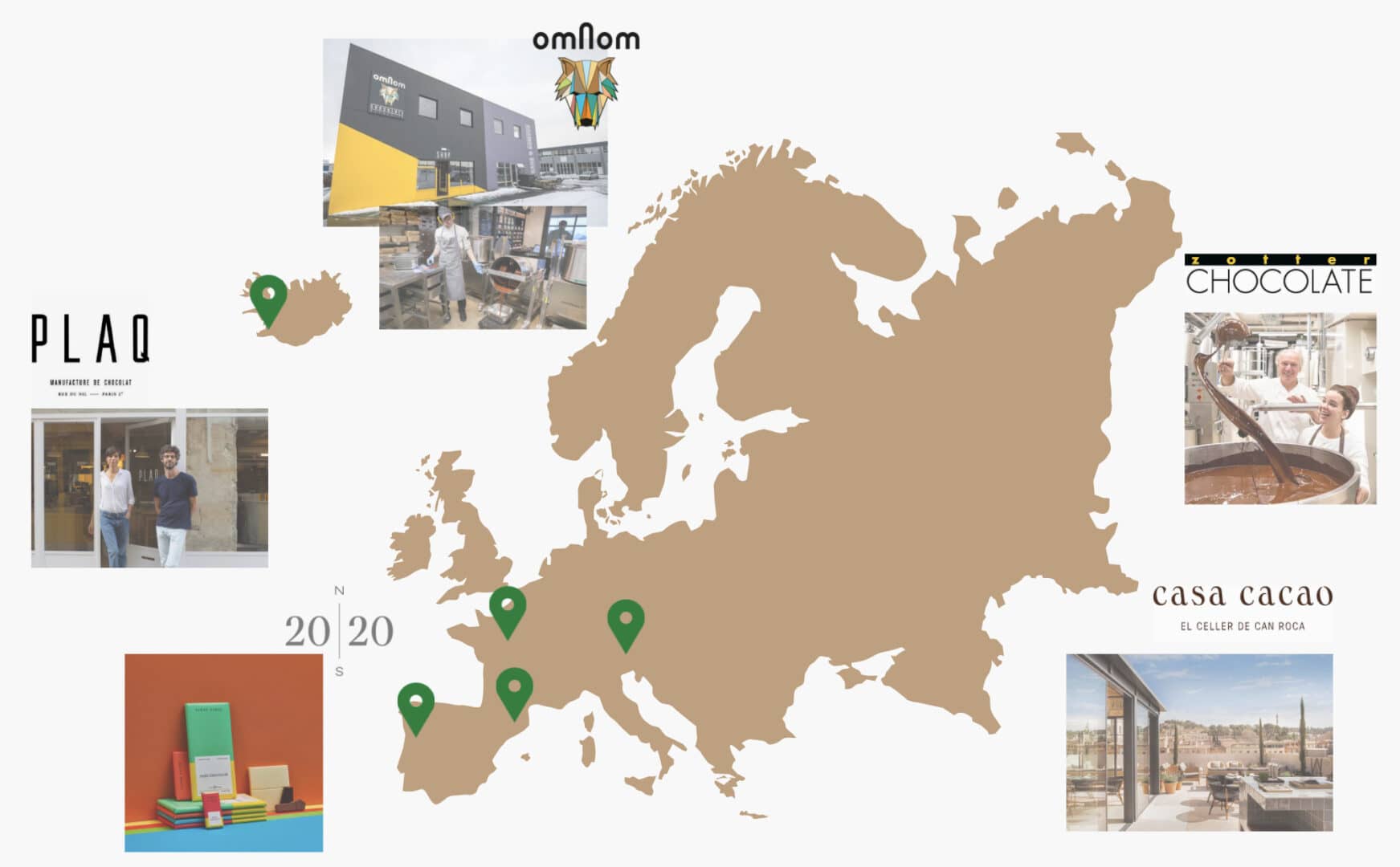 If you're looking to travel a little further, there is also a host of chocolate destinations in Europe – keep reading to find out where your next holiday might be
PLAQ Paris, France
First stop, Paris – where you will find hidden away in Paris' 2nd Arrondissement a wonderful boutique chocolate factory and shop. Plaq is owned by partners Sandra and Nicholas, with backgrounds in the fragrance industry and graphic design, respectively, they came together for their love of chocolate. Focussing on bold and unique flavours, this Parisian gem is worth a visit.
Plaq – More information

Location: 4 rue du Nil, 75002 Paris

Advice on how to get there: By foot, or the closest station is Métro Sentier

Tour length: 15 minutes

Tour times: Everyday, anytime

What will you see: A tiny Bean to Bar Factory

Special benefits: Free coca roasting scents

Cost: Free

Any restrictions: None

Cocoa runner benefits: A free small tissue bag (ask for a pochon)

They're pretty laid back – there's no need to book in advance, just turn up! Also pastries, drinks, ice cream and bars can be eaten on site!
Zotter Styria, Austria
If you're looking for scenic surroundings, head to the rolling hills of Styria, Austria, where you'll find the wonderful and wacky chocolate makers – Zotter. They have an entire attraction dedicated to displaying their craft; "The Zotter Experience" is a guaranteed fun day out and you'll get to taste plenty of amazing chocolate!
Zotter – More information

Location: Bergl 56, 8333 Riegersburg, Austria

How to get there: You're best to travel by car, it's about a 2 hour drive from Vienna.

Tour length: To see the factory, you'll need around 2 hours and you'll get the chance to try around 300 chocolates! If you want to explore the full "Zotter Experience" where you"ll get a chance to visit their organic farm – it will take around 4 hours.

Tour times: Monday – Saturday, with tours starting every 15 minutes from 9am-5pm

How to book: The factory is popular! So we'd recommend booking in advance via their website here

What's included: The tour will show you the entire process of how Zotter makes their chocolates; firstly, a short film about their beans and organic and fair cacao cultivation. Then, you'll get a chance to explore three floors of chocolate heaven sampling more than 300 chocolate varieties from their chocolate stations. You'll get the chance to try everything from the raw cacao to the wacky inclusion bars such as seaweed caramel or cheese chocolate!

If you have time, you can also check out their organic farm, where you can meet a whole host of animals, try their giant slide and enjoy the fresh air – afterward, head over to their on site restaurant to sample some of their sustainable produce.

Special attraction: At the end of the tour their is a chance to create your own chocolate bar, which will be made for you by one of Zotters expert chocolate makers

Cost: €18.90 for adults

Restrictions: All ages are welcome! Dogs may not enter the tasting tour or shop, but they offer dog huts for the duration of the tasting tour. Dogs are welcome in the Edible Zoo!
Chocolatemakers Amsterdam, Netherlands
In the city of canals and bicycles, you can find the wonderful Chocolatemakers. Keeping it to the point with their name, they don't mess around when it comes to simply producing great quality chocolate! To see how they do it, here's your chance to plan a visit to their factory.
Chocolatemakers – More information

Location: Chocolatemakers factory Radarweg 32A, Amsterdam

How to get there: The factory is a 15-minute walk from Sloterdijk train station, otherwise you can get there by bike, where they have facilities for you to park. Unfortunately, they have limited parking space, so if you're driving, we'd advise finding public parking nearby and walking.

Tour times: First weekend of each month, on both Saturday and Sunday

What to expect: The tours lasts 1.5 hours. You'll get a chance to see the whole chocolate making process, from bean to bar, you'll learn about where the beans come from and the ethos behind chocolatemakers' process. Of course, you'll also get the chance to try some chocolate!

Cost: €25

How to book: You can book tickets in advance via their website

Special offers: 10% off in the factory shop after the tour

Restrictions: You must be over 10 years old to attend the guided tour. Food is not allowed on the premises – but you are allowed bottled water. Unfortunately there are lots of stairs so it is not suitable for wheelchair users.

To be aware of: The tour is given in Dutch – in order to be given an english spoken tour, you must request a group booking.
Casa Cacao Girona, Spain
Old meets new, where, in the historic city of Girona you'll find a chic chocolate-filled hotel and workshop that, fittingly, goes by the name Casa Cacao. Experience modern elegance with the added luxury of incredible craft chocolate produced on site.
Casa Cacao – More information

Location: Chocolate workshop: Plaça Catalunya, 23, 17002, Girona Hotel: C/ Ginesta, 2, 17002 Girona (1 minute walk between them)

How to get there: Getting there by train is a good bet, it's just an 8 minute walk from Girona Plaça d'Espanya Train Station. Otherwise, a taxi or hire car will be able to drop you right outside.

Tour times: The shop is open 10am – 8pm Monday – Sunday and their chocolate bar, where they sell hot and cold chocolate drinks and snacks, is open 9am – 9pm Monday – Sunday.

What to expect: Plenty of chocolate and a wonderful nights stay. The workshop which neighbours the hotel is where all their bean-to-bar chocolates are made, get the chance to try a whole variety of chocolate creations, but most importantly their exquisite bonbons.

Cost: It's free to visit the workshop. A night in the hotel costs €250. If you want to experience their amazing terrace and try some wonderful seasonal produce, anyone can book in to enjoy brunch for €45.

How to book: Booking information for their hotel can be found on their website
Vinte Vinte Porto, Portugal
In the heart of the beautifully vibrant city of Porto, you'll find the vibrant Vinte Vinte store, their shelves lined with incredible single origin chocolate and exciting inclusion bars, each exquisitely wrapped.
Vinte Vinte – More information

Location: R. de Guilherme Braga 21, 4400-174 Vila Nova de Gaia, Portugal

How to get there: Once you're in Porto – it's easy to get there by public transport or by foot

Opening times: 12-8pm weekdays – 10am-8pm on the weekend

Tour length:

What's included: Chance to chat to experts, see Vinte Vinte's full collection and get a taste of their fantastic chocolate

Contact: +351 22 012 1245
Omnom Chocolate Reykjavík, Iceland
Dramatically posed on Reykjavík's northern harbour, Omnom Chocolate's factory is not just an impressive exterior, inside they have a non-stop team of expert chocolate makers, working hard to come up with their next wacky and wonderful creation.
Omnom – More information

Location: Hólmaslóð 4, 101 Reykjavík, Iceland

How to get there: It's possible to walk but taking public transport (e.g. number 14 bus) or driving might be easier

Opening times: 1-10pm every day

What's included: See where the fabulous omnom creations are made and sample their amazing chocolates! There's also the added bonus of their fantastic on site ice cream shop which is definitely worth a try!


Contact: omnom@omnomchocolate.com