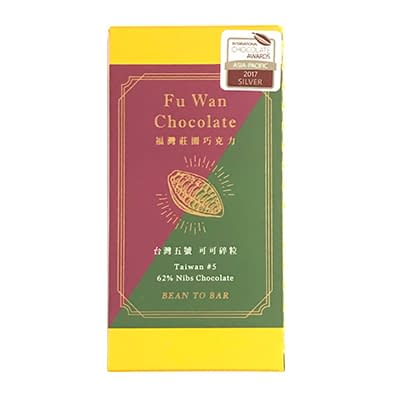 Fu Wan – Taiwan #5 62% Nibs Chocolate
£8.95
In stock
Description

Fu Wan in dedicated to sharing with the world the delicious ingredients that Taiwan has to offer, through the medium of chocolate.  Fu Wan started its life not as a chocolate brand, but as a resort in Taiwan. Warren Hsu was the executive chef at Fu Wan Resort.  When the resort opened in 2011, Hsu's mission was to provide guests with the very best local fusion cuisine.  Whilst sourcing ingredients locally, he met a cacao farmer who introduced him to the Taiwanese cacao bean.  Hsu was inspired, and Fu Wan Chocolate was born.

The cacao industry in Taiwan is a relatively young industry, with the government encouraging farmers to plant cacao crops in response to the damage done to the land by the over farming of betel nuts.   Over the past decade, the industry has flourished, with cocoa plants reaching maturity and producing pods.  In contrast, it is still extremely rare to find bean to bar chocolate makers in Taiwan, so much of the native cacao is exported.

Warren Hsu is one of only a handful of people crafting chocolate from bean to bar in Taiwan.  He trained with expert bean to bar makers, before returning to Taiwan to start crafting bars.  Through his chocolate, he is able to share the flavours of his native cacao not only with those who stay at Fu Wan Resort, but with people from across the world.

Fu Wan's bars have been well received across the world, and gained a number of awards at their first outing at the International Chocolate Awards, both in the Asia Pacific Regional Awards and in the World Final.

This bar's aroma is earthy, but from the first bite this is an earthy bar with a nutty quality and a spiced finish. The nibs are fine ground, going the bar a gentle crunch and a coarse texture.

This bar won a Silver Award at the 2017 International Chocolate Awards Asia Pacific Regional Final.

Additional information

| | |
| --- | --- |
| Weight | 55 g |
| Maker Country | |
| Bean Origin | |
| Ingredients | |
| Maker | |
| Cocoa Content | |
| Cocoa Percentage | |
| Icons | |

1 review for

Fu Wan – Taiwan #5 62% Nibs Chocolate

Simon T.

October 10, 2018

Really disappointed by this. I got the bar as part of an Academy Award Winners selection. There is a pleasing aroma of butterscotch when you open the wrapping but after that it all seems a bit flat. I can't understand why someone would want to pay £9 for such a small bar and I do not recommend it. Unless you happen to be in Taiwan, of course,

Nutritional info coming soon.

Allergens

Sesame (traces), molluscs (traces)

Ingredients coming soon.
You need to be logged in to post a review.
Maker description
Fu Wan in dedicated to sharing with the world the delicious ingredients that Taiwan has to offer, through the medium of chocolate.  Fu Wan started its life not as a chocolate brand, but as a resort in Taiwan. Warren Hsu was the executive chef at Fu Wan Resort.  When the resort opened in 2011, Hsu's mission was to provide guests with the very best local fusion cuisine.  While sourcing ingredients locally, he met a cacao farmer who introduced him to the Taiwanese cacao bean.  Hsu was inspired, and Fu Wan Chocolate was born. Read more about Fu Wan Chocolate