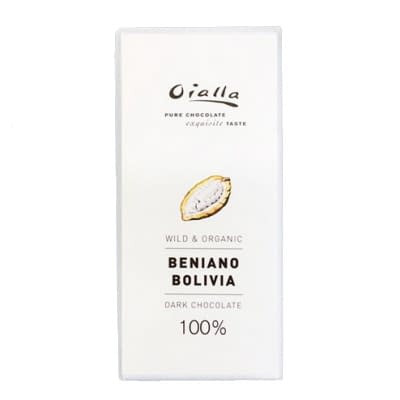 Oialla – Beniano 100% Cacao (Carton of 15)
£119.25
Out of stock
Description

Oialla is the brainchild of top Danish chef Rasmus Bo Bojensen.  Rasmus has cooked in the top kitchens of Europe, and run a number of his own restaurants for over a decade.  He recently opened a restaurant in a tower of Denmark's parliament building in Copenhagen, a visit to which is a must for visitors to the city.  While his passion for food is instantly apparent to anyone who meets Rasmus, Rasmus's adventures in cacao were inspired by his wife's lifelong love of chocolate.  Oialla is committed to coaxing complex flavours from fine cocoa.  This bar is crafted exclusively from cacao from the Alto Beni region of Bolivia.  Bolivian cacao is known for its honey like profile, and these notes are certainly present in this bar.  It has a remarkably even melt, and a richness derived from the flavour of the beans and the rich, fudgey texture of the bar.

Additional information

| | |
| --- | --- |
| Weight | 900 g |
| Type of Chocolate | |
| Maker Country | |
| Maker | |
| Cocoa Percentage | |
| Cocoa Content | |
| Icons | |
| Ingredients | |
| Bean Origin | |
| Select Size | Single Bar £7.95, Carton of 15 £119.25 |

Reviews

There are no reviews yet.

Nutritional info coming soon.

Allergens coming soon.

Ingredients coming soon.
You need to be logged in to post a review.
Maker description
When Danish chef Rasmus Bo Bojesen visited Bolivia, he was so struck by the potential of its cacao that he determined to become a craft chocolate maker. Today, Oialla bars are crafted using beans from six Bolivian islets. Read more about Oialla