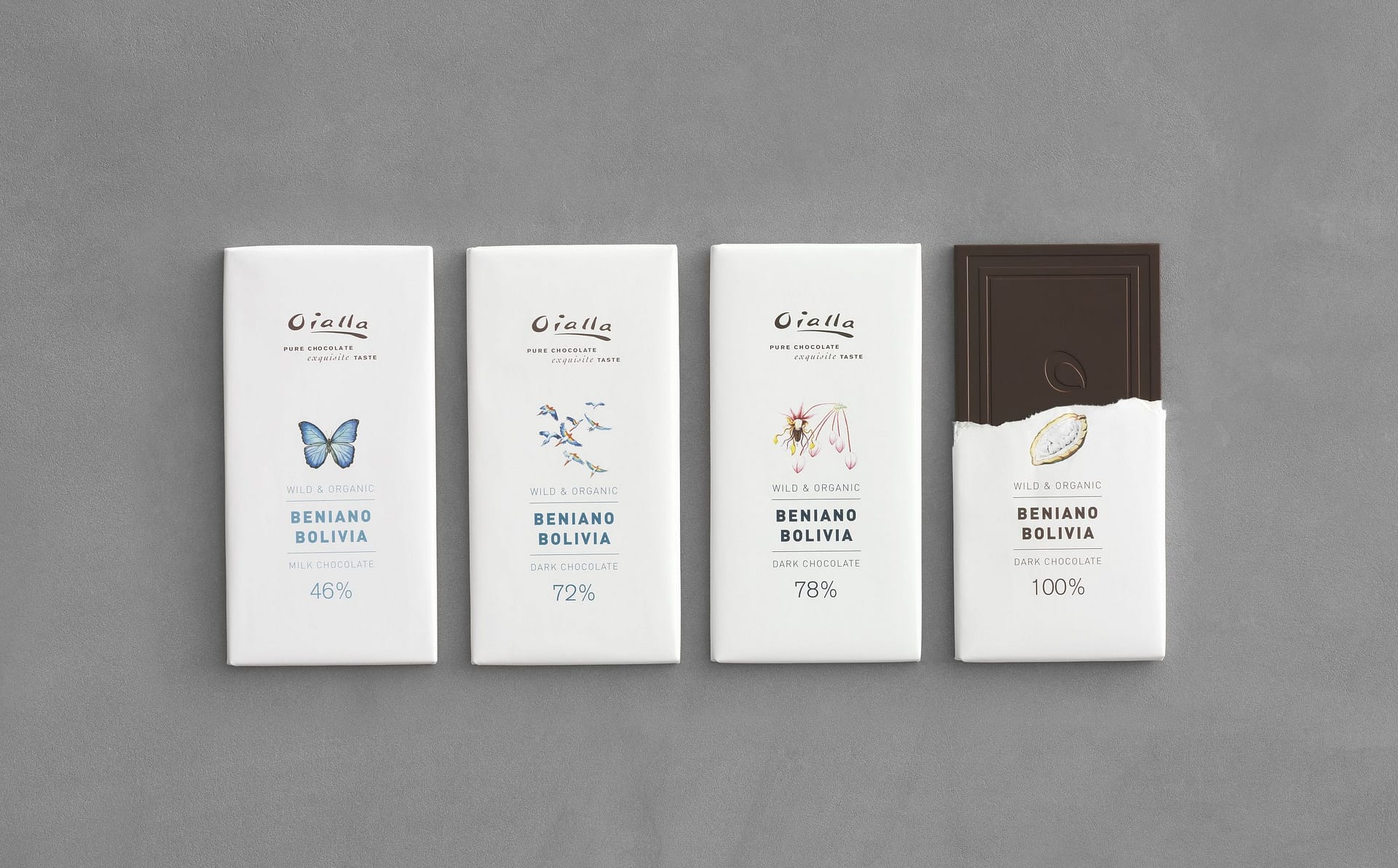 Oialla follows the cacao from harvest to the final bar, controlling every step of the supply chain. Oialla works closely with its partners in Bolivia to source the cacao, as well as good friend Mikkel Friis-Holm to produce the chocolate from bean to bar.
The cacao trees that Oialla source its beans from were discovered growing upon islets of an Amazon tributary in the Beni region of Bolivia in 2002. When Danish chef Rasmus Bo Bojesen visited the area, he was so struck by the potential of its cacao that he determined to become a craft chocolate maker. Today, Oialla bars are crafted using beans from 6 Bolivian islets.
The Beniano cacao that Rasmus sources is a native cacao species that grows only in the borderlands between Bolivia and Brazil.
The freshly picked cacao beans from the pods are immediately fermented in baskets for three days and dried on suspended nylon tarp. Once the cacao is dry and quality assured, it is shipped to Scandinavia, where it is turned into craft chocolate.
Oialla works closely with Sumar, a network of local cacao-harvesters. In partnership, they employ hundreds of indigenous workers to harvest the Beniano beans so fundamental to Oialla's vision. Most of these people are from the small community of Baures. Oialla believe that their chocolate would not exist were it not for these people, and thus try to help the locals in every way that they can.
In order to bridge the gap between the vastly differing cultures of Denmark and Bolivia, representatives of each team visit the other in their home country each year. Rasmus' team sheds light on European customer requirements and expectations, in return for a Bolivian insight on how to work with the jungle and the people to whom it is home. Despite coming from opposite sides of the globe, the two groups have developed a relationship of mutual respect and interdependence – married by the unbreakable bond that is Beniano cacao.
What's your background? Why and how did you get into chocolate?
My background as a chef began at the age of 15 when I embarked on what would soon become an international career, working in top restaurants in France and Japan. My curiosity about chocolate started back in 1981, during my stay in Lyon, France. Here, the legendary Monsieur Bernachon introduced me to the difficult art of cooking with chocolate. After that, I became truly passionate. In the late 80s I started working with chocolate in a new way, combining my insiders' knowledge as a chef regarding herbs and spices with a budding interest in chocolate. I began experimenting with the two groups, producing, for example, ganache filled with thyme and chili.
When did you start your company — and with whom?  How many are there of you?
I started Oialla in 2010 together with my wife, Pernille Lützhøft. Our aim at that time was to make organic chocolate for use in our own restaurants. However, before we started Oialla, I was sceptical about the taste quality of organic cocoa beans – we spent years searching for beans of the highest quality. One day, I heard about wild cocoa beans growing in the Amazonas jungle in Bolivia. We went there and found exceptional cocoa beans of the finest quality. With support from the Danish Ministry of Foreign Affairs, we managed to establish a close relationship with the local people in Baures, in order to collect the Beniano beans and have them fermented and dried in a manner artfully developing their unique flavour. We started importing the beans directly from Bolivia, and I experimented with the strength with which we roasted the beans, the temperature of grinding them, and the time taken to conch them. All this was in order to bring about the absolutely top texture and taste. After experimenting for about a year, the recipe of my first bean-to-bar chocolate, Oialla dark 72%, was ready, and I started using this chocolate in my own restaurant. However, it did not take long before other chefs, including Daniel Boulud from New York, also wanted Oialla for their restaurants.
Although Oialla is still a rather small company with only four employees, we have grown slowly since we started, and today our chocolate is sold to many customers around the world including Singapore airlines, and many top restaurants in Denmark such as Noma and Geranium. Alongside this market for business-to-business sales, we have started focusing also on the retail market, and we supply to Harrods in London among others.
What is your favourite food?  Wine?  Other chocolate makers?
The food, ingredients, history, composition, craft, presentation and not least, the friends and family with whom you share a meal has always been a huge part of my life. It is so important to me that I'm a graduate chef. I have three code words: Taste, taste, and taste! The same goes for grapes – I enjoy the classics, but do not restrict myself to only traditional wine. The last case of wine that I bought was made by a man who is just as crazy and engaged with his craft as I am with my chocolate: Dave Powel from Australia – a 2014 Shiraz. It was more than drinkable!
Oialla In The Chocolate Library