The story of The Grenada Chocolate Company is one of triumph and heartache. Founder Mott Green started the company, making chocolate from local beans on the tiny island of Grenada in 1999. Within a few short years, they became known for some of the best – and fairest – chocolate in the world.
Tragically, in June 2013, Mott lost his life in an electrical accident, while working on one of his beloved eco-projects, "The Chocolate Rush"; a catamaran that was to deliver solar cooled chocolate around the islands. The whole chocolate industry was in shock at the loss of a pioneer of the artisan chocolate world.
The legacy of Mott Green lives on in the business that employs much of the local community and the world class chocolate they make.
Producing chocolate in the heat of the Caribbean is an enormous challenge in itself, but it's even more difficult if you want to do it ethically. The company's slogan 'tree to bar' only gives a taste of its incredible work.
Its purpose-built factory on the island uses solar-powered machinery to reduce the chocolate's carbon footprint. At the busiest times, the factory employ over 50 local workers, all of whom earn the same fair wage. The finished bars are bicycled and then delivered by sailing ship. The Tres Hombres, a 32 meter brigantine, has no engine but relies on the wind in its sails to transport its cargo around the world. Mott described this as 'the first carbon-neutral trans-Atlantic mass chocolate delivery'.
Of course, the chocolate tastes great too. The local Grenadan cocoa has a naturally intense and fruity flavour that means it's as delicious as it is ethical.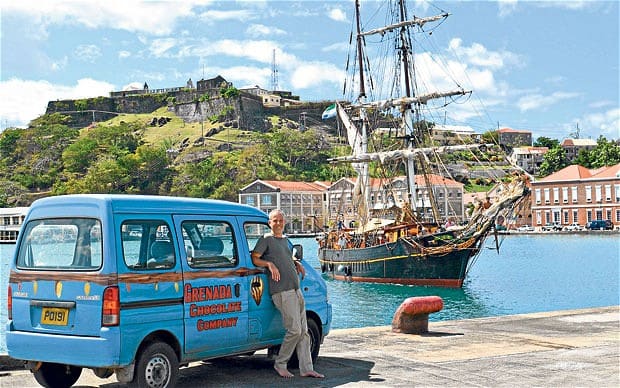 The story of The Grenada Chocolate Company and its founder Mott Green is one that continues to inspire artisan chocolate makers around the world. We think you'll be inspired by it too.
Grenada Chocolate Company In The Chocolate Library